We are huge fans of scramblers and trackers here at BikeBound. Apparently so are you, our readers, as majority of the machines on our Top 10 Custom Motorcycles of 2018 are running knobby tires or motocross bars. We decided to follow up with a list of the most popular scramblers and trackers we featured this year, based on traffic and social shares.
Without further ado, here are the BikeBound Top 10 Scramblers and Trackers of 2018, presented in alphabetical order by builder.
Ace Custom Shop of Santander, Colombia, is a small shop with a big heart. Founded in 2013 by brothers Diego and Juan Sotomonte, along with friend and mechanic Andrés Cabralas, their motto is "Everything's Possible." This Yamaha WR250 street tracker immediately caught our eye — the perfect weapon for urban traffic and tight closed course racing. In fact, the bike is not just a pretty piece of design — it was prepared for the races in the Custom Built Show by the mechanics of the BMotos Colombia shop, where it won the final heat against a Harley XR1200, Triumph Thruxton, Yamaha RD400, and other high-powered bikes!
Frederick Fortune, a graphic designer and bike builder in San Francisco, built this period-correct, street-legal WR / WRTT race bike in honor of Joe Leonard, the nation's very first Grand National Champion in 1954.  After several interviews with Leonard himself, and gaining his blessing on the project, Fortune got hold of a brutally chopped and raked 45 WL Solo model and transformed that sad disaster of a vintage Harley-Davidson into the stunning, street-legal tank-shift racer you see here — one of the most popular tracker builds we shared this year, and one of the best stories we've ever shared.
Chus Valencia is the founder of the workshop Kacerwagen, located on Spain's southern coast. His shop's motto is simple: "You dream… We create." Chus found the Guzzi Pony languishing in a shed and completely disassembled the machine, sandblasting the frame and fitting a Franco Morini S6 engine. He converted the bike to a rear monoshock and all of the bodywork is hand-made. We don't know if Chus's 4 year old nephew, Luca, ever dreamed of such an incredible Christmas gift, but what an incredible little flat tracker he received!
Kaspar Ilves, the founder of Estonia's Kalapea Garage, has a keen love for Italian bikes — Ducatis, in particular. This build began as a Ducati Hypermotard 796 basket case, which Kaspar intended to part out until he spoke with a fellow "Ducatista" who wanted a bike to ride across the trail roads of Europe. Soon, the vision was clear: "To build a bike that is bigger and has better performance compared with the original Ducati 'Scrambler' model." The result is the Ducati "Hyperscrambler," which features a large-capacity Moto Guzzi tank, standalone ECU, upgraded power, and our favorite addition, luggage boxes made from metal fuel tanks, which required a bus trip to Russia to purchase! Bravo!
Rémy Pagart of France's MUTO Motorbikes is quickly making a name for himself with bikes that bridge the gap between bobber, tracker, and scrambler styles. Rémy, working alongside his friend Vincent Dhalluin, approaches each build as an "all-terrain artist," merging vintage, new, and custom elements to make each bike a unique work of art. It may come as no surprise that Remy is, in fact, an artist and designer whose motto is:  "MAY the FUN be with you!" This Yamaha XS650, dubbed "Tracto," was a personal project built in a style Rémy calls "fat tracker." The core of the design are the solid wheels and heavy-duty forks, around which the rest of the bike was built. The heavy-duty style of the bike struck a chord with readers, who shared, liked, and commented on the bike in droves.
Revolt Cycles of the Philippines has become one of our favorite custom workshops, specializing in trackers and scramblers perfect for the winding roads, jungle paths, and beaches of their home islands. Two of their builds made our list of the 10 Best Customs of 2018, and now they've turned up again with this cherry-red TMX125 Alpha. The TMX is designed for sidecar or "tricycle" work, making it especially beefy in a single track configuration, and this model was built as a daily commuter for the client.
The Pereira brothers of Rock Solid Motorcycles opened their workshop in Leiria, Portugal, after spending several years working in the UK. Brother Hugo says they built this 883 Sportster street scrambler to catch the attention of "who don't appreciate carrying chrome and tassels and can't image the possibilities behind these models." The duo has certainly accomplished that, building one of the burliest, most beautiful Sportster scramblers we've ever seen. Even more fun, we were walking down the street on our trip to Portugal last month and saw this build sitting in the window of a motorcycle shop in Porto — quite the surprise! The bike looked even better in person than the photos show!
This Street Rod dirt bike was built for Mel Pocock, the 2012 European Motocross Champion, to ride on his own private motocross track. Commissioned by RD Custombikes and executed by Shaw Speed and Custom, the bike was built in just ten days for a press launch in Spain. The bike actually has a Daytime MOT — meaning it's street-legal for day riding!
When Thomas Kortenbach was just seven years old, he watched his first motocross race on his family's black-and-white television set. To say that MX race was influential on young Thomas would be an understatement — he was hooked on bikes! Today, he and his girlfriend operate TPCustom in the Netherlands. Thomas decided to build this 1996 Suzuki DR650 as an ode to that old black-and-white TV, with a B/W color scheme and minimalist design. The end result is one of the sleekest big single trackers we've seen, with loads of custom work and some funny stories along the way.  We particularly enjoyed the story of Thomas getting his girl's yoga mats caught in the bandsaw while trying to make the cushioning for the seat — quite the mess!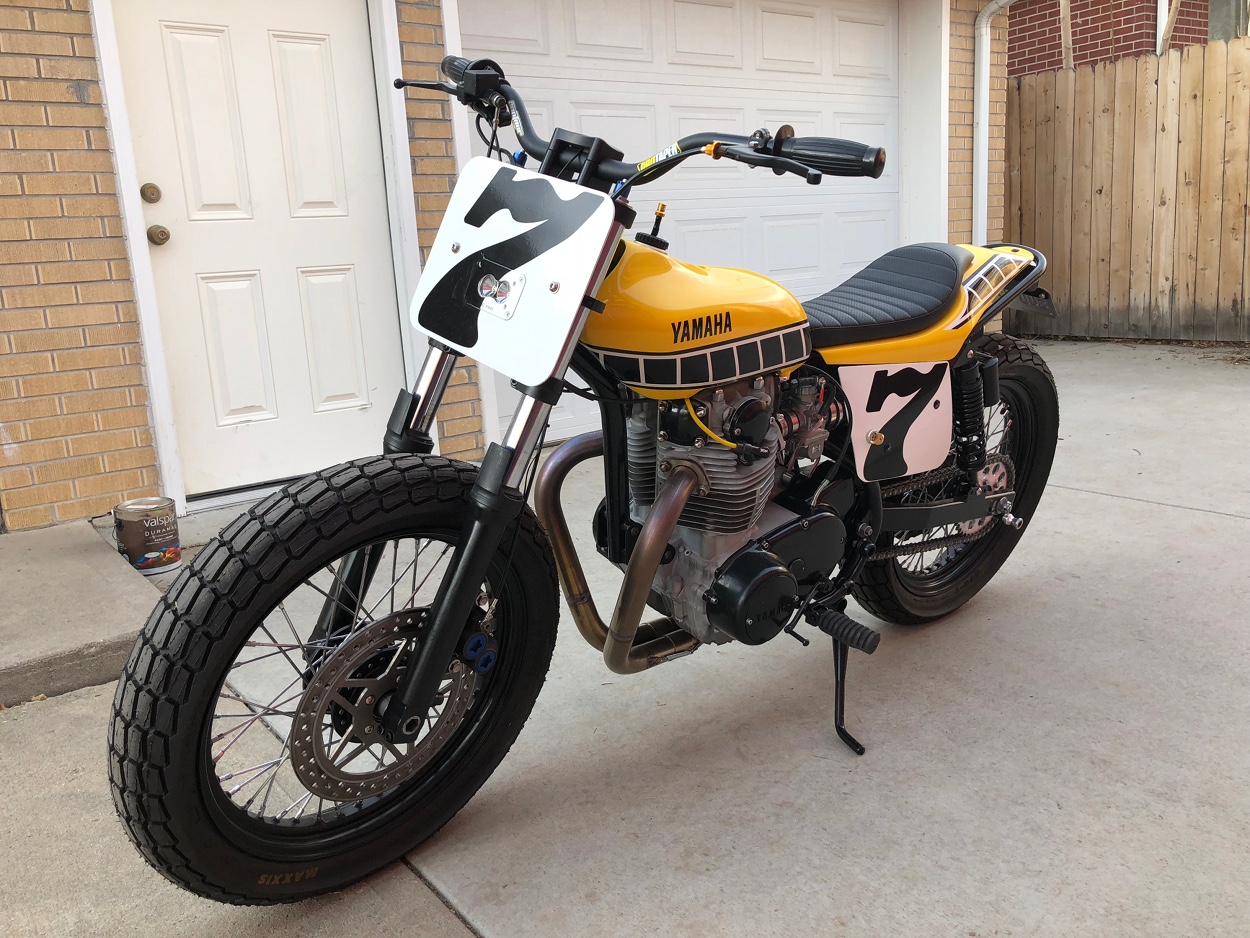 Joe Wagner is a fabricator and painter who has a background in aviation fabrication, car restoration, and race car building. Lucky for us, he's always had a love of flat track racing, which led him to build one of the best XS650 street trackers we have ever seen. And when we say "build," we mean truly that — Joe fabricated everything from the frame itself, the swingarm, and a lot of other one-off parts. The engine has been punched out to 750cc with a big bore kit, as well as an array of other go-fast goodies that ensure this garage-built street tracker goes as well as it shows.