Last week, we presented our Top 10 Custom Bikes of 2019, which is an objective, data-driven list, in which bikes are ranked according to website visits and social engagement. Today, we present our Top 10 Editor's Choice, which is a more subjective list of our personal favorites — the bikes that gave us the biggest kick to feature! The only rule is that a bike has not appeared in one of our past Top 10 lists.
Thomas Jean-François of France's Badass Factory turned to modifying his own bike after being diagnosed with Parkinson's, defying his physicians: "After a few years, I was forced to stop working (executive work), and three or four years ago, to contradict the doctors, I decided to work with my hands." And work he did, turning to the internet to educate himself on various aspects of mechanics and fabrication. His donor was a 2008 Triumph Speed Triple, a 1050cc factory streetfighter with 129 horsepower and loads of midrange punch: "I am a fan of café racers but I like also performance bikes…so I decided to make a bike with the vintage look and great performance." Everything is 100% homemade. Thomas formed the carbon tail and other pieces himself, and cut and formed aluminum for the rest of the bodywork. What's more, the bike you see here was built in nine days, with a broken arm, after a crash on his first build!
Justin Blue, whose supercharged Honda CB836 we featured last year, started building bikes in college after he gave up motocross racing. After earning a degree in Mechanical Engineering, he became a welder/fabricator and currently works for American Honda in Alabama. This RC30-inspired build started as a $100 1978 CB750F2 that Justin saved from the crusher, retrofitting the machine with loads of Honda superbike parts from the 80s and 90s — keeping the bike true to its Honda roots — as well as a built 836cc engine and one-off RC30 style paint scheme. "I call this bike the IFR750F2 (In-line Four Racing)." The bike took the title as All Class Champion at the 2019 Ace Corner Championship, as well as Best Cafe Racer at the VJMC (Vintage Japanese Motorcycle) show, and won Best in Show at the 2019 Victory Moto Show, where we got to see the bike in person — a true work of art!
Craig Jackson, an engineer in the semiconductor industry, has been riding and racing since he was a boy, and his motocross career took him to the Astrodome to compete in the Grand National Championship three times. Some six years ago, he caught the custom bike-building bug, working with his sons Max and Sam. In preparation for the  2019 Handbuilt Show, Craig and son decided to transform the original 5AM — built half a decade ago — into the "5AM V2.0," stripping the machine down to the bare bones and rebuilding it from the ground up. Says Craig: "I like when folks ask 'What kind of bike is that?' or simply 'What the [insert your favorite expletive] is that?' With the new logo, they know. It is a Jackson." All in all, this is one of the most meaningful stories we've had the honor of sharing — a build that demonstrates the power of the custom bike to transcend the garage and teach us lessons about life, family, respect, and love.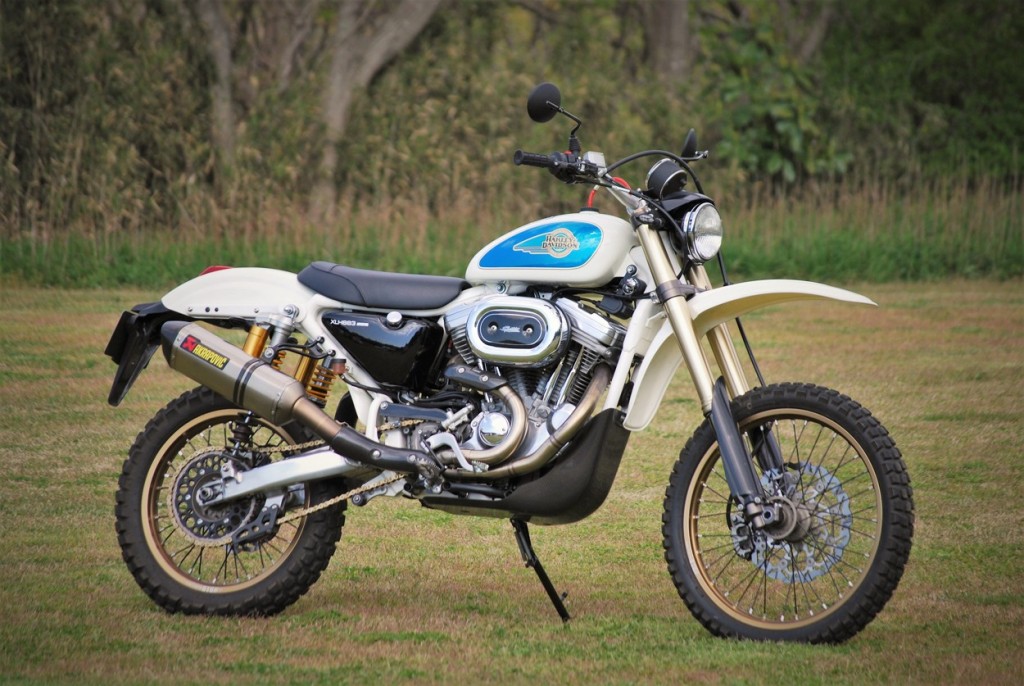 This "883 Scrambler" was built by Chikara Ueyama, CEO of Japan's K&H Co., Ltd — makers of various motorcycle accessories and seats since 1976. This is Ueyama's personal bike, in which he combined his love of big adventure machines like the BMW GS series with that of the 90s Sportster. He made much of the carbon bodywork himself, and the bike boasts a custom swingarm, shifted pivot point, and new subframe to accommodate the Ohlins TTX rear suspension. Meanwhile, Ueyama chose to keep certain signature elements of the Sportster intact, such as the headlight visor and air cleaner cover. We love how this "883 Scrambler" remains clearly identifiable as a 90s Sportster despite the burly suspension and off-road prowess. Says Ueyama: "Commuting, road touring, dirt touring, rally events — Everything is FUN with this 883 scrambler."
Chus Valencia of Spain's Kacerwagen is something of an iconoclast in the customs world. He prefers to build bikes that defy easy labels or categorization: "I do not like to copy or to pigeonhole my modified motorcycles by a style — I like that they carry my stamp. I like to take risks and that my creations do not look like the others." When Chus scored this '83 XS400 at a good price, he was unafraid to tackle the complex chassis and lines. He stripped down the bike in his shed and sat in his chair, creating and visualizing designs until he had the vision clear in his head: "It was clear to me that I wanted a thin motorcycle, of small volume and with large diameter tires. I opted for Avon tires." Much of the bike is hand-built from scratch, with sheetmetal fairings and bodywork, and we especially love the square headlight — taken from an old Jeep!
Ryan Maloney is a family man, racer, full-time HVAC tech, and "part-time wannabe bike builder out of my basement." For a part-time builder, Ryan has created a street tracker as incredible as any we've seen, inspired by the 650R dirt trackers of the American Flat Track series: "I wanted to build a Grand National dirt track bike for the street because so many people doubted it and said it wouldn't work on the street and it would suck to ride." The heart of this Ninja street tracker — "Nightmare" — is a liquid-cooled Ninja 650R engine, placed in a center shock J&M frame, with loads of one-off CNC parts, carbon fiber bodywork, and some truly awe-inspiring paint from Bert Graphix. Also, last we heard the bike was for sale! Contact Ryan Maloney for more information.
Justin Martens (@Jmartens2004) is a native Minnesotan who restores and builds motorcycles out of his two-car garage in San Rafael, California. The idea for this build started innocently enough:  Justin had an XS650 engine and a set of SV650 wheels lying around and decided to put them together. What he didn't have was a frame, so he decided to build his own. The result is the "Martens Motard XSM 750″ (as the DMV paperwork states) — a 750cc, trellis-frame Yamaha XS650 supermoto built for slaying Husky 701's through the twisties of West Marin. Rarely do we see builds full of such heart and ambition. What's more, Justin built the entire bike in less then 60 days for under $1500, then rode it 300 miles on a camping trip, winning the COOLEST award at the 2018 Dirtbag Challenge. Well earned, brother!
While an absolute monster in a straight line, the original V-Max was criticized for being overweight, softly-damped, and ill-handling…until Madrid's Nitro Cycles got their hands on one, that is. Says founder Antonio Testillano: "We are a family moved by the fuel." Antonio takes his inspiration from race bikes, so it's no surprise that lightness and improved performance are top priority for any Nitro Cycles build. This '99 V-Max was no exception: "Our aim is to make our bikes lighter and faster. That's why we decided to turn this heavy custom bike into a 'lightweight' one." The result is a lovely, leaner and meaner V-Max that appeals to us so much more than the near 700-lb, second-gen "VMAX" introduced in 2009.
Paul Ling of Old Barnstormers Motorcycles, who comes from a long line of mechanics, engineers, and racers. He began racing a TZR250's alongside his brother in 1991, spending 15 years in the saddle of those two-stroke furies. More recently, Paul decided to take a break from the big city of London to build a cafe racer, finding a workshop situated between the Kent villages of Hawkhurst and Flimwell. Working over a period of 18 months, he created the staggering machine you see here: The Hawkhurst Harrier. If the tail cone and exhaust remind you of the sleek nose and exhaust ports of a Merlin V12-powered Spitfire or Mustang fighter, it's no coincidence: "The Hawkhurst Harrier is inspired by 20's and 30's aviation, specifically the planes of the Schneider Trophy Races — with an extra dollop of later Supermarine thrown in." The result is one of the most stunning builds we've seen in quite some time — a bike that captures the lethal elegance of the Supermarine Spitfire and the 400-mph seaplanes that preceded it.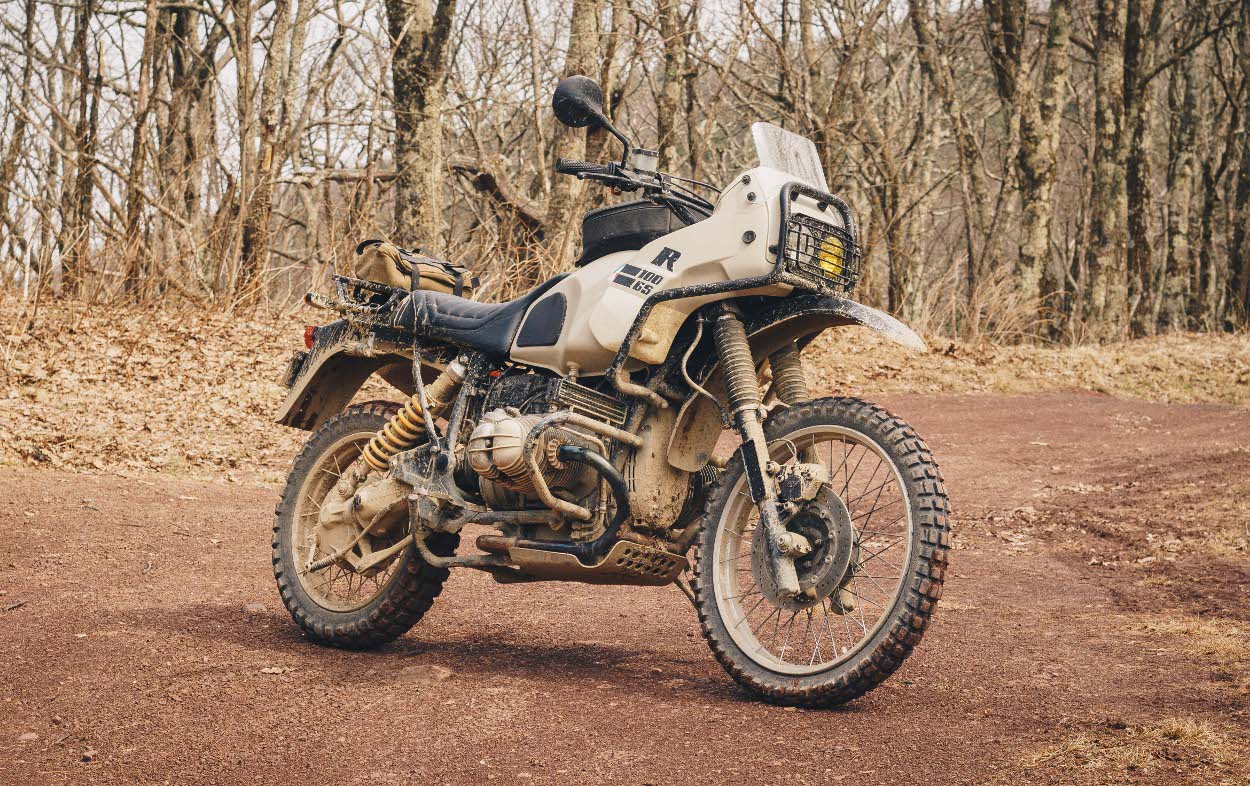 Matthew Hawthorne is the founder of Wheelborne — a motorcycle gear company out of Richmond, Virginia, offering handmade waxed canvas goods such as tank bags, saddlebags, and bottle bags. When Matt needed a bike that could endure the same abuse as his handmade moto gear, an airhead G/S was the ideal candidate. His intended use of the bike was clear: "Mainly to crush some fire roads and have a bike that can do absolutely everything with little compromise." While Matt considers himself more of a "fat trimmer" than "bike builder," he's wrought quite the transformation on this 1992 R100GS "Bumblebee," working out of his 12×24 shed to streamline and enhance the original bike. We especially love the slim one-off windshield, modified subframe with early G/S rack, and even the paintwork, which Matt performed himself in his shed. This heavy-duty trailie will still be crushing fire roads when the higher-strung enduros have had enough.