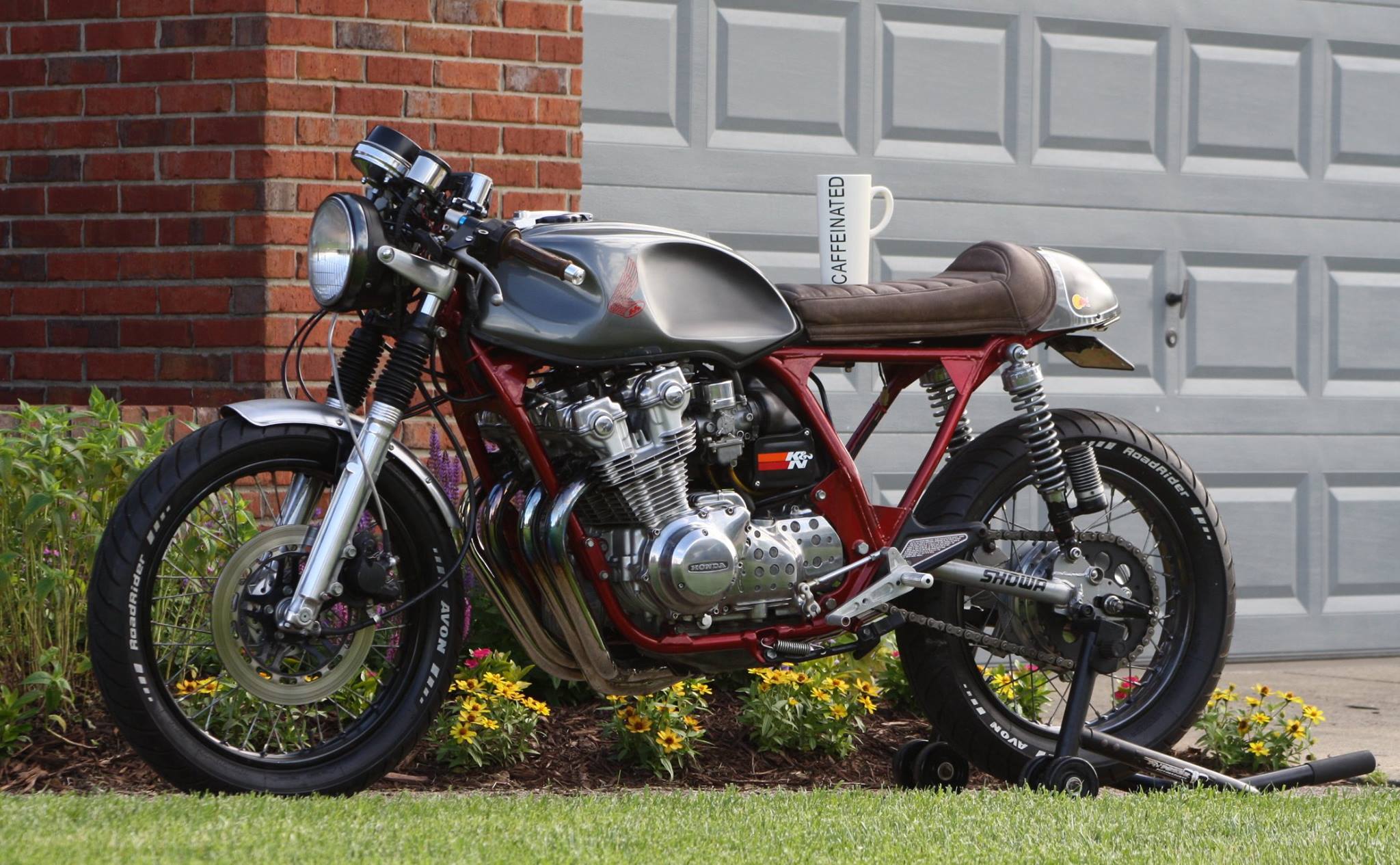 We're as guilty as anyone of overusing the term "cafe racer."  Still, despite its overuse, the term carries a certain power and weight.  It hasn't lost its resonance or romance. It's reminiscent of what the late James Salter, fighter pilot and novelist, said of the jet fighters (F-86 Sabres) he flew in the 1950s (The Hunters, 1956):
"You lived and died alone, especially in fighters. Fighters. Somehow, despite everything, that word had not become sterile. You slipped into the hollow cockpit and strapped and plugged yourself into the machine. The canopy ground shut and sealed you off. Your oxygen, your very breath, you carried into the chilled vacuum, in a steel bottle."
Somehow, "cafe racer" evokes a similar mystique.  You are alone, hunched on a single cowled seat, bent low over the down-turned bars, drunk on the wind in your mouth. There are some bikes that truly deserve this moniker, and Alex Aranilla's 1979 Honda CB750K is one. This is no shop-built trailer queen. It's the product of more than six years of work for this Indiana native, and a fitting evolution of the bikes once parked slantwise outside the Ace Cafe, hunched low and mean for speed.
CB750K Cafe:  Build Story
Alex Aranilla of Newburgh, Indiana, is the proud papa of this custom DOHC CB. We will let him tell the story in his own words.
Years in the making, this DOHC CB750 has undergone a ground up restoration and modification into a cafe style bike.  I purchased the low mileage donor shortly after my son was born and completed it last year when he turned 6!  Life, work, money, and other bike projects had delayed this, my first cafe racer.  
The frame has been strengthened rearward of the backbone and gussets added to the subframe.  The frame was then powder coated a candy red.  The swing arm has been modified to raise the rear ride height and sprung with cb900 Showa FVQ shocks.  The springs were replaced with new Progressive springs.  The swing arm plastic bushings were replaced by machining the pivot area and pressing in a set of tapered roller bearings.  The rear sets are a combination of old school bmx pegs and machined billet levers. 
The engine was cleaned and case covers hand sanded and polished.  New gaskets, stainless cap screws and NOS valve cover bolts were used to button up the 10k mi. motor.  I shortened and rebuilt the front forks and polished the lower fork legs.  Both wheels have been re-laced with the front wheel being made out of two different wheels.  Wiring was hidden/rerouted towards the rear ending at a Ballistic 8 cell Lithium Iron battery.  
There is so much work to list but what I find interesting is that this bike is mostly stock! The engine is completely stock but the carbs were rebuilt and jetted for a K&N filter and a 4 into 1 chrome exhaust.  Overall, I was happy with the outcome and have gotten a lot of attention wherever I take my bike.
CB750 as Cafe Racer Platform
When it came out in 1969, the CB750 was called by Cycle magazine "the most sophisticated production bike ever," and according to multiple sources, the term "superbike" was coined to describe it. The DOHC was introduced nearly a decade later, and power jumped to 79 horsepower. The power, affordability, and design have made the CB750 one of the most "cafe-d" bikes of all time, and with good reason.
The Best CB750 Cafe Racers
Below, we've listed our favorite CB750-based cafe racers, featured on some of our favorite blogs. They include customs from two veteran builders, Classified Moto and Motohangar, as well as upstart Seaweed & Gravel of Encinitas, California.
Know of some other CB750s that ought to make our "best-of" list? Let us know in the comments!