At this year's Handbuilt Show, we were lucky enough to discover the work of Cliff Fisher, the man behind Stasis Motorcycles.  He simply blew us away with his "Stasis Scrambler 900," a modern incarnation of a custom Triumph desert sled. He described the bike as a…
"Long-legged, knobby, cattle-guard jumper for the rural Texas dirt roads."
Lord, that is music to our wind-burned ears!   We'll let Cliff himself give you the full story on this long-legged beauty.
Triumph Thruxton Scrambler:  In the Builder's Words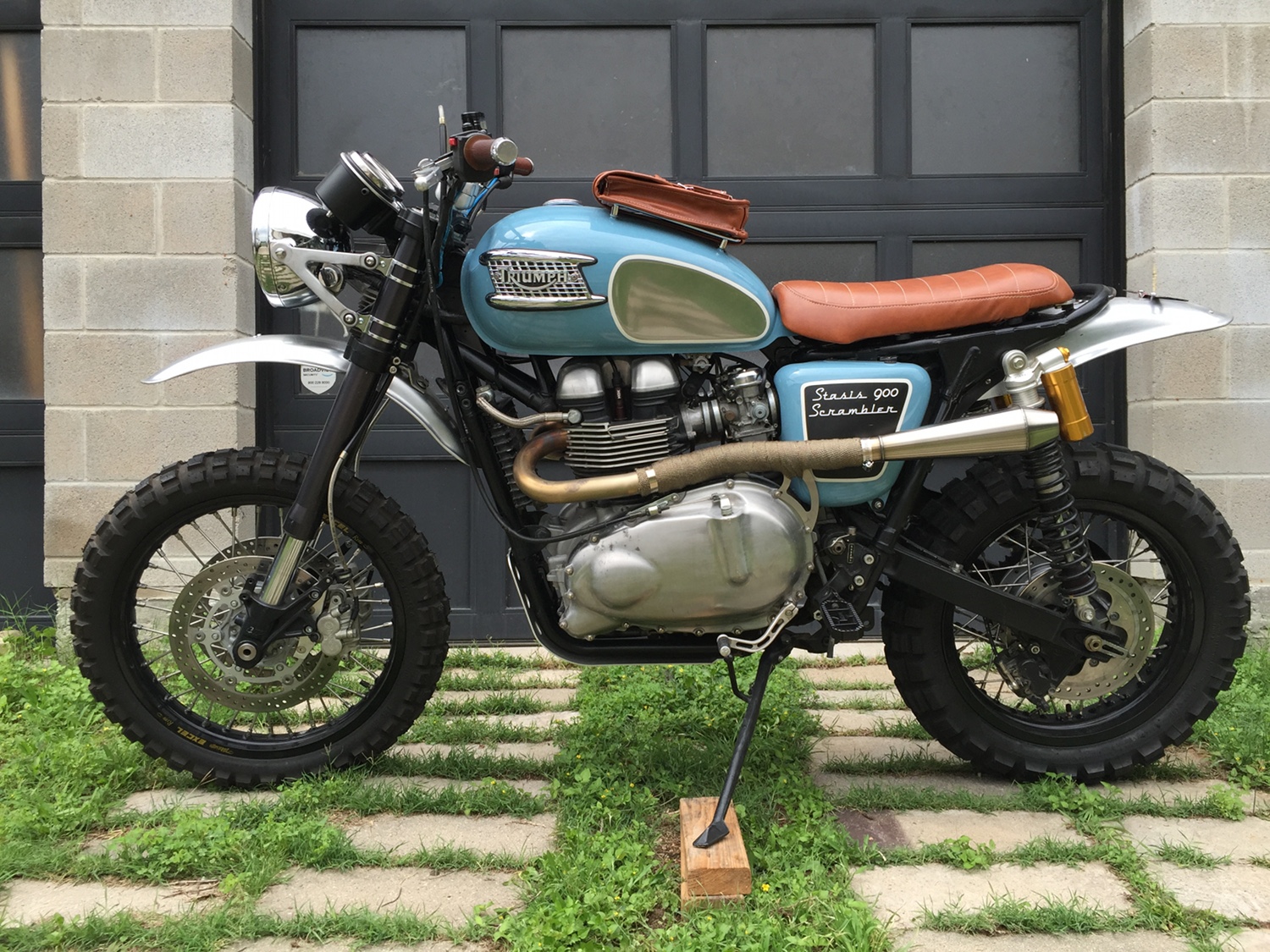 The objective with all Stasis Moto builds is to meld vintage with modern, and the vision here was to re-create a more capable 70's desert sled. My description for the 2015 Handbuilt Show was a "long-legged, knobby, cattle-guard jumper for the rural Texas dirt roads."
In this case, Triumph has provided such a classic mold with which to work, all I really changed was the stance, fenders and exhaust. This began as 2001 Thruxton with damaged forks and bent front wheel…which I replaced with a KTM Duke II front end running a KTM Adventure 950 dual-disc hub re-laced to a 19" Excel rim. The rear wheel was re-laced to a black rim suspended with 18-inch-long Ohlins piggyback shocks from a KTM 4-wheeler, rolling on TKC 80 knobbies…which resulted in a VERY tall bike.
Exhaust is a barky pair of wrapped stainless high mounts from British Customs with a pair of cone-engineering shorty pipes, which assault anyone following you with just the right amount of aural rudeness.
The vintage alloy fenders came from a Honda SL350, which really compliment the brushed steel of the tank knee pads, alloy skid-plate and anchor this bike firmly in the era I wanted.
This is a bike that is as enjoyable to admire over a dusty beer as it is to ride!
Photos from the Handbuilt Show
These are photos from last year's Handbuilt Show, taken by Jun Song (@nostalgia_memoir).