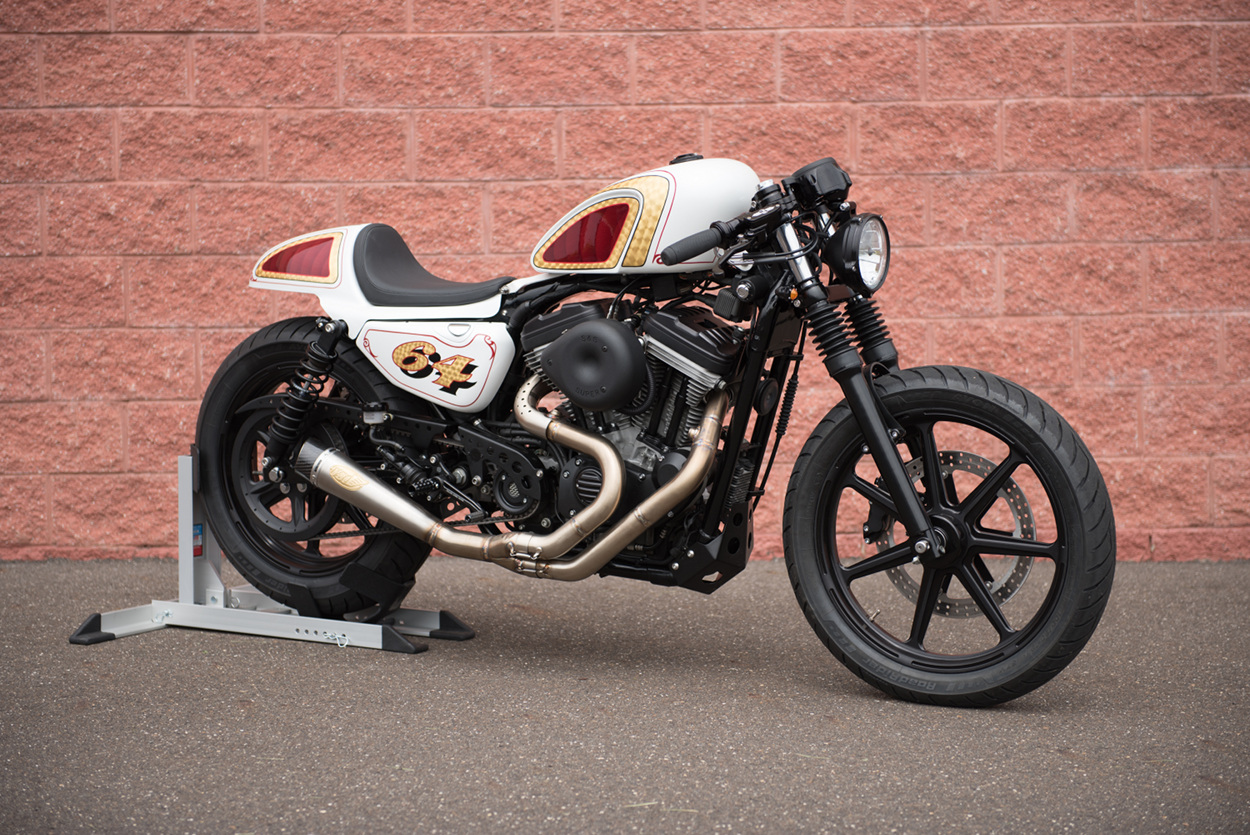 Today we're proud to showcase one of the prettiest Sportsters we've ever come across, and the story of the build is even better. This is the personal bike of Meg, who is the co-owner of Get Lowered Cycles with her husband Mike.  Mike started the business out of his garage in 2007, and the couple gradually built the business between classes in college. Based out of Pennsylvania, they specialize in aftermarket Harley parts, and Meg is an avid motocrosser, riding a KTM 150 on the track.
About a year ago, she decided she wanted a cafe-style build, and this 2004 XL883 was the perfect platform.  Meg, Mike, and Mike's father worked together on the bike, making it somewhat of a family build.  Below, Rob Shaeffer of Get Lowered gives us the full story on the build, followed by an interview with Meg herself.
XL883 Cafe Racer
(Words by Rob Shaeffer of Get Lowered Cycles. Highlights by us.)
This is Meg's bike — co-owner of Get Lowered Cycles with Mike. We've had this '04 Sportster for years, using it for promo installs and product photos. A little over a year ago, Meg decided she wanted a cafe-style bike and the Sportster ended up being the perfect base. Mike and his dad spent many nights and weekends pulling things apart and putting them back together. It was a bit of a family build as the three worked collaboratively on the design and execution of the bike.
Parts we used included RSD Sportster Rearsets, RSD Slant 2-into-1 Exhaust, RSD Cafe Tail Section & Solo Seat, RSD Morris Wheels, Drag Specialties Legacy Tank, Legend Revo Shocks, Progressive Monotube Fork Kit, S&S Super E Carb Kit, Dakota Digital 3200 Series Speedo/Tacho, Speed Merchant Skid Plate, Biltwell Recoil Grips.
We cut the cam cover and had it powder-coated locally at Bonehead Performance. Tank and tail were custom hand painted by Ryzart and turned out pretty incredible.
Interview with Meg of Get Lowered Cycles
(Highlights by us.)
Who are you/what do you do?
Meg, I own and operate a motorcycle e-commerce business with my husband Mike.
Why do you love motorcycles and what got you into them?
Having grown up in a family that frowned upon motorcycles and never really saw them as anything more than a dangerous machine, it took me a while to see them as anything more than that. Once Mike and I started dating, his Dad was always working on someone's bike so I got to see a lot of different models and styles roll through his shop. Plus Mike and I had started the business shortly after that, so I really jumped feet first into the aftermarket industry.
It was never really all the appealing at first, I can't really say it was a love at first sight. When Mike and I moved back to the Warminster area from Lancaster, he and his Dad decided it was time to go pick up some dirt bikes. I'm not really sure what lit the fuse for me — but I knew that I wasn't going to be left sitting on the sideline. I grew up like a true tomboy with two older brothers, playing Tier 1 Inc Hockey all the up until college. The transition from competitive sports to dirt bikes, while there was a bit of a learning curve, only seemed natural.
Shortly after getting the basics down on the dirt bike and taking my fair share of falls, cuts and bruises — I was hooked. Riding is truly one of the greatest joys someone can experience. As my affection for the industry grew, I started to see the creative outlet that so many people turn to when then want to customize their bike — and make it fit their style. You begin to appreciate the time, money and effort that so many people pour into their machines.
Who/What inspired you to build the Cafe Sportster?
Mike had purchased the stock Sportster from a Harley dealership in Lancaster and we had it for a while. He mostly used it for some promotional installs and product photos. It wasn't until I saw the RSD Cafe Sportster come out in the Drag Specialties Magazine, that I knew that was what I wanted for my bike. It was so different and I really loved the cafe style, even though I had never ridden anything like that.
What were the toughest decisions you had to make?
Nothing was too difficult. We knew what style we were going for, so I didn't really have too many choices. The biggest thing Mike and I debated for a while was the paint. The bike has so much black and silver — you have almost an endless amount of color and design choices. And besides the overall design, the paint, in my opinion, is one of the most distinguishing characteristics of the bike.
How'd you make decisions on parts along the way?
I really loved the look of the RSD Cafe bike, so between Mike and I we both choose the parts we were going to use. I always appreciate his opinion and input, and since this is what he does every single day — he really helped me choose all the parts I was looking for.
How'd you find Ryzart and how did you decide on the paint design?
We were lucky enough to have a friend recommend Ryzart for the paint design. We had seen some of his work in person and knew that we liked his style and his attention to detail was top notch. We were happy he agreed to work with us along the way. Since we were pretty open about the design for the tins, only having picked out the colors, we asked him to send us some sketches for the design. He recommended using the gold leaf as part of the design and I am definitely glad we did. In my opinion, the paint job turned out flawless and am so grateful for all the hours and effort he put into it. I think it gives the bike an eye catchy look and helps bring out the character of the bike.
How does it feel to be finished your first big build?
It feels really good — it has definitely been one of those things that just seemed to take a long time. Whether it was waiting for the wheels to come in, parts to come back from powder coat, or finding the right hardware and adapters to get everything where it needed to be. But it was a fun project and something I will always be happy that I was a part of.
Who helped out along the way and how did they contribute?
Well first and foremost, I have to thank Mike. He not only fronted the bill for the build, but he made the whole process something fun and exciting to be a part of. Without him, I'm not even sure if I would have ever put my leg over a bike to begin with. He has always been such an important part of my life and I think having him help me all the way through this build, reflects how well we work together as a team and always support each other along the way. It's really cool to ride with him out on the road — although now I think he is a little jealous that I have such an awesome ride.
And I also have to give a huge thank you to Mike's dad. He spent countless hours helping us tear the bike apart and put it back together piece by piece. It's really cool to watch someone who is really good at what they do, work. Especially when that means tearing open a motor – not something I would ever do by myself. And another big thank you to uncle Brian, who was also a big help during this build.
I also want to say a very personal thank you to Jesse and his team from Legend Suspension. He stopped by the shop while we were about half way through our build and he was more than happy to lend us a hand and have us try out a set of the Revo shocks. After a couple test rides with them, the bike handles and corners so well. They are by far one of the best shocks you can get for your motorcycle.
What are some of your favorite standout parts of the bike?
I love the Exhaust, handlebars, Rear Sets, and Tail Section. I think they are a few of most defining characteristics on the bike. But I also love some of the smaller pieces too, like the cam cover that we cut by hand and sent to have powder coated black.
What's the Sportster like to ride?
She feels amazing. Going into a corner and being able to lean the bike over and feel like you are in complete control of the bike, it just feels amazing. Overall I tend to like the attack position when riding better than the cruiser position. You feel more agile and more in tune with the bike.
Part Highlights
Roland Sands Rearsets
Drag Specialties Legacy Gas Tank
Roland Sands Exhaust
Legend Suspensions Revo Shocks
Progressive Suspensions Monotube Fork Kit
S&S 1200 Kit
S&S Cycle E Carb Kit
Performance Machine Hand Controls
Roland Sands Cafe Tail Section
Dakota Digital Speedo
Speed Merchant Skid Plate
Biltwell Recoil Grips
Roland Sands Clip-Ons
Roland Sands Morris Wheels (19 x 2.15 and 18 x 4.25)
Performance Machine 6 Piston Caliper
Follow the Builder
Follow Get Lowered Cycles:  Facebook | Instagram | Twitter | Youtube | Web
Save
Save