The first generation Yamaha XT250, built throughout the 1980s, was the bike that Rambo rode in the movie in the series, First Blood, which came out in 1982. The bike has long remained a stalwart of backroads, muddy paths, and farms and ranches where a lightweight, bullet-proof dual-sport motorcycle is needed.  The air-cooled thumper offered 22 horsepower through 249cc motor, with a wet weight of 270 pounds.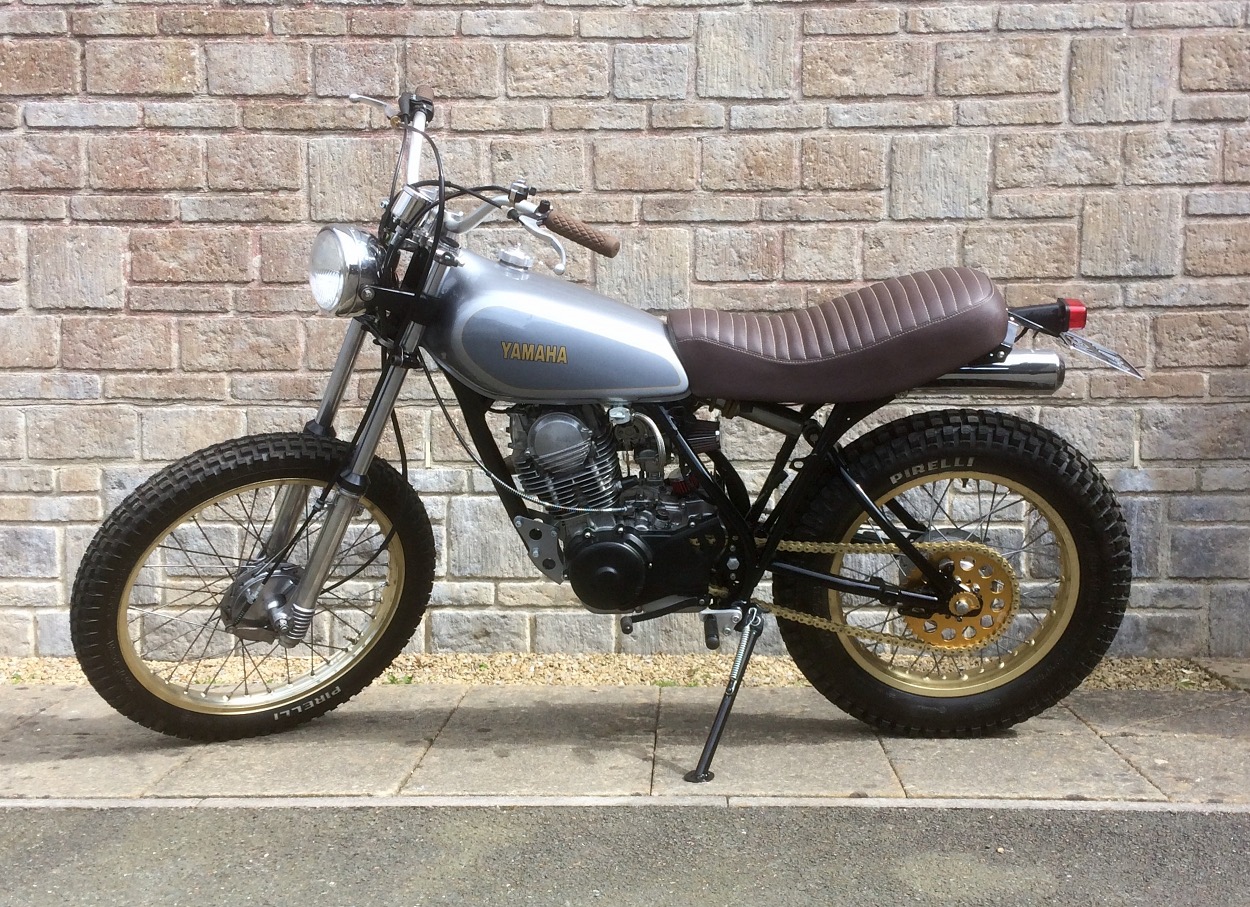 Enter Gareth Harris of Ivybridge, UK, who found a "knackered" (tired/beat up/worn out) 1979 XT250 bereft of paperwork and care. What began as a simple flip evolved into this lovely scrambler, which remains true to the original while losing weight and gaining class. Below, we get the full story from Gareth on the build.
Yamaha XT250 Scrambler:  Builder Interview
(Answers by Gareth Harris.  Highlights by us.)
• Please tell us a bit about yourself, your history with motorcycles, and your workshop.
I'm 45, first big re-build but I've had bikes since the age of 11. Used to ride my Puch 50 around the garden. Built the XT in my garage myself apart from the paintwork which was done by Art Attack Designs, Plymouth.
• What's the make, model, and year of the bike?
Yamaha XT250 1979
• Why was this bike built?
Just saw an old knackered XT with no paperwork! For sale and thought I'd buy it and register it and maybe sell on. Two days later it was stripped!
• What was the design concept and what influenced the build?
Wanted a custom scrambler that was sympathetic to the original XT.
• What custom work was done to the bike?
Completely rebuilt and restored
Custom paint work
Lucas headlight
Rental bars
Polished engine and forks
New bearings (everywhere)
Custom billet petrol cap
K&N filters
Airbox removed
Battery eliminator
New switchgear
Custom tail tidy and footrest hangers
Custom seat
Talon sprockets and gold chain
MOT and V5
• Was there anything done during this build that you are particularly proud of?
Probably the polished engine done with a Dremmel.
Follow Gareth on Instagram:  @gafferharris
Save