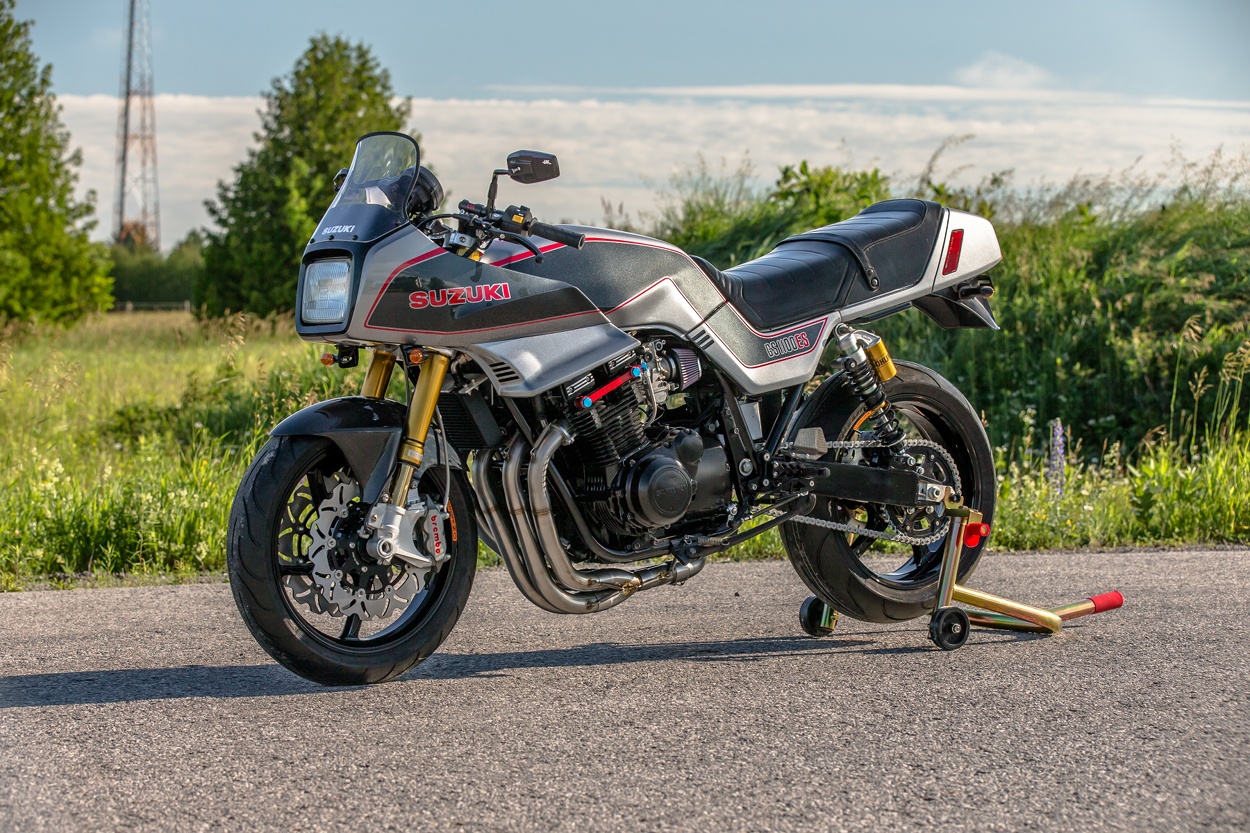 The Suzuki GS1100 is nothing short of a modern legend. Introduced in 1980, it was the fastest bike on the drag strip at the time, clocking a 1/4 mile time of 11.39 seconds. Cycle World named it "Superbike of the Year" from 1981-1983, and Rider magazine would rank the GS1100E the fifth-most important bike of the last 35 years.
Enter Darren Begg of dB Customs, who is building some of the most incredible restomod sport bikes on the planet. There is something inherently sexy about these big, air-cooled inline fours. The dB Customs recipe is deceptively simple:  stay true to the original style of the machine while upgrading the suspension, wheels, brakes, geometry, and power.
Recently we featured this incredible Honda CB1100R restomod, and now we're thrilled to present staggering Suzuki GS1100ES. Without further ado, let's dig into the details.
Suzuki GS1100ES Restomod:  Builder Interview
• Please tell us a bit about yourself, your history with motorcycles, and your workshop.
dB Customs was formed in November of 2015 out of a demand for high quality restomod styled performance motorcycles. We stay true to the original style of the motorcycle, while upgrading the geometry, suspension, braking, and power, as well as significantly lowering the weight, in true restomod spirit.
Our workshop is fully equipped with machining, welding, and vapour blasting technologies. We are also an authorized dealer for OHLINS, Dymag Wheels, OZ Racing Wheels, Spiegler, Speedcell Batteries, Driven Racing, Wossner Pistons, Cometic Gaskets, JayGUI Racing exhausts, APE, and SUDCO.
• What's the make, model, and year of the bike?
The bike is a 1983 Suzuki GS1100ES.
• Why was this bike built?
Our customer out of New Zealand had just finished a 1983 CB1100RD restomod and wished for us to also build them a GS1100ES, not a bike that is readily available in NZ. Our company sourced the donor bike in the USA for their build.
• What was the design concept and what influenced the build?
dB Customs has a basic recipe of OHLINS forks and shocks, light weight wheels, custom fitted modern swingarms, Brembo brakes, and their JayGUI racing exhausts. Our customer wished for us to take some inspiration from the GSXR750 Phantom Edition, hence the color combination. We also wanted to include some inspiration from one of my customers favorite riders and superbikes, Wes Cooley's GS1000S, and is why we included the SUZUKI logo on top of the fuel tank.
• What custom work was done to the bike?
Custom billet triple clamps were required to fit the OHLINS ZX14R forks. A Suzuki Bandit 1200 swingarm was used, a common upgrade, that required shock adapters to be fitted and welded for the twin OHLINS shocks. The geometry was set such that the bike has 95mm of trail, very close to a modern sportbike. A pair of 320mm front rotors were used with Brembo radial mount calipers, Spiegler lines, and Brembo RSC brake master to provide it with stopping power.
The engine is a standard bore GS1100ES engine with 34mm Mikuni RS carbs, degreed cams, top end oiler, that flows through a JayGUI Racing stainless exhaust. Ignition is provided by a Dynatek 2000 ignitions system with 2.2 ohm coils. Gilles Tooling ZX12R rearsets were adapted to the bikes with custom made mounting plates.
• Was there anything done during this build that you are particularly proud of?
The overall flow of the bike I just love, and it looks very balanced. The stance is very aggressive and will add some fun and nimbleness to any spirited ride.
Follow the Builder
Follow dB Customs:  Facebook | Instagram | Web
Save
Save
Save