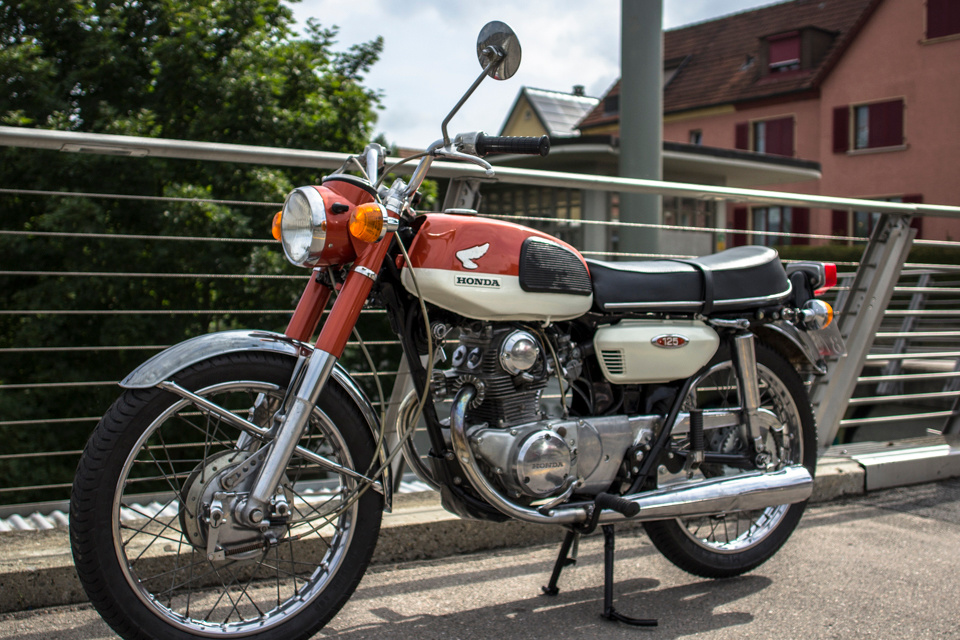 The Honda CB125 Twin was introducing during a time when manufacturers were battling on the showroom floor with small displacement bikes. However, as standard engine sizes became larger and larger, many of the competing machines died away until the CB125 was one of the few 125cc motorcycles available…all the way into the eighties. These were handsome little machines with surprising pep from their eighth-liter engines, reportedly capable of hitting 88 mph!
Enter Felix Kuhn of Switzerland's Last Century Bikes, who found this CB125 disassembled in boxes, taken out of service in 1978. He set about restoring the bike to its original glory. While we mainly focus on modified bikes, this CB125 was just too cool to pass up.
1970 Honda CB125:  In the Builder's Words
Taken out of service 39 years ago and packed in boxes. As a successor to the Honda CB92, the CB125 came on the market sharing many components with the CB93 race machine and larger CB160. Steel tube frame, a new chassis and telescopic fork were the most noticeable innovations. The plus-points list of the machine sounded tempting:
electric start (6 volts!)
15 hp at 11,000 rpm
two-cylinder
duplex frontbrake
two-color paint
Why the machine was taken out of service in 1978, after 8 years of operation with 37tkm, can only be guessed. In addition to some rust, the crankshaft bearings were worn and the valve guides were derailed.
The small CB was then disassembled and packed in boxes, the frame was sandblasted and painted. Then probably many, many years nothing happened, except that the boxes full of parts changed the owner.
Then the Honda was with two mechanics, who were perhaps afraid of the challenge in the form of boxes full of items. Anyway, the owner picked up the parts collection after a while because nothing happened.
So the jigsaw of the Japanese lady ended up with me last year. The owner had read an article about me, packed all the items in his car and brought everything to me. I received the order to rebuild the machine.
This was a wonderful job for me. Part by part was put in order and mounted in its intended location. The cylinder head was completely revised, the cylinders honed for rust damage.
The spare parts are extremely scarce — for example, a new (almost) matching fuel cock from an old warehouse in China had to be bought.
The Honda runs wonderful and screams when needed, the 15PS aria and over 11,000 revolutions in a handling of a moped.
The Technical Approval (MFK) as a veteran was not a problem, which is clear when you have seen the Honda.
Follow The Builder
Follow Last Century Bikes:  Facebook | Web
More from Last Century Bikes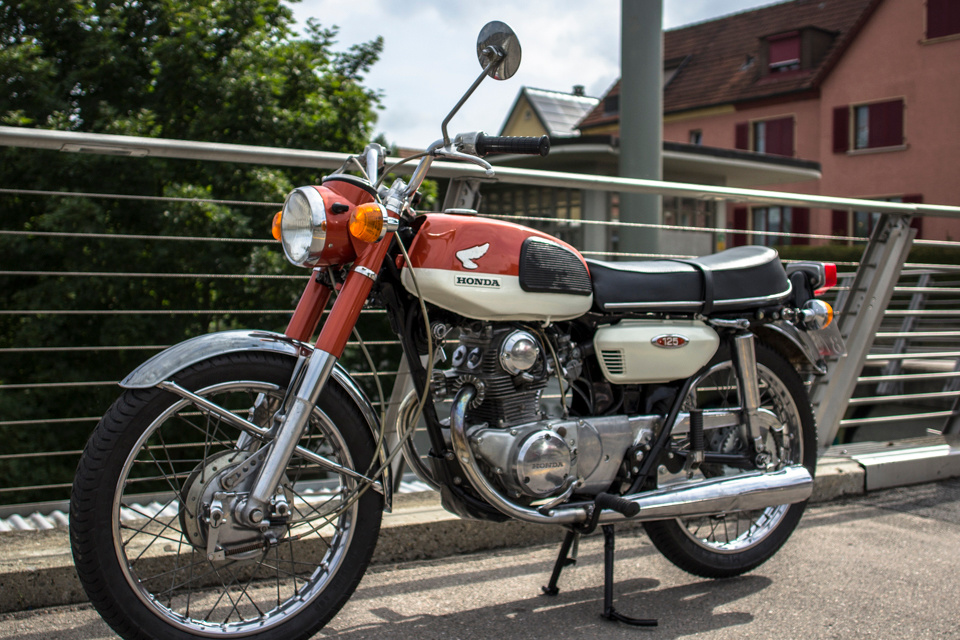 Honda CB125 Twin by Last Century Bikes
-
The Honda CB125 Twin was introducing during a time when manufacturers were battling on the showroom floor with small displacement bikes. However, as standard engine sizes became larger and larger, many of the competing machines […]
Honda NX650 Street Tracker by Last Century Bikes
-
"Our hands are black, our souls are cleansed." This is the motto of Last Century Bikes, a workshop in small-town Switzerland (Winterthur) run by enthusiasts Felix Kuhn and Alain Bramaz. Felix is a mechanical engineer […]
1981 Gilera Strada Custom
-
Today we have a beautiful and unique custom Gilera Strada by Felix A. Kuhn of Winterthur, Switzerland, who owns Last Century Bikes. A little history:  Gilera was founded in Arcore, Italy, in 1909 by Giuseppe […]