A #coronavirusbikebuildoff rally raider…
The BMW F650 Funduro, introduced in 1993, aimed at a new sector of the motorcycle market. It was a single-cylinder, chain-drive, 48-hp dual-purpose machine that cost only $200 more than a Honda NX650 Dominator — about half the price of the larger GS siblings. While the Funduro didn't have a 100-hp engine, ABS brakes, shaft drive, heated grips, or the various luxuries of the R1200GS, it would remain in production until 2007, developing a reputation for no-nonsense reliability and performance.
"Despite its Austrian engine, British stylist, Japanese suspension, Italian construction, and despite its equally non-German price, the F650 Funduro offers much of what is traditionally good about BMW."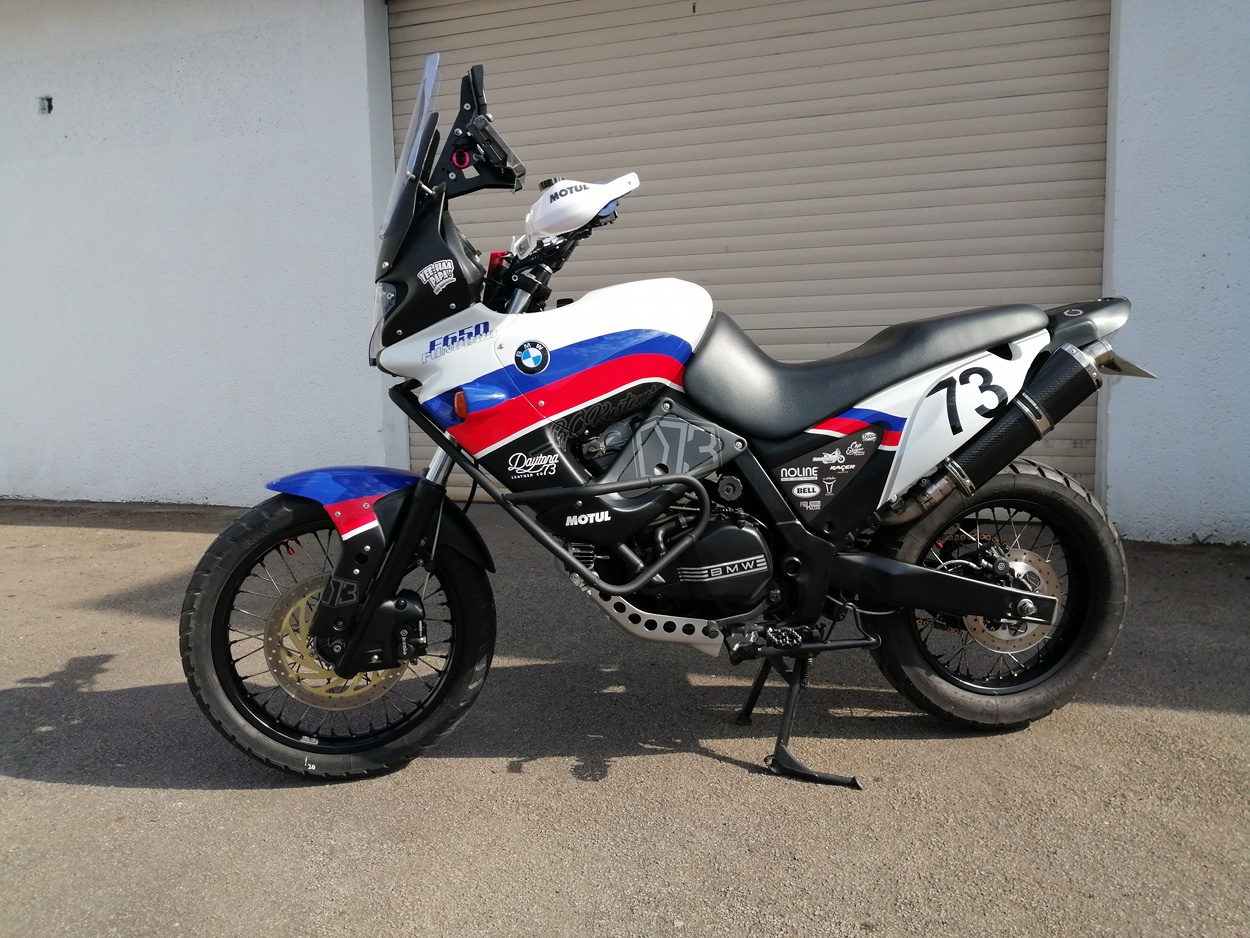 Enter our friend Yann Le Douche of BCKustoms (Breizh Coast Kustoms), whose long racing pedigree includes stints as a race mechanic for Ducati France, a team coordinator in World Superbike, and a MotoGP journalist before he caught the flat track bug on a trip to the USA. Today, he mainly builds trackers, both street trackers and race bikes:
"My next project will be the 40th in 10 years, which is not too bad for a single man business. Learning with time extra skills to build custom motorcycles is the soul and what makes me smile every morning, switching on the lights in the workshop."
Believe it or not, this 1994 BMW F650 GS Funduro was given to him three years ago by a friend who bought it to earn his motorcycle license but never got around to it.  It was in rough condition, and Yann planned to use the bike for flat track training, then extract the engine for another build once he'd beaten the rest of the bike to a pulp. However, upon taking the bike out on the road, he was mighty impressed…
"Nice engine, good position, comfort, all was working… Got some pleasure to ride it and found my first plans for that bike would have been a mistake. Then came the virus…"
With his other projects stalled due to the inability to get parts, he decided to turn this F650 into his #coronavirusbikebuildoff, using what he had available in the workshop and parts he could obtain from large e-commerce platforms. He had some 2015 sketches made for a customer who wanted a Moroccan rally raid machine. The client ghosted but the plans were revived!
We especially love the front facelift, conducting with the materials at hand, and the custom-made crash bars Yann built from the 2.5 meters of steel tubing he had — no second chances! Then there's the paint. Perhaps not surprising for a man who once designed the liveries for BMW Motorrad France's racing team, it looks damn impressive, and Yann even designed the graphics for his Bell MX-9 helmet to match! Below, we get the full story on this BMW rally raider.
Funduro Rally Raider: Builder Interview
• Please tell us a bit about yourself, your history with motorcycles, and your workshop.
The BCKustoms name was only created 10 years ago. It all started in March 2010, when I had the opportunity to create a company name after I designed the full line-up of the BMW Motorrad France Team racing at the Le Mans 24 Hours, the S1000RR race bike paint scheme included of course.
Then came the first bike, an XS650 bobber. Later, after a trip to the 2012 Daytona Bike Week and the AMA Pro Flat Track races, I started building trackers, which are now the main part of the business, race bikes and street trackers. But I like also to build bikes in segments that BCKustoms hasn't yet reached, always with a racing paint scheme and race numbers… Wait for next one… It will be a great show!
Meanwhile, my next project will be the 40th in 10 years, which is not too bad for a single man business. Learning with time extra skills to build custom motorcycles is the soul and what makes me smile every morning, switching on the lights in the workshop. Every day is a great day. I appreciate that.
• What's the make, model, and year of the bike?
Funny shit is I've been given this 1994 BMW F650 GS Funduro last year for my birthday by a guy who bought it three years ago to catch motivation to get his driving license… Never found time. So the story goes on again with BMW.
Bike condition was poor, big mileage. I kept the bike planning to go flat track training in the nearby fields, learning and falling on it, as it I wouldn't have understood a few of the tips. Then, when the bike had been down a few times, the engine would have been removed to build a race bike for ovals, inspired by Harley-Davidson Rotax framers like Jay Springsteen used in the late 80s.
But in the end, I've been using the bike on the road after a necessary quick check after all those years it hasn't been used. Nice engine, good position, comfort, all was working… Got some pleasure to ride it and found my first plans for that bike would have been a mistake. Then came the virus…
• Why was this bike built?
#stayathome confinement from last March 16th offered me time and a challenge. As parts for some other projects couldn't be delivered, I started checking the spare parts and accessories available at the workshop. There was enough to start a "light" facelift on this old trail bike.
• What was the design concept and what influenced the build?
I went back to some 2015 sketches I drew for a ghost customer for a Morocco raid on this same model. As I now turn 48, there's also this wish to travel a bit, going off-road sometimes and get a nice daily ride which would be a nice BCKustoms workshop representative. I then started this #coronavirusbikebuildoff without budget, as restrictions left me without the usual early spring customers with projects for early summer rides. No leakage, no signs of engine problem, so the engine full rebuild has been postponed. I had to find an easy way to change the front face, lighten the overall rear section, update the global design by giving it nice colors and add few accessories available on delivery on e-commerce platforms as every other business were closed.
• What custom work was done to the bike?
The original green seat cover was already replaced by a custom black one from a local saddler last winter. No OEM extra parts, I had to re-use the existing touring screen, shorten it to create a support for the new rally-raid inspired one made from Plexiglas and formed with a heat gun. Found some LED bars and projectors in a tray and some matte black spray paint has achieved to mask the original design of the front face, adding something more actual in the design.
Not much has to be done for the rear section. Removed all the lighting system, replace it with LED elements, took a carbon muffler from a '99 CB500 sleeping in the garage, formed a junction tube with the original header and shape an under covering support for all those and a new number plate bracket.
The bike was more looking then like a desert rally runner…
So I decided to create a paint scheme which will add a modern racing touch, quite BMW corporate. After many trials, the selected scheme included turning the frame satin black, hiding that old squared steel tubes on sides. Same treatment would be applied to the wheels too. The workshop's spray paint shelf had some so… Normally, I would have had all chassis parts sand-blasted and powder-coated, but could not due to actual conditions.
Before that, I decided then to add some extra racing elements like the crash bars home-made from 22mm steel tubes. Last point was that space created behind the new high screen… Not able to replace the original speedo/rpm display, I decided to create an instrument tower for my mobile phone to be used as a GPS and an extra screen from a back view camera kit which will be used as a permanent mirror, helping the step where you have to search for the best place to add some fixed mirrors, those ugly elements which are ruining all your efforts to give an overall racing design to your project.
Grabbed some MX foot pegs, a 28mm bar with protections, and a USB socket to reload the mobile phone in GPS use on long travels from a well-known platform. Added blue Troy Lee Designs grips I had. The CB500 racing project also left me the radial Nissin master cylinder and a pair of black/red anodized machined levers. As I had no thick enough alloy sheets, I decided to drill and paint alloy grey the original plastic skid plate.
Then, I was just missing all the stickers and the covering part of the work which I made at home. As this bike will be the workshop's daily ride, it has to display all the sponsors and partners who are following that story on road and tracks. A big place was reserved for my main one, Daytona 73, who's been my main racing sponsor for two seasons now, so the racing number #73… The final result is exactly what I designed scale 1 on my computer. I'm always doing this before entering with a new project in the workshop. I save time, knowing exactly then what needs to be done as the first assembly has been virtually made on screen.
• Does the bike have a nickname?
From the original 2015 'Morocco Raid' files, I've been trying to find a nice name for that 39th bike build off, something related to confinement and my escape wish… Not really original but "Desert Runner" was the one I kept. Funny thing was that, for the few I travelled those last weeks for job purposes, even my own city center was a desert, same for nearby highways… So I found it appropriate in the end.
• Can you tell us what it's like to ride this bike?
I haven't had the chance since last Friday's release to get around on it. As the bike remains quite stock in chassis/wheels, I guess there won't be any improvement or alteration of the original riding qualities of the model. The sound of the exhaust is now more present and helping that racing spirit going out of that bike. I'm impatient to go for a ride and check that rear vision system. I'll let you know!
• Was there anything done during this build that you are particularly proud of?
Two things:
The front facelift was a big challenge, including the instrument tower build. This was the key of the overall design of the bike. Many tests and adjustments have been made in the workshop even though the original project was drawn on the computer (not a 3D software, just a Corel drawing one). Three different screens have been shaped and adjusted, including the lighting system protection made also from Plexiglas. The tilt of the screen matters also, not going radical like a true race bike. The tower has also been a full 3D live creation with the aim to locate every element on an adjustable assembly made from Dibond signing material.
Second thing was the crash bars. Looking for some examples on the web, I didn't find something which looked like those we find on modern trail bikes. So I decided to create one custom, which could be done with steel tubes available at the workshop. All has been bent and welded home. A spray of H-D engine Wrinkle paint gave the final touch. Think 3D to create that is a mess as you have to consider fairing shapes, existing mount points which can be used, leaving space around for your feet and knees to operate without bumping it, the radius of the bender you can have, and giving your bike the true crash bars which will work, without wasting tube as I had just 2,5 meters available. So no second chance…
Follow the Builder
Website: www.bckustoms.com
Facebook: facebook.com/breizhcoastkustoms/
Instagram: @bckustoms/
Pinterest: www.pinterest.fr/yannledouche/boards/
Youtube: Yann Le Douche
Flickr: Yann Le Douche / bckustoms
Special thanks to my sponsors:
Daytona 73: www.daytona73.com | @daytona73
Motul France: #motul
Noline France, cleaning wipes: @noline.france #phoenixinnovations
Bell: @bell_powersports
Racer: @racergloves
Moto Sélection Honda Quimper #motoselection
Makadam Kulture, Bike & Breizh event September 12th-13th 2020 #makadamkulture
Dezert Point, local skate and wear shop #dezertpointshop
Le St Mathieu, Beef bar and grill Quimper
Cap Enseignes – Stickers and advertising support – Chateaulin (Fr)