It's no secret that we're big fans of street and flat trackers here at BikeBound. And we aren't alone — so are you guys, our readers. After all, nearly half of the machines that made our list of the Top 10 Customs or Top 10 Two-Strokes of 2020 are trackers, including Wilco Lindner's RD125, George Pickering's KTM 300 framer, and Utopeia Moto's Wassell Mudlark. So we decided to follow up with a list of the most popular street and flat trackers we featured this year, based on traffic and social shares. Just for clarification, this is an objective list based on the statistics we compiled. Stay tuned for our Editor's Choice list coming tomorrow!
Without further ado, here are the BikeBound Top 10 Trackers of 2020, presented in alphabetical order by builder.
In the storied Motor Valley of Northern Italy, two long-time friends — Massimo Bercella and Michele Antolotti — have combined their shared passions in Carboni e Metalli. Their first build, The Lunar Project, is a tribute to the Apollo Project. Their vision was to apply space-proven processes and materials to a non-space product: the motorcycle. The base is a vintage KTM 250GS. The bike now boasts a carbon fiber and 3D-printed titanium rear swingarm, not to mention a carbon fiber subframe and 3D-printed aluminum front fork mounts — just to name a few of the details. The Lunar Project took home "Best in Show" at Wildays 2019 and Best Scrambler at the 2020 MBE — congrats, guys!

Renato Frateschi of Brazil's Frateschi Garage offers a host of design and build services, including digital render, 3D modeling/printing, CNC, and more. This '96 Suzuki DR800 had not run in years, so a full refurbishment was in order. The bike is now sitting on WP forks, an adjustable Sachs rear shock, and 19″/17″ wheels with Brembo brakes. The subframe was modified to fit the tracker-style tail and solo seat, and the exhaust is custom-built stainless. The bike was nearly ready to roll out of the shop when Renato proposed a new idea: "In the middle of the project we decided to take things a step further. Why not build a fuel injection system?" That's right, this DR800 tracker is now running a custom fuel injection system, built in-house using 3D printing, Arduino, and a smartphone app that displays velocity, rpm, GPS, fuel consumption, and allows the rider to choose and adjust different fuel maps in real time!
Nigel Mount is a Colorado fabricator who's spent the last two years working at a custom Harley shop, learning from a pair of OG's who've been building hot rods and choppers since the 1950s. The kick-in-the-pants for this project came when it was selected for the Greasy Dozen's class of 2020, giving Nigel a deadline to complete the build. The bike started life as a 2002 Buell Thunderbolt S3T, a fuel-injected V-twin sport-touring machine that Nigel bought because he was going stir crazy only working on customer bikes. "From there the frame seemed to really lend itself to a tracker type bike." With a tight deadline, Nigel went into full-blown fabrication mode, working on the bike in 30-minute stints during his lunches, breaks, evenings, and weekends. Given the compressed time frame, the list of modifications is staggering: a fully adjustable swingarm, one-off welded aluminum tank, billet seat frame, Fiat Fulvia two-throat carb, one-off billet intake manifold, six-piston rear caliper, and much more. Unfortunately, 'Rona cancelled this year's Greasy Dozen event, but we hope to see the bike on the show circuit in 2021!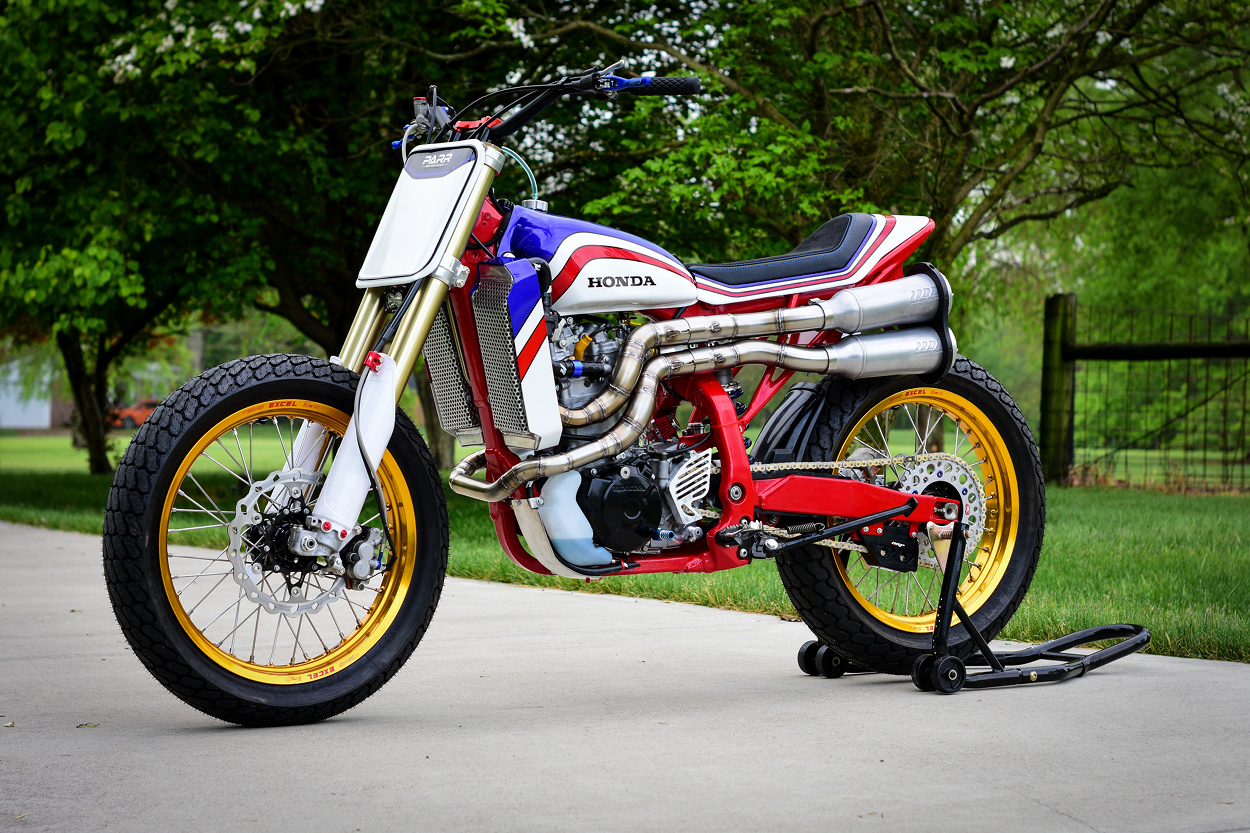 Spencer Parr of Parr Motorcycles is one of the fast-rising stars in the world of custom motorcycles, and one of our very favorite builders. In 2018, we had the honor of featuring Spencer's first professional build, his Suzuki DR650 "Retro-Moto", an RM-inspired supermoto, and last year he followed up with his Suzuki DR650 "Retro-Scrambler" — one of the most popular builds we've ever featured. In 2020, Spencer followed up with his Retro-Tracker: "The design concept was a street-legal Honda tracker inspired by the legendary Honda RS750 flat track bike…Between its success in the 80's and bold design, I've always wondered what a street-inspired version of that bike would look like." For the base bike, Spencer decided on the Honda XR650R — a legend in its own right. We followed Spencer's work on the XRR for eight months, witnessing the forethought, detail, and drive that went into the build. The end result is the "Retro-Tracker" — a fitting tribute to the legendary RS750, and one of the baddest street trackers we've ever seen.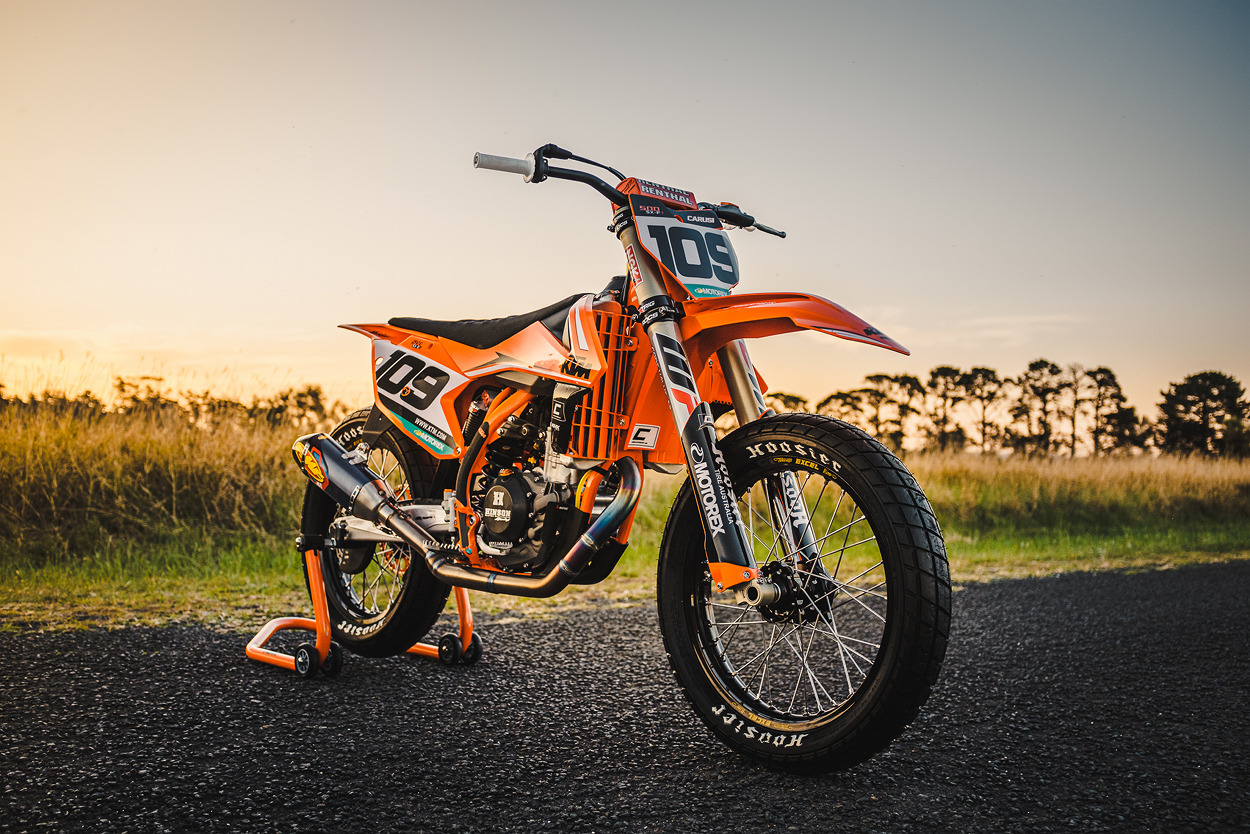 Michael Carusi (@projectflattrack) has been an official Race Team Mechanic with KTM Australia since 2009, working with such off-road luminaries as Dakar winner Toby Price and 9-time Australian enduro champion Daniel Milner. What's more, he's long been a fan of flat track racing, so when an opportunity arose to build a flat tracker utilizing a KTM race chassis, Carusi was raring to go. His vision was to use a combo of motocross and off-road parts to create a mythical "500 SX-F" model that doesn't exist in the wild. Much of the work was done at Carusi's home shop during the C-19 lockdown. The bike is full of trick titanium pieces, including an exhaust custom-built by Nigel Petrie of Engineered to Slide. Coopertec custom carbon fiber work abounds, and Hoosier Tire Australia provided a set of flat track rubber from their newly available range. The end result is one of the trickest flat trackers we've ever seen — a bike that Shayna Texter and the rest of the world's best flat track riders would surely love to test ride.
Muhammad Robbi, founder of Indonesia's Robot Motorwork, set out to build a Dyna street tracker that would be comfortable on the road, but capable of light off-roading. The donor was a 2014 model: "We got this bike in a really bad condition — oil leaks, unbalanced engine sound, and compression leaks." A complete engine rebuild was required — the crew's first time rebuilding a Harley-Davidson Big Twin. But once they buttoned the big 103-inch engine back together, it worked great, leading to the bike's nickname: "Lucky Me." The engine was just the beginning. The bike is covered in custom-made parts, including a one-off swingarm, 2-inch stainless exhaust, headlight built from 1.6mm steel plate, and much more.
Argentina's Rodando Sur Moto Garage started as a group of friends who rented a space to work on their own bikes, but soon found themselves fielding requests to build bikes for customers. For this project, they were invited to participate in the 2020 Argentinian Builders Challenge (ABC), in which four teams were given just 7 days to customize a Beta Motard 200 or 250 into a tracker or scrambler. In that time, the team of friends really came together, modifying the sub-frame, building a new seat, changing the gas tank, creating a 3D-printed number plate for the headlights, building a custom exhaust, and painting the bike. While the win went to their friends at VTF Custom, they built one impressive Beta street tracker…and the process was a reward in and of itself.
Utah's Tucker Speed is an independent motorcycle shop specializing in American V-twin bikes, including repairs, maintenance, and custom builds. Owner Tony Tucker got his introduction to hooligan racing through shows like Born Free and Mama Tried: "I didn't want to sit in the stands and watch. I wanted to be out there racing." With a background in motocross and desert racing, Tony found hooligan racing to be the perfect combination of his passions. His race bike started life as a 2001 883 Sportster, originally built into a basic hooligan: 1200cc engine kit, dual 19-inch wheels with flat track rubber, motocross-style bars, etc. After three years of racing events here and there, Tony decided 2020 was the year to up his game and his bike. Among the upgrades, Tony and the crew built an oil tank that fits down in front of the motor, moving the weight forward of the bike's center of gravity, and added a bigger cam and set of 1275cc pistons and cylinders from Hammer Performance. Overall, this is one of the sweetest hooligan trackers we've seen.
Francesco Tutino moved to Australia about a decade ago and opened his shop, Francis Von Tuto Moto Works, in 2018. This 1983 Yamaha XT250, nicknamed "Dragonfly," started as a $150 box of parts, missing a tank and pipe — it had been disassembled and left in the previous owner's garage for some 30 years! Francesco had a vision for a lightweight tracker: "Staring at the bike to look for inspiration, I've realised how skinny it was, especially without tank and seat — its shape looked similar to an insect, and with those wide bars, I've pictured it as a dragonfly and that's the origin of its name." He obtained a Yamaha AG100 just for the handlebars, which he powder-coated white with black barkbusters, and totally rebuilt the engine with an oversized piston, decked and ported head, 12-volt electronic ignition, and much more, giving the bike some unexpected punch: "First time I took it for a spin behind the shed I didn't expect it to pick up revs so quickly, and while trying to reach for the choke lever I nearly launched it in the neighbour's backyard — so definitely happy!"
Garett Wilson (@dubstyledesigns) made last year's list with his KTM Duke street tracker, which went on to be featured at several shows. In 2020, we were thrilled to showcase another one of his builds, a 1980 Yamaha SR500 built out of his buddy Jake Shellito's garage in northern Colorado: "I had a vision to turn this single cylinder cruiser-looking bike into a gaudy street tracker." The bike is now sporting a massaged DT400 tank that's been painted gold candy / flake, complete with painted lettering instead of decals. Meanwhile, Garett upgraded the suspension at both ends: stiffer springs and a fork brace up front, and beefier rear shocks mated to an aftermarket aluminum swingarm. The engine, while stock internally, has been paired with a 36mm flat-slide Mikuni, updated electronic ignition, and custom exhaust with a silencer originally intended for an R6: "it gives a nice deep tone to the 500 single." While "Goldy" is one of the sexiest street trackers we've seen, she's no show queen: "I built the SR to be a rider — I rally it to work during the week and bomb around the foothills on the weekends." Amen to that.