In the late 1970s, the Husqvarna 390 OR (Off-Road) was the king of the desert, a two-stroke monster that reigned supreme from the Mojave Desert to the distant tip of the Baja Peninsula. Said the boys of Dirt Bike magazine in 1978:
"If you're a serious desert/off-road racer, this is what you ride…No bike — repeat: NO BIKE — has the awesome winning record in the desert that the Husky big-inchers enjoy. The latest machine — our test 390 OR — is such a successful weapon in the desert, that it's difficult to get one."
Buying a Husky of this era meant you were getting Old World Swedish craftsmanship. Unlike the Japanese, who outsourced their suspension, Husky engineers designed and built their own long-travel forks for these machines, and they guaranteed their frames against breakage…for life. The 384cc two-stroke engine put out about 41 horsepower with a broad torque curve — one of the best open-class engines of the era.
"Husqvarna's 390 OR was finally the bike that the desert-riding freaks at CW knew the Swedish firm could build." —Cycle World
Fast forward 40-plus years, and our new friend Emrah Gonulkirmaz (@windfaces / @timemachine_co), who collaborated with Motobrix on the BMW R75/5 we recently featured, set out to track down one of these rare desert racers. Emrah has traveled all across Canada and beyond on two wheels — adventures that fueled his desire to fix, modify, and customize his bikes:
"When you are in the middle of nowhere and having a problem, you are the only person to solve it. To be able to get rid of that fear and travel more relaxed and confident, I learned to work on / fix my own motorcycles."
Appropriately enough, he found this 1980 390 OR in the deserts of Nevada, then brought it back to LA, where he's currently living and working as a creative director / designer:
"I was actually preparing and customizing this machine slowly for the Baja 1000 Vintage Class."
Though Emrah is quick to point out that he wouldn't call his Husky a "build," considering there's little fabrication involved, it's one neat two-stroke enduro that he's customized to his needs with a Lectron carb, rechargeable LED lighting system, spark arrestor, and gotten registered for street use!
Below, we get the full story on this street-legal, two-stroke desert racer.
Husqvarna 390 OR: Owner Interview
• Please tell us a bit about yourself, your history with motorcycles, and your workshop.
My name is Emrah Gonulkirmaz. I'm a Creative Director and Designer working in the Film, Animation, and Game industry. I'm currently living and working in LA — you can see some of the stuff I do on emrah.ca.
Motorcycles have always been a part of my life, and I've done a lot of long distance trips, including a couple of cross country trips. I love being on the road, being in nature, and exploring backroads. You can check out some of them at windfac.es/adventures (WIP).
I mentioned these adventures / trips because that's how I got into working on motorcycles. When you are in the middle of nowhere and having a problem, you are the only person to solve it. To be able to get rid of that fear and travel more relaxed and confident, I learned to work on / fix my own motorcycles. And of course being a designer and working on motorcycles led me into custom projects. It all comes from that urge of creating / designing.
I've done a couple of Airhead restorations with small custom touches here and there, and more intense fully customized machines. I always collaborate with my friends coming from different backgrounds and areas with different talents. That's how it all comes together.
Meeting with new people as clients and becoming good friends with them. After all the hard work, what matters is to go for rides and meet up for a cup of coffee to share our experiences and ride stories. You can see some of my projects at windfac.es/machines.
• What's the make, model, and year of the bike?
1980 Husqvarna 390 OR.
• Why was this bike built?
Considering all the amazing custom builds on Bikebound, I would not consider this machine as a build. There are only small touches that I've included to make it more personal.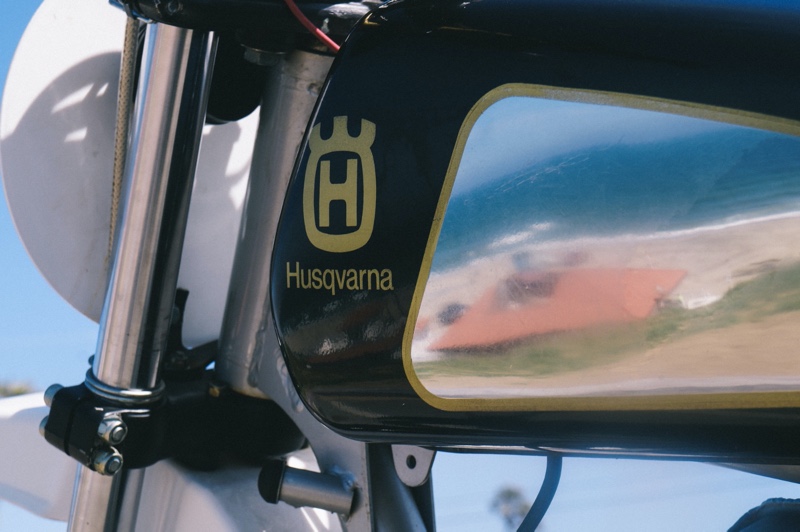 When it comes to the actual question of why I got into this machine, I was actually preparing and customizing this machine slowly for the Baja 1000 Vintage Class.
This machine was called the Desert Racer back in time, and for me it was a perfect fit for that race, and I was looking for it for a while. I finally found it in the deserts of Nevada and brought it here to California. I got it plated after some customizations and it turned into my daily rider.
• What was the design concept and what influenced the build?
The influence is pure performance and reliability, for which 2-stroke machines have a bad reputation, specially for reliability. But now I think I can even take off for a long distance trip with this machine. It might sound hard, but I did ride across Canada from east to west and back with my KTM 690.
• What custom work was done to the bike?
It was a huge jump from 4T Airheads to 2T Husqvarnas, but it was a fun learning experience. There is mostly performance-driven custom work done on the bike; there isn't any real fabrication except a little bracket behind the headlight, which gives support to / less vibration on headlight.
A) Lectron Carburetor
I did replace the carburetor. It had a Mikuni carb, which worked really well after I re-jetted it for sea level. But there was always a problem with my daily rides, and I was actually changing elevation a lot when going off-road over weekends.
Because of that, I put in a custom order from Lectron. I was lucky that they were still taking custom orders for these machines. With Lectron carbs, there are no electronic components and no need to re-jet because the carburetor adjusts itself depending on your elevation and temperature.
Small Tip:
To keep in mind if anybody else is gonna get in a Lectron for their vintage KTM or Husky. Needle seat is usually a problem. It needs 3.5 6 hole needle seat, so that the machine won't overflow due to vibration. I had that issue for a couple of weeks and it took me a while to figure it out (images shared). After adjusting the throttle + idle, it was all good to go, and so far I haven't had a single problem. It starts right away, which is very important considering this machine is a left kicker 🙂
B) Motion Pro Throttle
It's a must with Lectron carbs. It's best to replace it with the carburetor so that you won't have an issue afterwards. It's very smooth and responsive.
C) Reed Valves
Didn't wanna take my chances — I replaced them with the new ones I had. But I will be upgrading them to V Force reeds.
D) Lighting System
For the electrical system, I was thinking about upgrading the machine to a 12-volt system, but then I thought about doing something different and keeping everything original with a 6-volt system.
There is a very simple setup on these machines which is meant to be used on rallies, or back in time for the Baja 500 / 1000. Some of the models came without lights, but you can actually connect a 6v 35w headlight and 6v 5w tail light.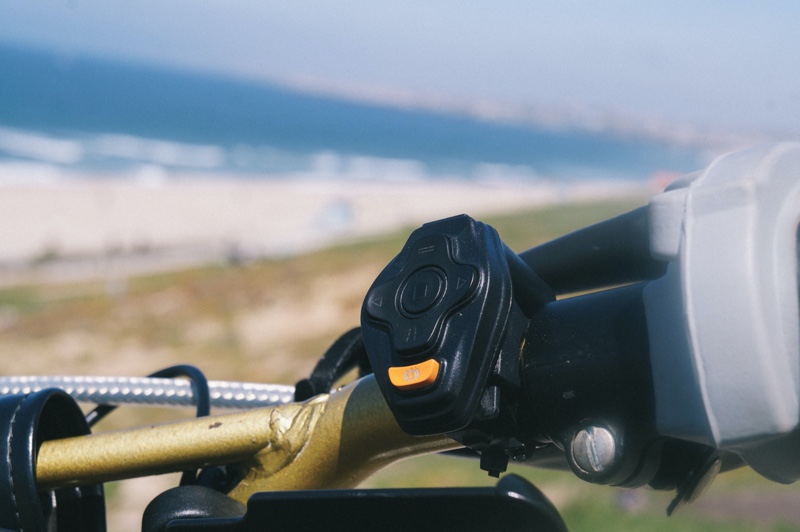 It's a very plain rally setup under the tank with a couple of cables coming out of the Motoplat unit, and as far as I know it was mandatory to have these lights back in time if you were going to run these rallies.
It looks like Husqvarna kept that option here. I wanted to reuse that, and on top of that I wanted something modular to be able to take it off for off-road use and put it back for street use.
What I have done is, I did everything externally rechargeable instead of trying to connect everything to the Motoplat. There's a very small battery connected to my steering head, whose charge lasts about a week with my daily usage. Considering I'm in LA, I didn't have a snow or rain problem, or extreme cold weather so it works great! My taillight / stop light, signals, and horn are all connected to this external small battery and they can be taken off easily if needed for off-road use.
First I connected my headlight to the 6v system coming out of the Motoplat, and to the regulator so that I wouldn't blow bulbs on hi-revs. But I was not happy with this system, because I was still having a problem with the lights dimming and it was not reliable at all. So I connected the headlight to the external charger too, so that I could use more modern and smaller LED-based headlights with high and low beam.
Quick Tip:
Best practice is to replace the Motoplat and have a 12V system — Lectron carb and Power Dynamo Ignition are the best upgrades for this machine.
E) Vibration + Sounds
On these machines vibration and loud exhaust is a problem (IMHO). I don't like loud machines at all. But with 2-stroke machines, I can only get it less loud 🙂
a) First is to add a spark arrestor, which cuts the noise a lot (keep in mind that if I didn't change the carburetor I would've had to re-jet after adding the spark arrestor — it was amazing to change stuff and not worry about jetting), and they are mandatory here in California. I was fortunate enough that it came from the previous owner, because I do know that they are very hard to find for these machines.
Repacking exhaust helps a lot too and cuts the noise.
b) Cylinder head anti-vibration rubbers. It sounds simple, but they use to come with these from the factory, and they cut the noise + vibration drastically. I have them on the cylinder heads and on the sides.
After these upgrades, it was ready to go on the street and have some fun!
• Does the bike have a nickname?
Nope, it's a good old Husky.
• Can you tell us what it's like to ride this bike?
It's a very fun machine and has more power than I probably need. It's basically ready to race! I did change the gear ratio to be able to hit higher speeds, which made riding in daily traffic more comfortable. As far as I can remember, I only changed the front sprocket to 15T — I don't ride on the highway so didn't really need to do different combinations.
• Was there anything done during this build that you are particularly proud of?
Well, after all that work, I'm on the road and riding. Being new to 2-stroke machines was a big challenge and required a lot of research, but it was worth it.
Follow the Owner
Web: emrah.ca | windfac.es
Insta: @windfaces | @timemachine_co