Hammer Sycle builds a Knucklehead-powered Harley VL racer…

In 1936, Harley-Davidson introduced their first full production overhead valve V-twin engine: the "Knucklehead," as we know it today — a reference to the distinctive shape of the engine's rocker boxes. These 61-inch pushrods-and-rockers "OHVs" were designed to overcome the issues of the side-valve engine, whose hot-running exhaust port and valve seat were part of the cylinder casting itself. At higher power levels, the heat generated could distort the cylinder out of round.
"This made it attractive to do as aircraft engine and race car manufacturers had done—move the two valves into the cylinder head where exhaust heat had much less effect on cylinder roundness." –Kevin Cameron, Cycle World
The Knucklehead also featured a new pumped, recirculating oil system that made sure the valves and rocker arms would be lubricated way up there in the cast-iron heads. The new OHV boasted double the power output of the old Flatheads, making 37-40 horsepower in stock trim — a rocket ship at the time. But police, racers, and enthusiasts soon wanted more:
"Police departments were quick to request a motor with more power and the dealers wanted something bigger to compete directly against Indian's 74 cubic inch Chief." —Bonhams
In 1941, Harley-Davidson introduced the 74-inch (1208cc) OHV engine, making 53 horsepower, and the Knucklehead would remain in production until the introduction of the Panhead in 1948.
Our new friend Koji Hamada of Japan's Hammer Sycle has lived a life deeply entwined with old Harley-Davidsons, having bought his first H-D (an '84 FXR) at the age of 19 and never looking back. Although he totaled that first bike, breaking both arms badly enough to warrant surgery, he was hooked:
"My second Harley was a 1981 FLH, when I was 20 years old. I stripped down this bike. Had a really good time and some troubles, hahaha."
At that point, Koji decided he wanted to learn to fix and maintain his own bikes. He went to work at Tokyo Harley shop Littlewing Engineering for three years, then moved to the US and worked at California's Settle Motorcycle Repair for five years. In 2004, he moved back to Japan and opened his own shop, Hammer Sycle — now with 17 years in business!
With events like the The Race of Gentlemen (TROG) here in the States and Dusters Cup in Japan, old-school racing has become a popular pastime among owners of pre-1950s machines, with formats like beach drags, hill climbs, ice racing, dirt track TT's, and more. Koji wanted to build a race bike, and it all started with a 1941 FL (Knucklehead) engine.
"I was influenced by the old-time racers. I'd seen some Knuck motors put into VL frames. That gave me this basic idea."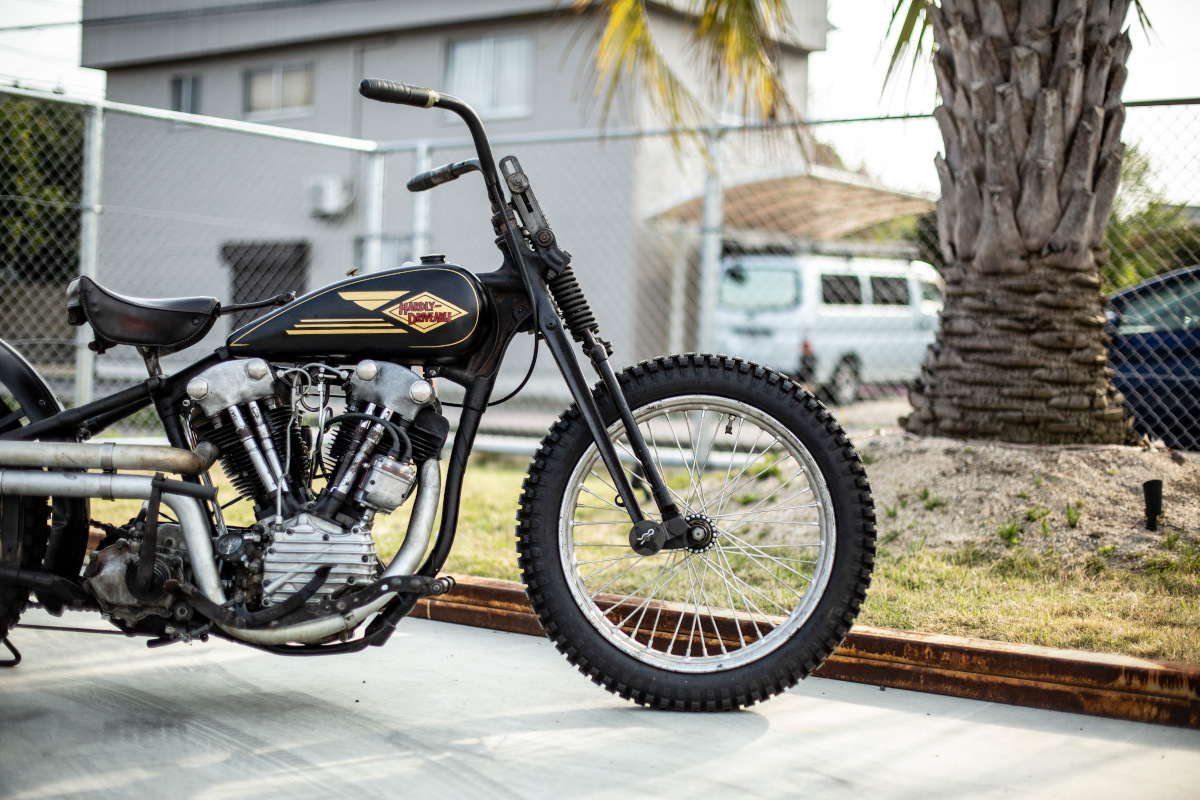 Koji put the engine together with a set of special crankcases, modified flywheel, twin-carb heads / manifold, and more — a truly one-off motor, which he built entirely himself. He then swapped this engine into a Harley VL frame. The Flathead-powered VL models debuted in mid 1929, just a few months before the Wall Street Crash and the start of the Great Depression.
Of course, Koji had to do a lot of modification to retrofit the Knucklehead engine into the older Flathead frame. He used VL forks, a Peashooter tank, a '48 Harley Hummer seat, fabricated his own set of bars, and modified a Knucklehead rear wheel and brake to fit the frame.
Appropriately enough, Koji named his hybrid FL / VL racer the "VFL." Below, we get the full details on this Knuck-powered beach racer from Koji himself, and more gorgeous shots from photographer Neutral Works.
Harley "VFL" Racer: Builder Interview
• Please tell us a bit about yourself, your history with motorcycles, and your workshop.
I started riding motorcycles when I was 10 years old on my uncle's Honda Super Cub. My first bike I got was a Honda MBX50 when I was 13. I took it to a small road course with my brother.
At the age of 19 years old, I bought my first Harley, which was a 1984 FXR. I wrecked it soon after that. The bike was totaled. I broke my arms badly. Had to have surgery.
My second Harley was a 1981 FLH, when I was 20 years old. I stripped down this bike. Had a really good time and some troubles, hahaha. My third bike was a 1956 Panhead Hydra-Glide when I was 22 years old. And then I got another 1988 FXR.
When I got the '81 FLH, I realized I wanted to fix and maintain my own Harley. So I started working at a Harley shop in Tokyo. I have been working on Harleys ever since. Working at Littlewing Engineering for three years, and after that I moved to California, USA, where I had worked at Settle Motorcycle Repair for five years. And then I came back home in 2004.
I started my own business as Hammer Sycle — 17 years so far.
• What's the make, model, and year of the donor bike?
The motor is a '41 FL, originally. I got a right racing case in Del Mar, CA. The project started from this point. I put the engine together with a special crank case and modified flywheel. Then I made these twin-carb manifolds and heads for the motor.
I put this engine in a VL frame. Of course, I modified everything to fit in there. VL front fork, four-speed transmission. Used Knucklehead rear wheel and brake — made them fit on this frame.
Used peashooter repop tank made to fit on this bike. Of course, shifter gate and lever too! Made for a lot smaller fuel tank. I made a special handlebar for this bike with a VL throttle and JD Racing risers. Used a hummer seat from 1948 only, and re-covered it.
• Why was this bike built?
I wanted to use it as a racing bike.
• What was the design concept and what influenced the build?
I was influenced by the old-time racers. I'd seen some Knuck motors put into VL frames. That gave me this basic idea.
• Does the bike have a nickname?
VFL.
• Can you tell us what it's like to ride this bike?
Flying on the beach! Great feeling!
• Was there anything done during this build that you are particularly proud of?
I made this bike just like the old-timers did. I challenged myself to make this bike inside and out. The motor by itself came out really nice, just the way I wanted!
Follow the Builder
Web: www.hammer-sycle.com
Instagram: @hammersycle | @hardly_official
Photography: www.neutralworks1957.com | @neutral_works