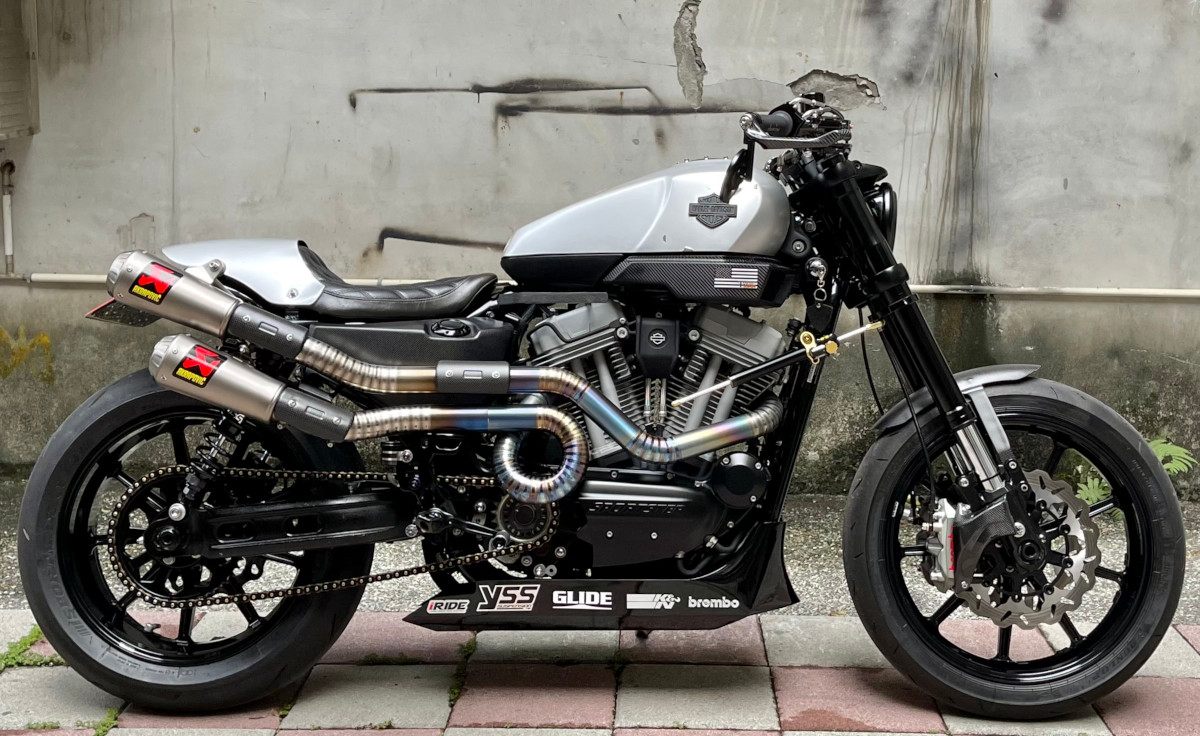 Ching Tsung Custom Bikes puts the "Sport" in Sportster…
Inspired by the legendary XR750, the Harley-Davidson XR1200 was the most performance-oriented Sportster ever produced, a factory street tracker whose 1202cc high-compression V-twin put down 91 horsepower and 74 pound-feet of torque, good for 0-60 in 4 seconds and a 12.42-sec quarter-mile — numbers that crushed the regular 1200cc Sporty.
However, the XR1200 wasn't developed for straight-line speed but carving corners. It had a stiff chassis, inverted 43mm Showa forks, twin Nissin four-piston front brakes, lightweight alloy wheels, Dunlop Qualifier tires, and geometry optimized for nailing apexes. Nine-time AMA Grand National Champion Scott Parker served as a development rider, and the bike was raced in the AMA / Vance & Hines XR1200 Series.
"It only took a few [hot laps] to realize that the XR1200 is without a doubt the best-handling production Harley to date." —Cycle World, 2008
Enter our new friend Zong Yan Chen, founder of Ching Tsung Custom Bikes in Taipei, Taiwan — a workshop that's been open for four years now, focusing mainly on Harley-Davidson customization and performance. The 2009 XR1200 you see here is Chen's personal machine, which he uses as a test bed for performance goodies:
"It is mainly for testing parts, such as brakes, shock absorbers, computer software, etc., with the best price-performance ratio."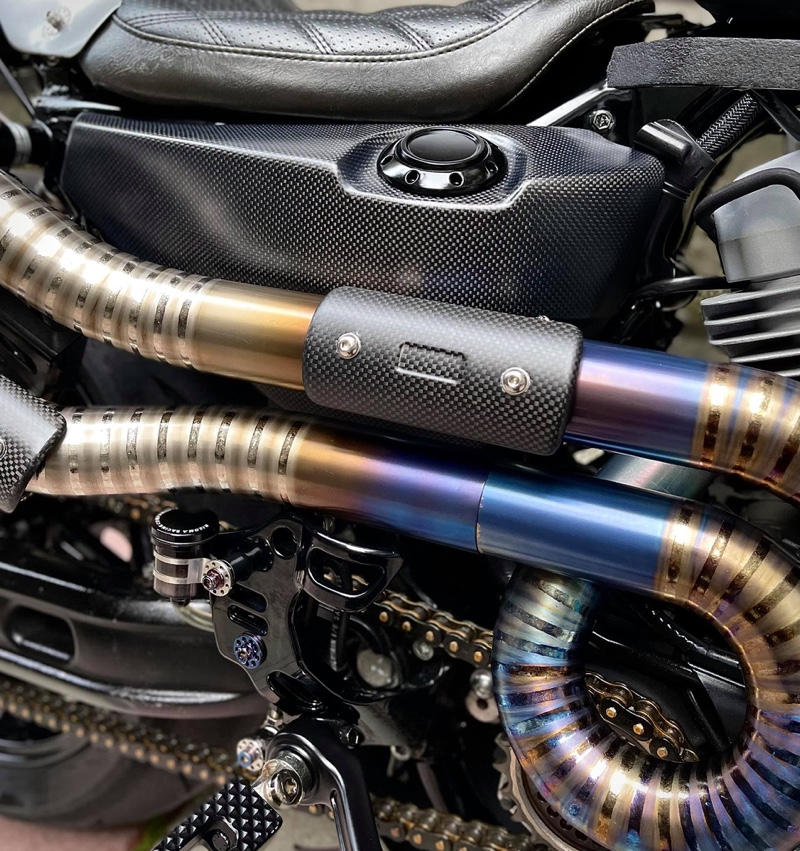 Code-named the "TS-05," this has to be the trickest XR1200 we've ever seen, sporting GLIDE forged wheels, YSS rear shock, Brembo brakes, hand-made titanium exhaust, Akrapovic exhaust pipe tail section, ThunderMax fuel supply computer, HealTech quick shifter, Hyperpro steering damper, customized tail section, and much more.
The result is a faster, lighter, meaner Sportster than we've seen in some time. Below, we get the full details on the build directly from Chen himself.
Harley XR1200 Custom: Builder Interview
• Please tell us a bit about yourself, your history with motorcycles, and your workshop.
Hello, I am from Taiwan. I opened a motorcycle workshop (Ching Tsung Custom Bikes) in Taipei, and it's now been around four years since its establishment.
• What's the make, model, and year of the donor bike?
Harley-Davidson, 2009, Sportster XR1200.
• Why was this bike built?
This bike is my own. I bought it about one and a half years ago. It is mainly for testing parts, such as brakes, shock absorbers, computer software, etc., with the best price-performance ratio.
• What was the design concept and what influenced the build?
My design concept is how to maximize the handling and power output of this bike without modifying the engine cases.
• What custom work was done to the bike?
The weight of the machine has been reduced a lot. The use of Japanese GLIDE front and rear forged wheels helped reduce the weight, and the rear half of the subframe and the heavy tail shell were removed.
YSS rear shock absorber, XRX front shock absorber, GaleSpeed ​​front brake master cylinder, Brembo front and rear brake calipers, hand-made titanium alloy exhaust pipe, Akrapovic exhaust pipe tail section.
Motogadget computer display, ThunderMax fuel supply computer, HealTech quick shift, Hyperpro steering stabilizer, customized tail shell, customized spoiler cover.
• Does the bike have a nickname?
The nickname is: TS-05.
• Can you tell us what it's like to ride this bike?
Very good handling, with very strong brakes. Refitting the fuel supply computer for quick shifting has made the power output that much more noticeable.
• Was there anything done during this build that you are particularly proud of?
I feel that I have optimized the performance of the Harley XR1200, which makes me proud.
Follow the Builder
FB: Ching Tsung Custom Bikes
IG: @agk2120