The XRR Scrambler: 680cc Mega-Thumper from Parr Motorcycles…
Since his first build back in 2018, we've been proud to feature the builds of Spencer Parr of Indiana's Parr Motorcycles, watching his skills and reputation grow with each successive build. Spencer spent five years on patrol as a police officer before losing sight in one eye due to ocular cancer. His wife encouraged him to follow his dreams of building custom motorcycles, and he began working as a investigator during the day and building bikes at night, working out of his home garage with hopes to expand one day.
Today, we're thrilled to feature Spencer's latest, most favorite build — and the last to come from his home garage, as he's soon expanding into his own shop space. Congrats, Spencer!
This bike — the "XRR Scrambler" — began nine months ago, when Spencer wanted a personal project of own, which he could work on in his (limited) free time:
"Plan was that whenever I had spare time (which is limited), I would work on the bike. My favorite style is a scrambler, so my goal was to build an aluminum framed street legal scrambler from a bare frame."
The bike takes inspiration from Spencer's Honda XR650R Street Tracker — aka the "XRR Tracker" — which won the RSD Corona Virus Buildoff. Believe it or not, this liquid-cooled 680cc high-compression mega-thumper — the "XRR Scrambler" — started with a bare $200 eBay frame.
As some of you know, the XR650R is a legendary machine in its own right — a king of the Baja 1000, and one of the most potent big-bore dirt bikes ever built. Spencer has certainly done the legend justice. Below, he gives us the full story on this incredible build.
XRR Scrambler: In the Builder's Words…
Flashback nine months ago when this all started. I was working on a Ducati Scrambler and Suzuki DRZ at the time but wanted another project for me. A project that would take years to build, since I would build it up slowly into exactly what I want in a bike for myself. Plan was that whenever I had spare time (which is limited), I would work on the bike. My favorite style is a scrambler, so my goal was to build an aluminum framed street legal scrambler from a bare frame. Soon I picked up a XR650R frame off eBay for $200 and the build soon started.
I knew that every single bolt and part for this bike would have to be sourced or made from scratch, so I opened up the laptop and started sourcing the bike piece by piece. While I waited on parts, I soon got a swingarm in and officially started the build. I blasted the main frame and swingarm, sanded it, then spent hours and hours polishing both pieces into a mirror like surface.
After I setup a paint booth in my garage I Cerkakoted the frame and swingarm in clear, which I've never done before. Placed both pieces in our laundry room and let them dry.
Once I got those pieces on the lift and all together, Roland Sands Design opened up a online build off called the dream build off. I was in between entering the built DRZ still in the works, or the polished XRR Scrambler I was building. Since winning the RSD Corona Virus Build off with the XRR tracker, I decided to try with a different variation of style with the XRR scrambler. Had five months to get this bike built and riding at the time I entered so I knew it was going to be a race to finish it.
Since the XRR Scrambler now was entered in the build off, the DRZ was put on the backburner. I needed to get the bike rolling, so Dubya hooked me up with some gold and red wheels with the front being a 19" and 17" for the back. They're wrapped in Shinko 705s, which is my go-to scrambler tire.
After the CRF forks and 650R rear shock were rebuilt and adjusted, I started on my favorite part, the subframe.
They're my favorite thing to build and design because they really do add that flare and style to the bike. I sketched out a design really quick, then got to work bending and rolling tubing shaping the subframe into what you see here. Soon I made an electronics box for it, and mounts for the CRF rear fender I planned on using.
Tank choice is always important for many reasons (size, fitment, style), but I had this particular tank in mind since the very beginning, which was a Honda XL500S tank. Turns out, it fits perfectly around the square backbone of the XR650R. Soon I made radiator mounts to accompany the tank size and allow the forks to turn fully on either side.
Also decided to modify a set of Devol rad guards and mount the running lights and front signals on the outside edge of the radiator guards. A nod to the last XRR I built. A 650 motor was picked up, rebuilt into a 680 big bore (11:1) and mounted in place.
After the engine, tank, radiators and subframe was in place, I started on the seat. With my bikes, the seat has to flow with the tank, and since the tank sat lower than the subframe, the seat had to bridge that gap. So, I made a template, cut out it out of aluminum, and shaped into around the tank in one piece.
Soon it was wrapped by Dane Utech out of Chicago.
These bikes run hot and with a big bore, I needed to keep things cool. So, I added a pair of KTM fans to help with the heat. The fans are set at different temps and will only turn on at the same time when things get to hot. Also, the fan mounts were designed in a way to add some flare to the bike and bring some more color to the bike.
I also sourced a skid plate off eBay for cheap and a piece was added to the top to make it flow better and bring the design to the bottom of the bike as well.
Other performance goodies include a Lectron carb and custom 2 into 1 exhaust paired with a Cone Engineering muffler to add some style points.
For the electronics on this bike, it has two separate circuits that run the bike. The bikes ignition runs off the AC current from the high output stator, while the lights and fans operate off a floating DC current from the 8-cell lithium battery located under the seat.
On the dash sits a Garmin Zumo XT GPS which also is the speedo for the bike. It's included in the wiring, so when you turn the key on and off, it does as well. This bike is street legal, so turn signals coming from the running LED strips in the front and moto gadget signals in the back.
The red paint for this bike was hands down was the most important part of this build. All the metal pieces in red had to match the red XR400 and CRF fenders on this bike. My painter took on the challenge and nailed it. He was unable to get a reading on the fenders since they had too much fluorescent in them, so he created the red himself and it turned out perfect.
I wanted a stripe to go right down the middle of the bike (even underneath), so a black stripe with silver and gold accents was painted to complement the colors of the bike. For the fenders, aluminum pieces were made to bolt onto them and bring color to the plastic fenders.
In the end, I missed the RSD deadline by two months but did manage to make it to Motoblot in June. I literally got it done, rode around the neighborhood twice, then loaded it up and drove it to Chicago. So, testing of the bike was done in downtown Chicago. It didn't win the Valhalla custom builders challenge, but man did we have fun!
What was supposed to be a long-term build turned into the fastest bike I've ever built. Lots of long hours working on this bike, and especially sourcing every bolt and piece to make this bike what is is. To build a one-of-a-kind bike from a $200 eBay frame makes me proud to have my logo on the tank for the first time. I'm moving to a shop here soon, so this will be the last bike built out of my home garage. Perfect bike to close a chapter and I can't wait to see what rolls out of the new place.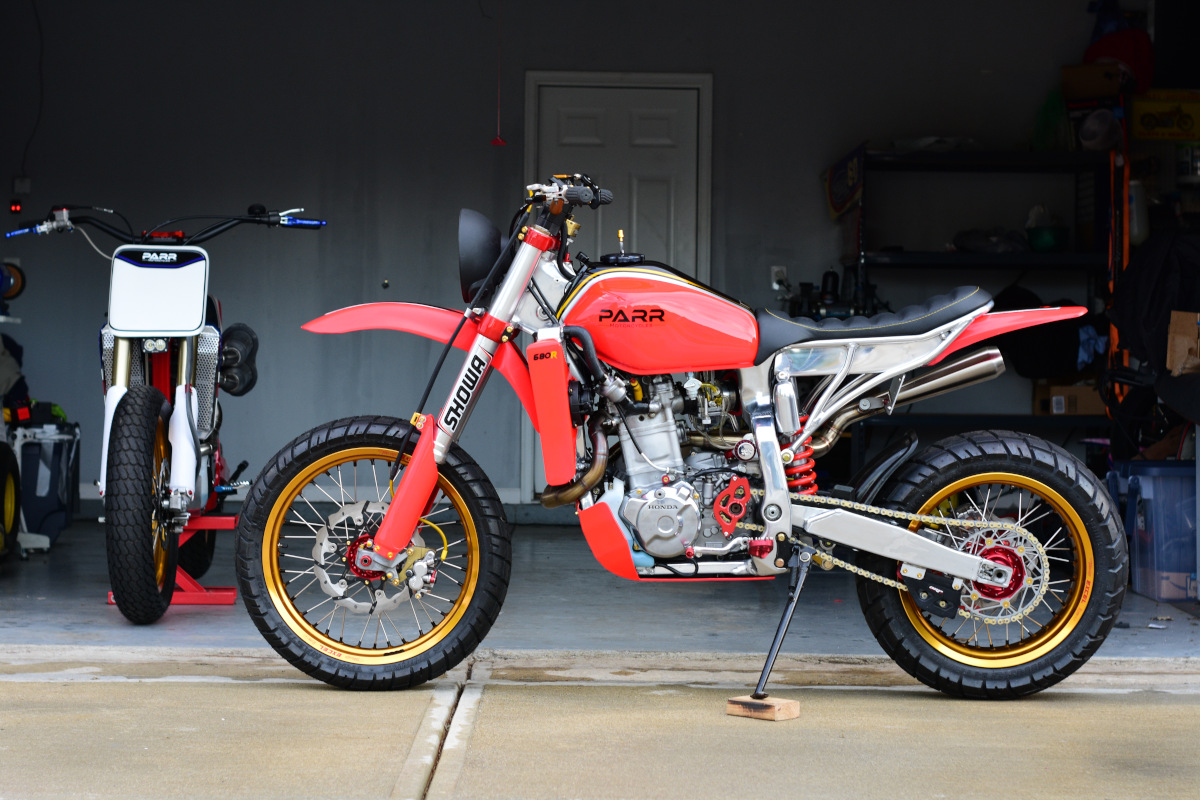 I get asked what my favorite bike is so far, and with no hesitation I say the 680R!
Follow the Builder
Website: Parr Motorcycles
Facebook: Parr Motorcycles
Instagram: @parrmotorcycles