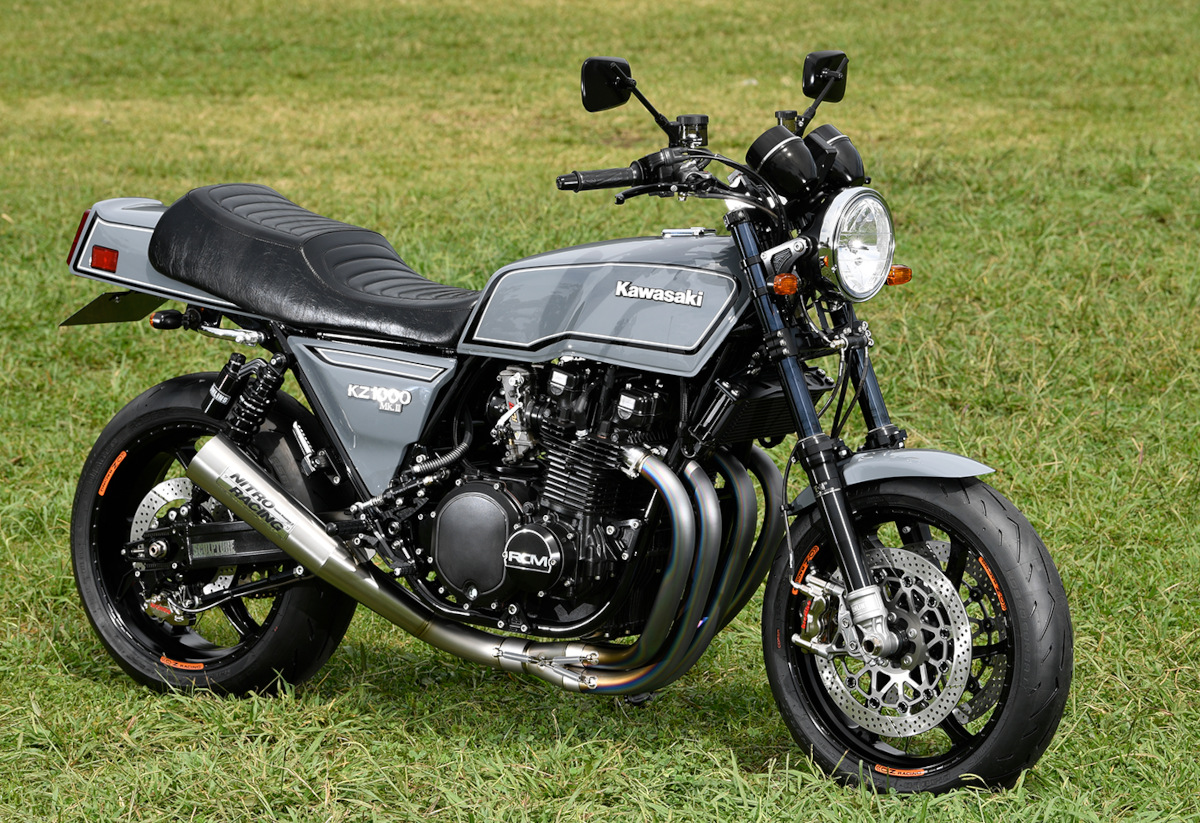 AC Sanctuary's MKII Missile…
In 1979, Kawasaki introduced the KZ1000 MKII, which offered new angular styling and a slight power boost out of the 1015cc DOHC inline four engine, now making 93 bhp. The crank had been rebalanced with larger journals, the cams were fiercer, and carbs were up 28mm. Two Wheels magazine was able to hammer off a quarter-mile time of 12.1 seconds on period tires, and hit a top speed of 135 mph.
What's more, the double-walled frame tubing around the steering head had tidied up the handling, though the Mark II still didn't perform as well as the period Suzuki GS1100, which had air forks and shocks.
"The Z1000 Mark Two is a lusty performer regardless, lacking none of the feel of the grunty mid-range performance expected from a big roadster four — it's just that other Japanese one-litre bikes can do fractionally better even if it's impossible to pick in a seat-of-the-pants evaluation." –Two Wheels, 1979
This KZ1000 MKII is the work of Japanese master Hiroyuki Nakamura of AC Sanctuary, who's been turning out some of the baddest restomods on the planet since he opened his shop in the 1990s. This one was built for one lucky owner — lucky enough to own multiple AC Sanctuary RCM (Radical Custom Manufacture) builds! Says Nakamura:
"It's proof that you'll like your RCM, and it's a great pleasure to be able to produce another one for this owner."
The frame has received RCM's Stage-II reinforcement and alignment, setting it up for dual 17-inch OZ Racing wheels, Öhlins suspension, Sculpture braced swingarm, and Brembo brakes.
The engine has been punched out to 1105cc with a Wossner piston kit, Kent cams, oversized valves, 37mm Keihin FCR carbs, and Nitro Racing hand-bent titanium exhaust. An oil cooler and high-pressure pump helps keep temps down and extend the life of this monster engine.
All in all, this is one monster MKII, and we're more than a little jealous of the owner!
RCM-596: In the Builder's Words…
In recent years, the number of owners who own multiple RCMs has increased — the owner of this machine also owns an RCM-540 Ninja Type-R and two of the RCM-376 KZ900 models. So we added this RCM-596 KZ1000MK-II this time.
From the production side, it's proof that you'll like your RCM, and it's a great pleasure to be able to produce another one for this owner.
It has a ST-II reinforced frame made for 17-inch wheels, along with OZ Racing wheels, Öhlins suspension, Italian Brembo brakes, and first-class products. The swingarm and stem that connect them are RCM's exclusive brand SCULPTURE.
For the engine, we used many countermeasure parts in various places, while making use of his experience as an RCM owner. Piston bore is 73mm, with high-performance Kent cams and big valves, Pam's generator conversion kit and twin plugs. FCR carburetor and Nitro Racing Titanium Megaphone EX muffler.
This makes for a responsive, high-torque engine that transmits power via a 6-speed cross transmission + EVO system. Since the oil temperature rises with the additional power, an oil cooler is used as a countermeasure along with a high pressure oil pump.
Made-to-order based on a favorite model and carefully customized in the production process —
this is a really luxurious one, which was created with careful consideration.
Build Sheet
Chassis (17 inch)

Frame
Original frame reinforcement, ST-II
Drive chain line offset, in-line processing
Laydown processing
Powder coating after blasting
Steering stem
SCULPTURE Φ43 SP stem KIT TYPE-1
Handlebar
Daytona RCM Concept handlebar and RCM Concept grip ends
Front Fork
Öhlins E×M package
Front wheel
OZ Racing GSAA RS-A for ZRX1200 3.50-17
Front brake
Brembo CNC radial caliper GP4RX
(Master) Brembo Racing radial brake master
(Brake hose) Allegri shorto system
(Disc) Sunstar works expand Ф320
(Support) SMB radial mount multi-caliper support KIT
Front fender
Nitro Racing Ceiling Fender Kit (Type Naked, FRP)
Swingarm
Sculpture 17-inch wide swingarm, gunmetal finish
Rear Shock
Öhlins black line rear shock
Rear wheel
OZ Racing GSAA RS-A for ZRX1200 6.00-17
Rear Brake
Brembo nickel 2POT caliper
(Master) Nissin Master φ14
(Brake hose) Allegri shorto system
(Disc) Sunstar works expand φ250
(Support) SMB
(Torque rod) SMB rigid mount
Tire
(Front) Pirelli Rosso Corsa II 120/70ZR-17
(Rear) Pirelli Rosso Corsa II 190/50ZR-17
Drive chain
EK530RCM
Sprocket
(Front) 530-18/21mm offset
(Rear) Sunstar 530-43
Chain line
21mm offset from normal 87mm to 108mm
Other
SMB D chain slider
Body
| | |
| --- | --- |
| Backstep | Nitro Racing |
| Tandem step | Nitro Racing |
| Seat | Daytona RCM concept COZY seat |
| Drive sprocket cover | Nitro Racing |
| Clutch Master | Brembo Racing radial clutch master |
| Paint | Okushin |
Air intake/exhaust/cooling/electrical system
Muffler
Nitro Racing hand-bent titanium megaphone, one-off
Carburetor
Keihin FCR Φ37 carburetor
Fuel Cock
Pingel
Ignition system
AS Wotani SP2 twin plug specification
Cooling system
Nitro Racing 9 inch 13 steps upper turn
Bore/Stroke
73mm/66mm
Displacement
1105cc
Piston Maker
Wossner
Crank
Centering Correction
Cylinder
After replacing the PAMS EST liner, boring
Clutch
Pam's clutch housing full conversion
Mission
6-speed cross mission + EVO system dock clearance shim adjustment
Valve IN
Pam's HF valve (Alpha)
Vavle EX
Pam's HF valve (Alpha)
Valve guide
Valve guide replacement
Valve seat
Sheet cut processing
Cylinder head
Lower surface minimum surface grind
Cam chain
EK cam chain
Timing parts
SMB rigid idler all one package
Cylinder Stud
SMB chromoly cylinder stud bolt
Cylinder nut
SMB chrome molybdenum nut
Camshaft
Kent high cam
Other
Pam's generator conversion kit, type Ⅱ
Yoshimura digital temp meter
Tachometer stack / clubman tachometer installation
SMB high pressure oil pump
Follow AC Sanctuary
Website: www.ac-sanctuary.co.jp
Facebook: www.facebook.com/ac.sanctuary
More AC Sanctuary Restomods…
---