Moto Adonis builds a meaner Monkey…
As the story goes, the original Honda Monkey was created for a Honda-owned amusement park in Hino, Japan — a Tokyo suburb:
"It was called Tama Tech Park, and primarily featured motor vehicle attractions for the public to come ride, touch, and experience in person. One of those attractions involved a 49cc Super Cub engine stuffed into a completely new, tiny little bike." –RideApart
Known as the "Z100," the 49cc machine with its 5-inch wheels wasn't meant for mass production, only to be ridden around the park. But Honda soon noted it was the park's most popular attraction — and just as popular with adults as children.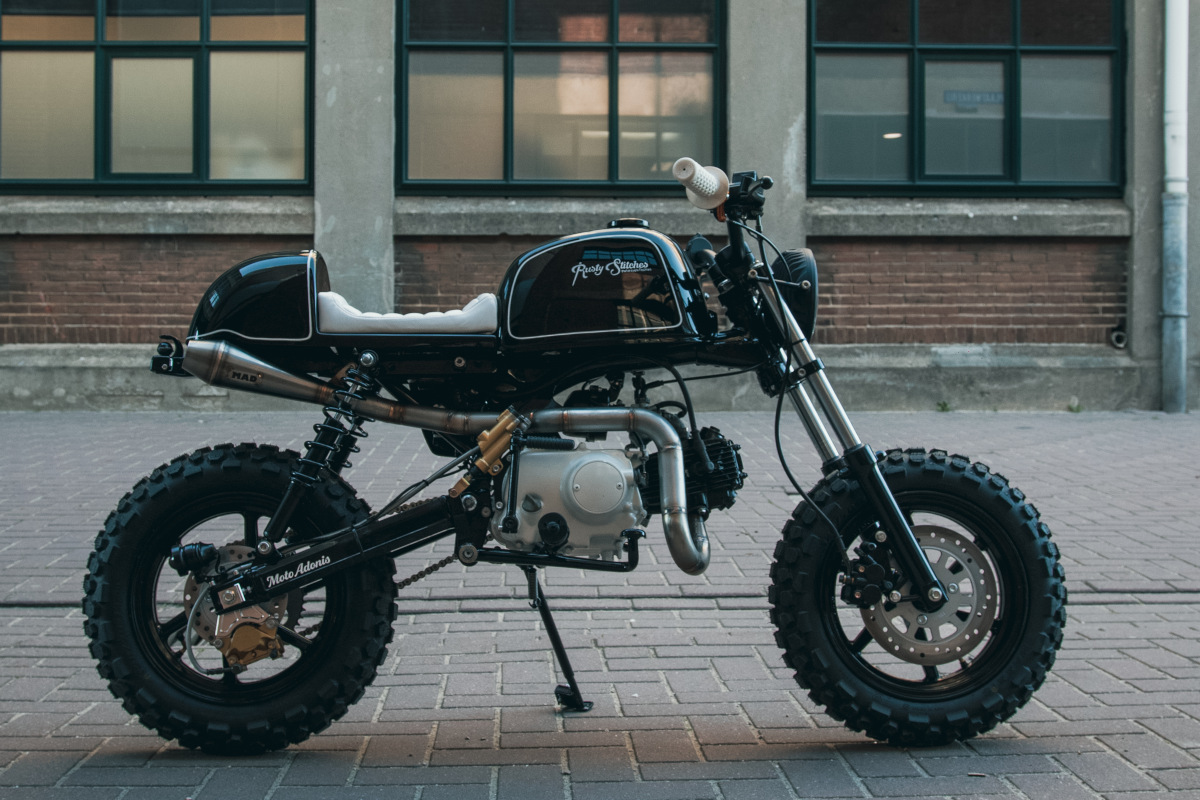 Soichiro and his team decided to produce a street-legal version of the little Z bike. Thus the Honda Monkey bike were born, destined to become one of the most iconic and beloved two-wheeled machines in history.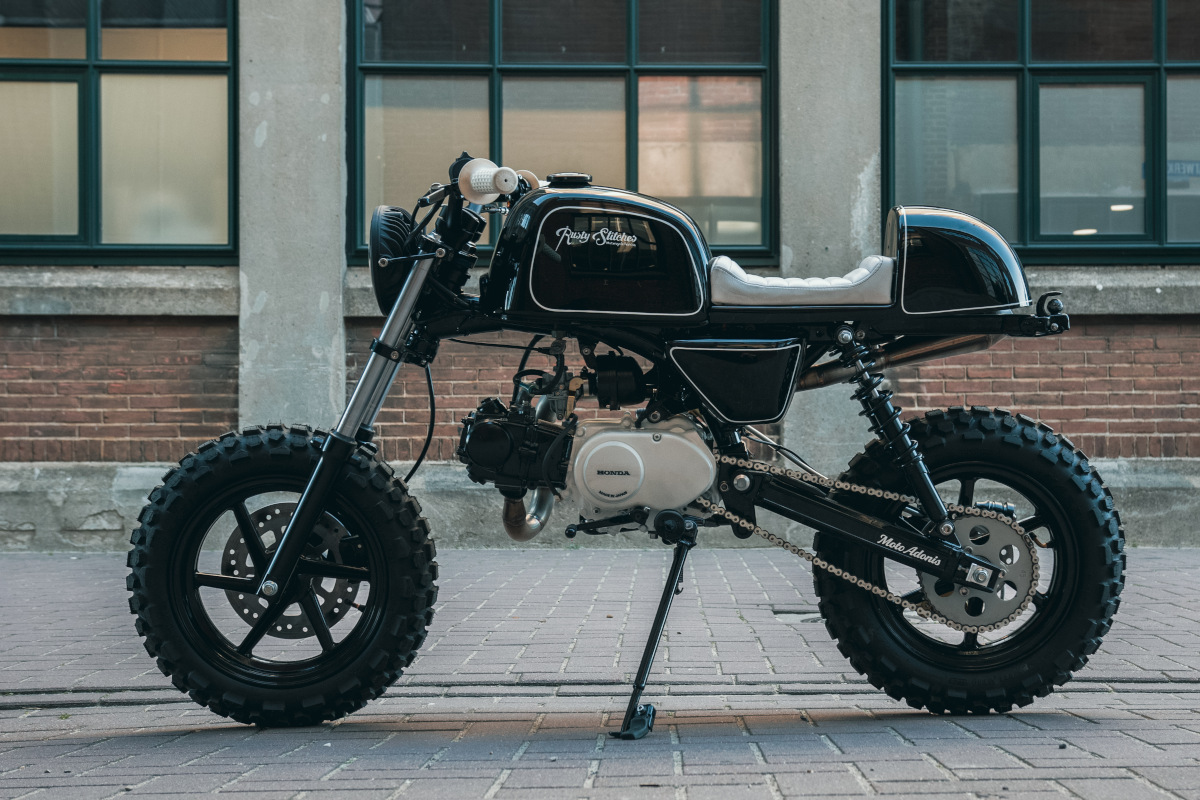 Fast forward more than 60 years, and the crew at Rusty Stitches were in need of a custom monkey that would befit their mascot — a big hairy ape:
"Looking fresh and comfortable while having some money left in your pocket to buy a beer, that is how we roll. But we are no regular motorcycle fashion brand – not that average monkey…trying new things and doing something slightly different from the rest…"
Founder Joshua Nap sought out Arthur Renkema and Job Leussink of Moto Adonis to build the Rusty Stitches Z50 Monkey:
"It was clear from the beginning which direction they wanted to go with this little bike. It had to look a lot meaner than the original Monkey, and they knew exactly how they were going to do that." –BikeBrewers
The Z50 donor was stripped down to the bare frame for a ground-up build. The original wheels were swapped for a pair of larger 12-inchers with knobby Maxxis NSR tires.
In order to accommodate the oversized rubber, the bike is running wider fork yokes and a widened, extended aluminum swingarm with longer travel suspension and twin-piston disc brakes at both ends.
The engine was dry ice blasted and resprayed, with the displacement unchanged to avoid going through a noisome round of testing and re-registration with the authorities. The original 6-volt electrics were upgraded with a 12-volt conversion, allowing the bike to run a powerful LED headlight with custom brackets, and the custom rear subframe is home to a café-style rear cowl and saddle from one of the best in the business, Miller Kustom Upholstery, complete with white stitching to match the black-and-white theme of the bike.
The original Honda tank was hand-striped by Frank Bouwmeester of Huid & Staal — a master of the art — while the exhaust is a scratch-built system courtesy of MAD Exhausts.
"We have heard this Monkey in real life, and it sounds more like a Gorilla than a Monkey!" –BikeBrewers
To top it all off, the original wheels were repurposed for use on a custom trailer built to resemble a big banana box! All in all, this is one neat minibike, perfect for the Rusty Stitches crew to take to motorcycle shows, events, and even the grocery store!
Presenting the Build
Follow the Builder
Website: MotoAdonis.com
Instagram: @moto_adonis
Exhaust: MAD Exhausts | @mad_exhausts
Upholstery: Miller Kustom Upholstery | @millerseats
Pinstriping: Huid & Staal | @huidenstaal
Owners: Rusty Stitches | @rustystitches
Photos: Rob Willemsen Photography (@rob_willemsen_photography)