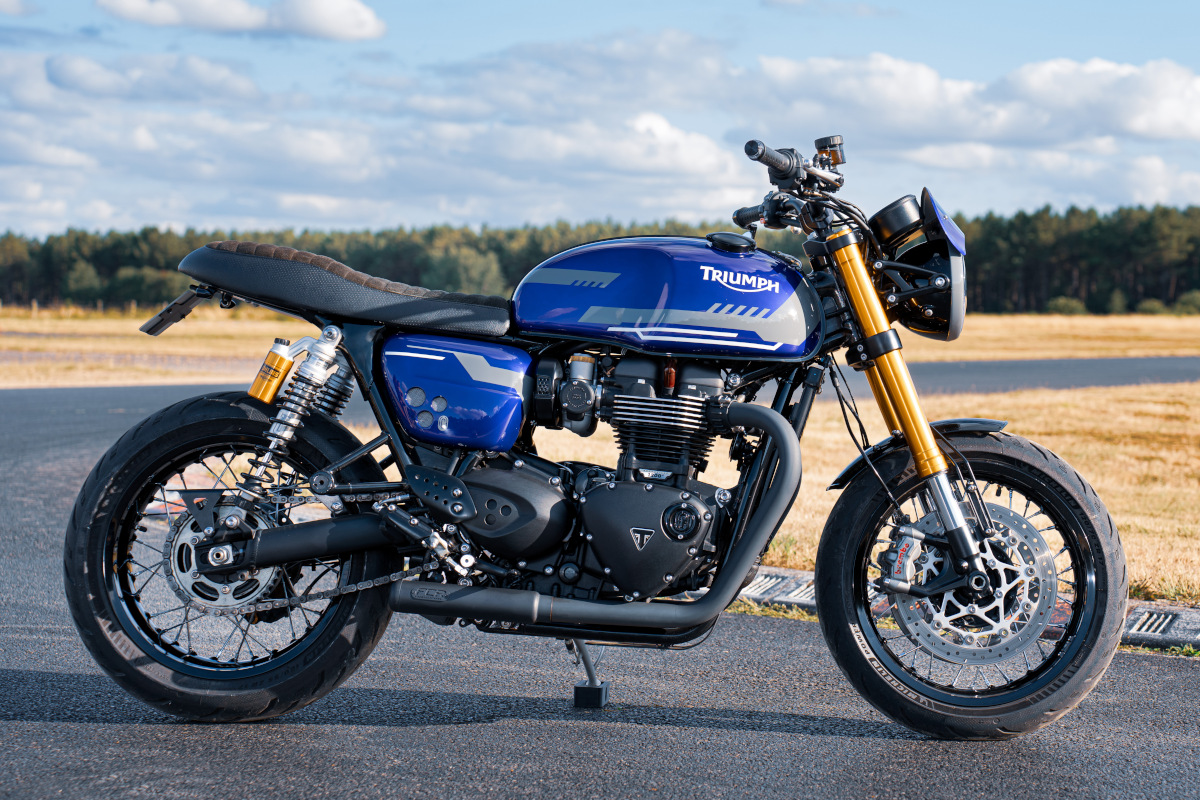 Thruxton 1200 RS "Classic Roadster" from FCR Original…
Introduced in 2020, the Thruxton RS pushed the performance envelope of Triumph's production café racer even farther, boasting 104 horsepower from the 1200cc "High Power" parallel-twin — an 8-hp increase — along with peak torque 700 rpm lower in the revs and 20% less inertia.
"High compression pistons, cams, and a gas flowed head, crank, balance shafts, clutch and generator are all lighter and a magnesium cam cover and thinner engine covers save further weight." –MCN

The Thruxton 1200 RS is now the highest-spec model in the Bonneville range, offering Showa big-piston forks, Öhlins shocks, Brembo brakes, and performance tires. The bike is the perfect balance between retro style, modern performance, and daily livability.
"There's a reason why so many sportsbike riders have peeled themselves off their race replicas and on to Thruxtons. It looks great…it doesn't squash wrists or knees, and the seat is comfy enough for extended saddle time (around three or four hours)…but it'll also scratch your speed itch… There's nothing the Thruxton RS can't do." –MCN
For those who want the performance of the Thruxton RS with the comfort and style of a roadster, our friends at FCR Original have have created the Thruxton RS Classic Roadster you see here. The clip-ons have been replaced with riser bars, and the bike is brimming with custom finishes, paint, upholstery, and parts from the FCR Original product line.
Highlights include FCR Original's own yokes with integrated risers, and the bars hold custom switchgear, mirrors, and M-Blaze bar-end indicators. Much of the bike has been blacked-out, including the swingarm, various engine covers, and the FCR Original 2:2 exhaust. The solo seat with tail cowl has been replaced with a two-up suede-topped saddle reminiscent of a vintage roadster, and this "Classic Roadster" now features custom fenders, radiator grille, paint, and more.
Below, the crew from FCR Original gives us the full details on the build.
Thruxton Classic Roadster: In the Builder's Words…
A new Thruxton RS is lining up at the starting line. A bold version that adds to our range of Classic Roadsters, offering new inspiration to cafe racer enthusiasts. A customization based on the TRIUMPH Thruxton RS that needs no introduction. For its future rider, the goal was to combine the original cafe racer style with a more sporty and dynamic look.
Our workshop rose to this challenge by skillfully playing with contrasts. We opted for geometric shapes that harmoniously blend with a purple-blue shade, enhanced by a golden fork.
But this creation is not limited to its aesthetic aspects. It is also equipped with numerous improvements that provide an exceptional riding experience. First of all, like all our Classic Roadsters, this creation is equipped with our high fork yoke kit. This accessory replaces the uncomfortable traditional clip-on handlebars with a straight handlebar in a high position, thus offering better ergonomics and increased comfort.
This Thruxton 1200 is also equipped with a headlight cowl that acts as a wind deflector, thus improving the rider's comfort during their journeys.
Lastly, this motorcycle is equipped with our partner Michelin's sport tires specially designed for the road, namely the Power 5. These tires offer exceptional grip and optimal performance, ensuring a safe ride.
With this creation, our workshop showcases a new style of customization, both contemporary and sporty.
Build Specs
Front:
FCR Original roadster fork crown kit
Black 17″ spoke wheel
Black fork crowns
Black fork tubes
Black bridges
Custom aluminum front fenders
Michelin Power 5 tire
Rear:
17″ black spoked wheel
Michelin Power 5 tire
FCR Original chain guard
Black Black Ohlïns shock absorbers
Black swingarm
Electrics
Mini Bates FCR Original 3-in-1 taillight
Motogadget M.Blaze front turn signals
Headlight with yellow optics in option
Cockpit
Black handlebars
Motone Commodos
Black Highsider Montana mirrors
Made-to-measure saddle
Bodywork
FCR Original custom paint
Engine
FCR Original black exhaust system
FCR Original crankcase emblems
Back Black intake covers
Misc.
FCR Original Radiator grille, black
FCR Footrests, black
FCR Original side plate support, black
More Photos
Follow the Builder
Follow FCR Original: Facebook | Instagram | Web
Classic Roadster Range: fcr-original.com/gamme/roadster-classic/
More FCR Originals
---