Last year, Greig Hochreiter was nearly killed by a drunk driver while riding his motorcycle home from hanging with some of his best friends.  Some riders, lying bloody and broken in the hospital, might have sworn off two wheels for good.  Not Greig.  Today, Greig is the co-owner and manager of Devolve Moto in Raleigh, North Carolina, which he describes as:
"An all encompassing adventure lifestyle destination store that has a little bit of everything you need to get out and explore the world whether it be by land, air or sea."
BikeBound has now visited the store no less than three times since it's grand opening in October.  We bought a Gringo S and pair of Grifter Scoundrels there, and we can confirm that it's nothing short of a motorcycling Mecca for men and women interested in custom and classic bikes, or simply the adventure lifestyle.
Recently, we caught up with Greig at the in-store bar (yes, coffee and wine and beer are served here) and learned a little about this custom 1993 Honda XR600R he designed himself and built in collaboration with Johann Keyser of Moto Motivo.
Why a '93 XR600R?
Greig is sure to mention that the selection of a 1993 XR600R–versus the newer XR650–was intentional.  The XR600R design was ahead of its time, with fully adjustable cartridge forks and adjustable Prolink rear shock, as well as a fairly high-compression, four-valve head and Keihin 39 mm carburetor. The 591cc motor was bulletproof, built to take to the hills and never come back.
From the '92 model on, the XR600R amassed 12 Baja 1000 victories in as many years–how's that for domination–and the power-to-weight ratio outperformed the later XR650.  As one of our Facebook commenters stated:
Sink your eyeballs into your head…damn powerful bikes.
You can see more shot of a XR600R BAJA model here at the Honda Museum.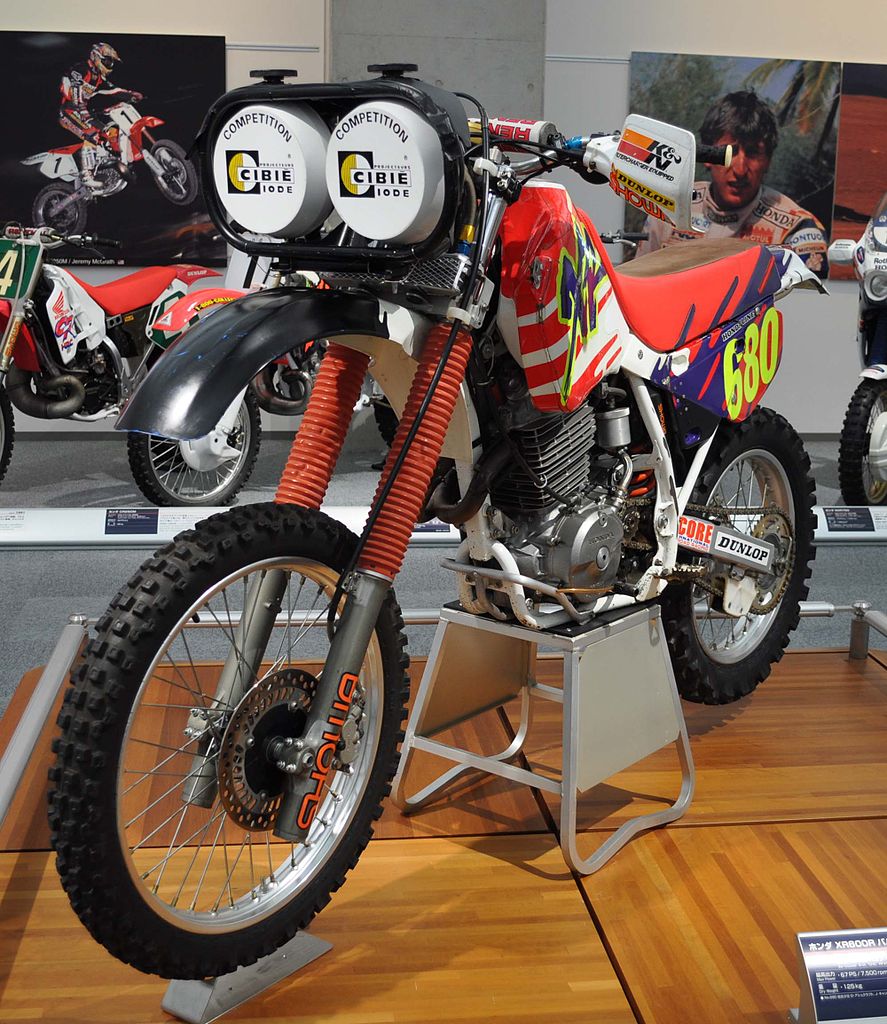 Design Concept:  XR600 Scrambler
Dual-sport customs and big single scramblers have certainly been on the rise in recent years, and Greig and I discussed killer builds like Bang Moto's XXL500 and Scott Haslam's XR500 tracker. Greig wanted a bike that could serve as an urban curb-jumper and grocery-getter during the week, then hit the trails and fire-roads on the weekends.
He designed and bought all of the parts himself, then enlisted the help of Raleigh's own Moto Motivo to wrench it all together.  Johann of Moto Motivo is best known for his more street-oriented cafe racer builds, such as this Candy Panther Gold CX500 which actually sits in the middle of Devolve Moto, but he was excited to build a machine that would be as comfortable off-road as on.
The first step was to tear the bike down…bare bones only.  The rear seat frame was tossed in favor of a Dime City Cycles loop with a custom built seat cushion stitched in-house. Next, the factory fuel tank was pitched, replaced by one from a CG125. The idea was to narrow the bike as much as possible, creating a blade of a machine that could knife through traffic and singletrack trails. With the frame fully exposed, a new wring harness was built to allow for needed options like a high beam, turn signals, and a charging system.
As far as the powerplant, the idea was to hold on to the near legendary dependability of the air-cooled, four-valve 591cc. How do you do that…you keep the engine stock. Despite changing the air filter to a K&N, the Keihin PD8-AF carburetor is stock. The bike may suck through a stock carb, but it blows through a custom Leo Vince exhaust. As Greig told the guys at Pipeburn:
"It sounds like a machine gun from the future."
Moto Motivo went outside of their comfort zone by incorporating ceramic coated components, a first for the builder. The ceramic coating is inline with Greig's off-road needs, since a silver ceramic coating is more apt to stand up to the rocks and debris that will be abundant when riding trails.
Speaking of being off-road, the XR600R was intended mainly for off-road use, so the suspension had to be given an overhaul to be used on-road. Greig decided to keep the front forks, sans a few millimeters, but they now have a 280mm EBC brake rotor for a shorter stopping time. The rear suspension features an Eibach shock. The Eibach was chosen for its lowering link so Greig could change the setup depending on conditions. The bike now sits on Excel Takasago rims that sport Cinti TKC80 Twinduro rubber to round out its curb appeal.
Greig mentioned that he originally wanted a rear fender for the bike, which was left out of the build.  Right now he's considering a fender that could clip on and off, based on the rider's needs on any given day. Overall, this is one well-sorted machine, and well worth the trip to see it in person.
What's to Come for Devolve Moto
The crew at Devolve is currently working on a BMW R65 in their downstairs garage.  We won't give away the concept, but suffice to say this build is going to make waves through the scene.
If you ever find yourself in the Raleigh area, we urge you to walk, run, or ride to Devolve Moto.  Hell, if you live in a neighboring state, put together a group ride/pilgrimage–you won't be disappointed.  Support an establishment like Devolve Moto, and you might just find a similar space opening up in a town near you.