Arkansas. There must be something in the water.  First we starting seeing the incredible "neo-vintage" builds from One-Up Moto Garage in Fayetteville, such as this CB600 featured on Return of the Cafe Racers, which made our list of the 2015 Best Bikes on Instagram. Now we have this lovely, sexy, "barn-built" cafe racer from Arkansas native Will Hight: a 1973 Honda CB350F.
The CB350F, as you may know, was a completely different animal from the regular CB350.  The latter was a 325cc parallel twin, whereas the CB350F was a 347cc four-cylinder, offered only from 1972-1974.  At the time, it was the smallest four-cylinder motorcycle ever mass-produced, an exercise in one-upmanship from Honda executives and engineers.
The little inline-four offered 34 horsepower at a redline of 10,000 rpm, good for 98 mph flat out.  The CB350 twin was lighter, quicker, and cost $300 less, but the brilliance of the CB350F was in its sophistication and engineering.  Perhaps Cycle said it best in 1972:
"We are again reminded that some motorcycles have an appeal transcending mere numbers…there is some indefinable something about this newest Honda that gets people turned-on and lusting after its shiny little carcass."
Below, we let Will himself tell you about this incredible build.
CB350 Four Cafe Racer:  The Build
I purchased the Honda from Taylor Henschell from @oneupmotogarage. It was just something on his back-burner he wouldn't get to for a while so he gave me a great price.
After we loaded it up I brought it to my girlfriend's farmhouse, which is the only place I have access to a garage. I didn't quite have a plan at this point I just knew I wanted to give it a more aggressive stance, whether it be through taller shocks or just cutting the back-end off and starting from scratch. When I didn't find any shocks that got more than 1/4 inch taller I decided to hack the back off and go with a mono shock.
My first attempt looked like this:

I had intended to make a top mount and then strengthen the swingarm. When I got the top set and let all the weight sit on the spring it compressed completely. The swingarm had way too much leverage on the small 10″ shock, so I had to rethink my whole scheme. My second attempt was to make a swingarm brace and reuse both the top and bottom mounting points I had already welded into place. I'd seen this style on a few bikes both factory and custom so I had more confidence this time.
Since I was building the bike on a farm (a chicken farm to be specific), I had access to all kinds of steel tubing that would normally be used to mend the chicken houses. So with the help of a pipe bender and welder I just set out trying different options, finally making one work.
The rear fender was from a Triumph Bonneville I did before this build. It bolted right on with no fabrication, so I figured it was meant to be on there.
After I had figured out the mono shock issue the only thing left was to build a seat. To build the seat I just winged it and kept bending pieces until I got was I was looking for.
After that everything fell into place, I repaired a slightly dented 350f tank I found on eBay. I mounted some new Shinko street tires, made a seat pan and shaped the foam on it. Finally, I mounted the head and tail lights. It came out looking something like this: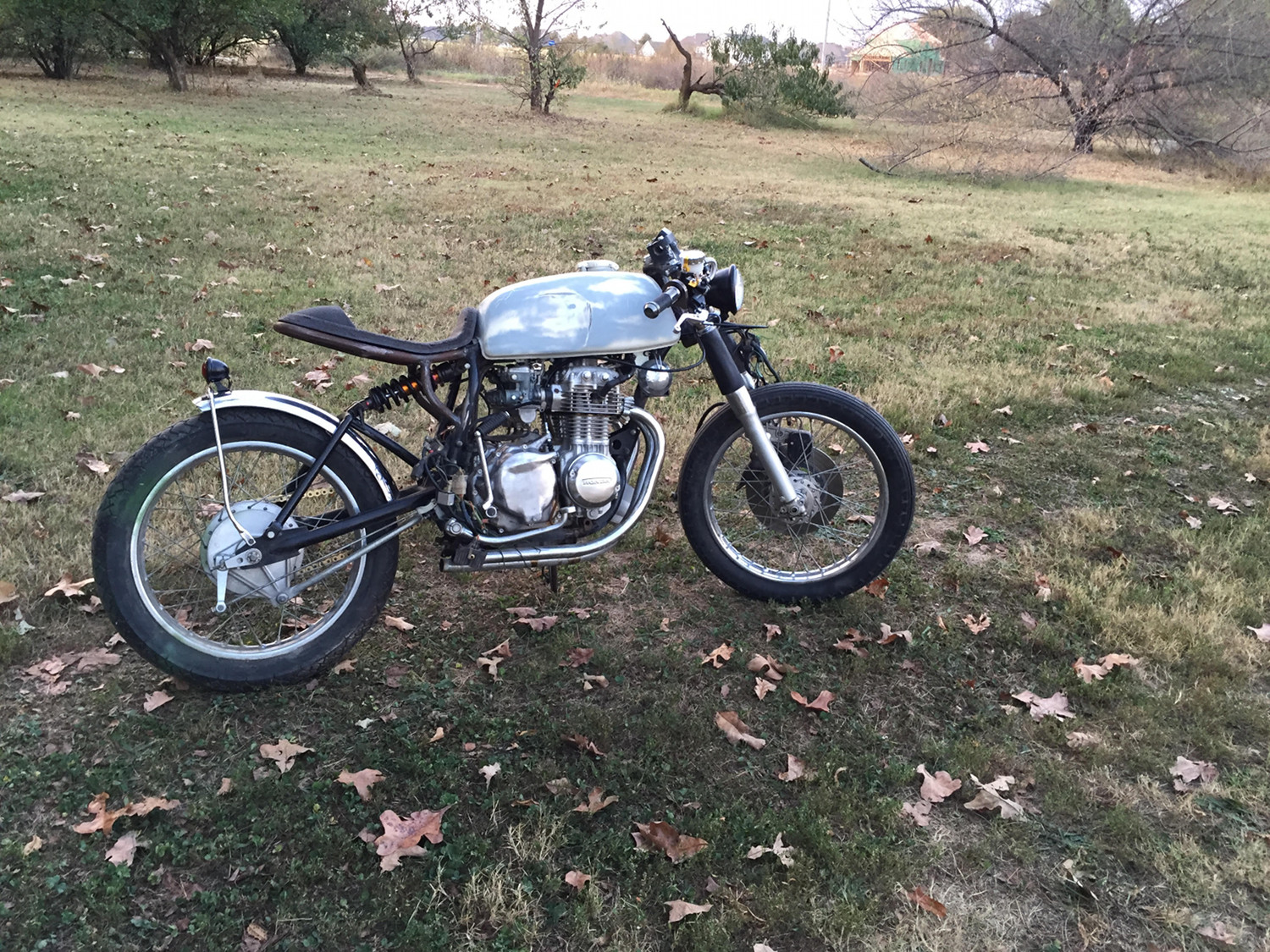 The seat was upholstered by a place my girlfriend found nearby called Belton's Upholstery in Rogers, AR. They did fantastic work.
The paint color was chosen based on what was a available, if I could do it again I'd go with a pearl white with gold accents.
For the photo shoot I did on the farm, I thought it would be cool to show the bike in the environment it was built from. I'm very pleased with the final result, but I'm still looking into a front end swap, both for handling and for an updated front brake caliper.
Follow the Builder
Follow Will on Instagram:  @wil_hight