Motorcycle riders of every skill level understand the importance of being safe on the road. Durable gear can be key to your safety if you spill your bike. Heavy boots, chaps, and leathers are essential to rider comfort and safety on long rides, but none of these is likely to save your life; a limb, maybe prevent some road burn, but not your life. The only piece of equipment that has the potential to save your life is your helmet.
Because a retro or café racer full face motorcycle helmet may save your life during those occasions when you unwillingly dismount your bike, there are several factors that you should consider when buying one. The most important of those is certification. No rider should ever buy a helmet that is not Department of Transportation certified. The DOT sends helmets to outside labs to be tested for impact absorption, resistance to penetration, and dozens of other criteria to ensure that a helmet will perform as it is supposed to. That information is then posted on the National Highway Traffic Safety Administration's (NHTSA) website.
You can follow this link (http://www.nhtsa.gov/Safety/Motorcycles) to find quite a bit of helmet safety information on that site. Some believe that the best helmets are both DOT and Snell Foundation certified, but the Snell Foundation certification is only slightly different than the DOT criteria, minimizing any increase in the quality of the helmet being considered.
Cafe Racer Helmet Considerations
Other than DOT certification, you will want to consider:
Retention…the last thing you want to have happen is your helmet flying off when you hit the pavement. Full face helmets have the best retention, due in part to the chinbar.
Fit…your helmet is more apt to stay on if it fits properly. A helmet should fit snugly and remain stable when you shake your head up-and-down, side-to-side, and front-to-back. A full-face helmet should grip your cheeks and jaw as well as the top and sides of your head, tightly. At first this may feel confining, but you will become accustomed to it.
Comfort…if you only ride around town, comfort is a fairly minor consideration. On the other hand, if you ride any real distance an uncomfortable helmet is like wearing a medieval torture device. Trying a helmet on in the showroom may not be enough. Ask if you can wear it during a short test ride. Many riders prefer vented helmets for added comfort. The venting is meant to cool the interior of the helmet and prevent faceshield fogging.
Coverage…this is where full face helmets really stand out. A half-helmet, or shorty, provides the least coverage. An open-face helmet, or three-quarters helmet, offers slightly better protection, but a full-face provides the ultimate safety protection. This is partly due to the chinbar, but also because of the face shield. Faceshields should be VESC-8 and ANSI Z-87 certified in order to offer the best protection.
With all of those features in mind, we are going to review what we think are the five best retro or café racer full face motorcycle helmets on the market today.
Bell Bullitt Review [Buy]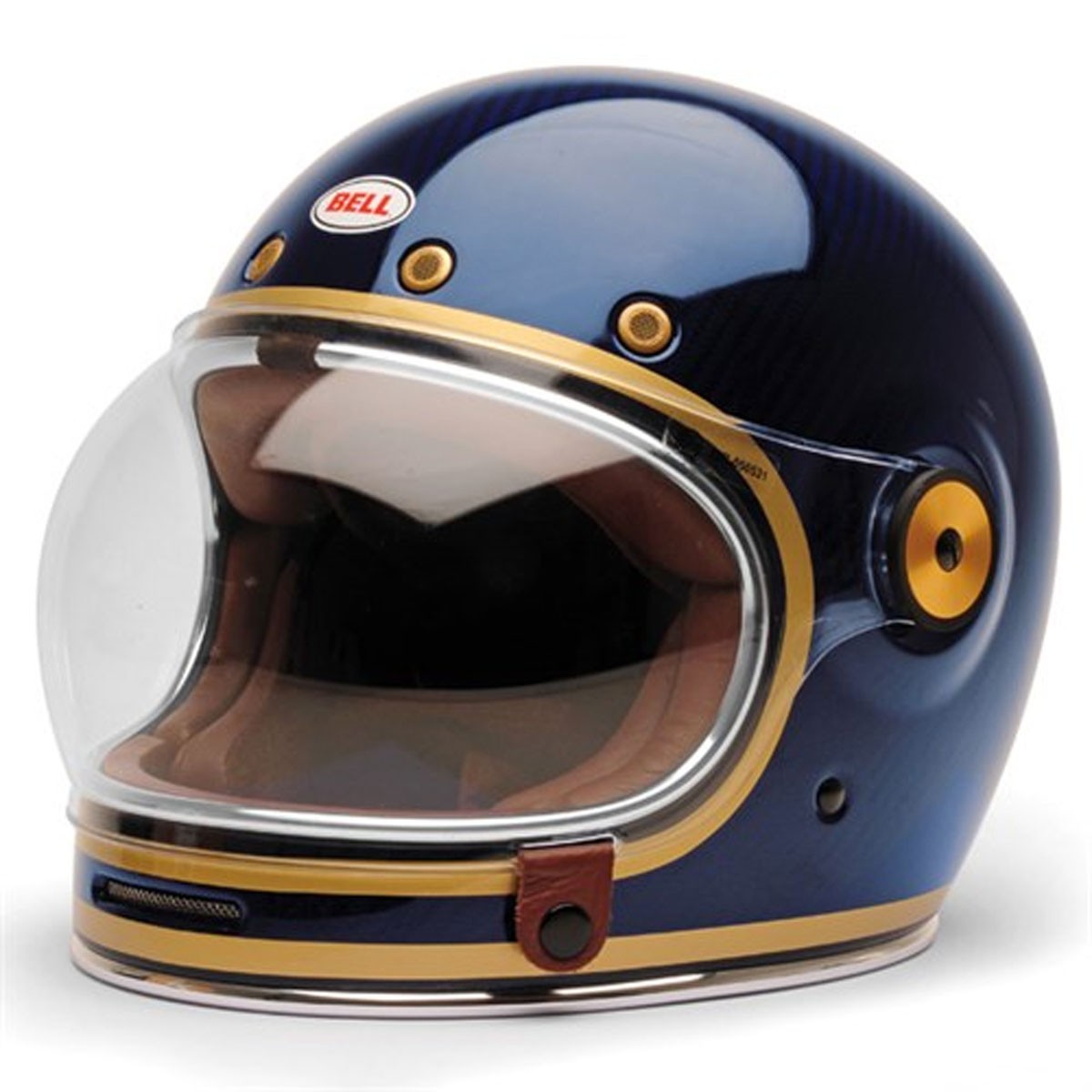 The Bell Bullitt is one of the best known cafe racer helmets. The helmet came into existence because designer Chad Hodge couldn't find a helmet that offered the safety he wanted and felt quite right on his noggin. At the same time, he needed a focus for his senior industrial design thesis. The result is part of history.
The Bell Bullitt hits on all of the areas of concern that we mentioned above. The Bullitt is DOT-certified and retention is insured by using 3D-formed cheekpads and a double D-ring chinstrap. Fit is guaranteed by using three different shells to accommodate sizes XS to 2XL. The Bell Bullitt is known to be very comfortable. That reputation is achieved through the use of anti-microbial micro-suede interior fabric that is washable; leather trim; and multiple intake vents. As a retro full-face helmet, the Bell Bullitt offers the best coverage possible. The standard clear bubble visor can be replaced with a flat tinted visor for just $40.
On the down side, the Bell Bullitt is fairly expensive at $400. Add the optional tinted visor and you are looking at $440 plus shipping.
Buy Now
Biltwell Gringo S Review [Buy]
The Biltwell Gringo S is a well known helmet. Tough and durable, it eschews the modern tendency to let advanced tech creep into a retro helmet. The Gringo S even goes so retro as to avoid vents.
Despite its dedication to thumbing its nose at modern trends, the Biltwell Gringo S manages to hit on all of the points that we think are critical when buying a retro helmet. First of all, it is DOT-certified. Retention is enhanced with a biofoam chin pad and a plated steel D-ring neck strap. Fit is beyond compare thanks in part to an expanded polystyrene inner shell and the biofoam chin strap mentioned earlier. Biltwell added to the comfort of the Gringo S by using a hand-sewn brushed Lycra liner and open-cell foam padding. The Gringo S adds the laser cut polycarbonate faceshield that the more basic Gringo is missing.
Whereas the Bell Bullitt is a $400 helmet, the Biltwell Gringo S is available for just $200. Unfortunately, the Gringo S does not offer a tinted shield at this time.
Buy Now
Tachibana GT-750 Grand Prix Review
The Tachibana GT-750 Grand Prix is not very well known in the United States. It can be fairly difficult to find in-store and an Amazon search renders zero results.
The Tachibana GT-750 Grand Prix offers Japanese SG certification–similar to DOT and ECE–and offers enhanced retention and fit through a hand-molded interior and a solid D-ring chinstrap. Tachibana uses a stretched velour interior to offer added comfort. This material is very close to the interior used in the 1960s and 1970s. The faceshield used on the Tachibana GT-750 Grand Prix is often cited as offering one of the clearest lines of sight while riding.
The major drawback to the Tachibana GT-750 Grand Prix is the difficulty riders will have finding one. Price wise, it falls between the Bell Bullitt and the Gringo S at $320, making it a bit more expensive than some riders may like.
Daytona Retro Ride Review
If you ride a cafe racer, you might have heard of the Daytona Retro Ride. It is a great brain bucket with an affordable price tag. It is also durable and safe–awesome bonuses when you are talking about low-priced motorcycle helmets.
The Daytona Retro Ride meets DOT certification standards. Daytona uses a nylon chinstrap with D-ring construction to insure retention. The interior is a bit generic, so fit is less precise than you would get from a more expensive helmet. The interior of the Retro Ride is made from moisture wicking fabric for added comfort. The Daytona Retro Ride uses a vintage two snap, twin pivot face shield that completes the retro look many riders are looking for.
The drawbacks of the Daytona Retro Ride can be directly traced to its $100 price tag. The price is reduced by using material that does not enhance the helmet's fit and comfort. The nylon chinstrap, while durable, can irritate your skin during long rides. What's more, the helmet is only available in one color scheme: white with black pin stripe.
Buy Now
Nexx X.G100 Review
The Nexx X.G100 is the full-face helmet in Nexx's Garage collection. It is designed and built to compete directly with the Bell Bullitt within the premium retro helmet segment. As such, it offers a great number of features that you will not find in less expensive helmets.
The Nexx X.G100 hits on all cylinders. It is DOT-certified and goes the extra mile to guarantee retention and fit with a tightly molded interior coupled with a leather, double D-Ring chinstrap. This helmet offers superior comfort by using interior fabric that is both moisture wicking and antimicrobial, as well as a chinbar vent. For added comfort, it weighs in at just 2.5 lbs, a full pound lighter than its closest competitor the Bell Bullitt. The faceshield is made from a 60 percent Lexan composite and is only available with a smoked appearance.
There are two drawbacks to the Nexx X.G100. The first is that the eye port is smaller than on some helmets, most notably the Bullitt. Second, it is an expensive helmet. A starting price of $350 stretches the budget of quite a few riders.
Buy Now
Cafe Racer Full Face Helmets: Recommendations
Every helmet on this list offers maximum protection against impact and is D.O.T certified. Despite many similarities, we would recommend two helmets, each for different reasons.
First, if price is not an obstacle, we would recommend the Bell Bullitt in a close race with the Nexx X.G100. The Bullitt comes out ahead due to its clear visor, larger eye port, and three shell approach to offer a larger variety of sizing. In our opinion, the added rider safety and a better field of vision outweigh the extra cost.
If your budget is a determining factor, your best option is the Biltwell Gringo S. We know many people who wear this helmet–including our editor-in-chief–and they are all pleased with the combination of price, quality, and style.
Save