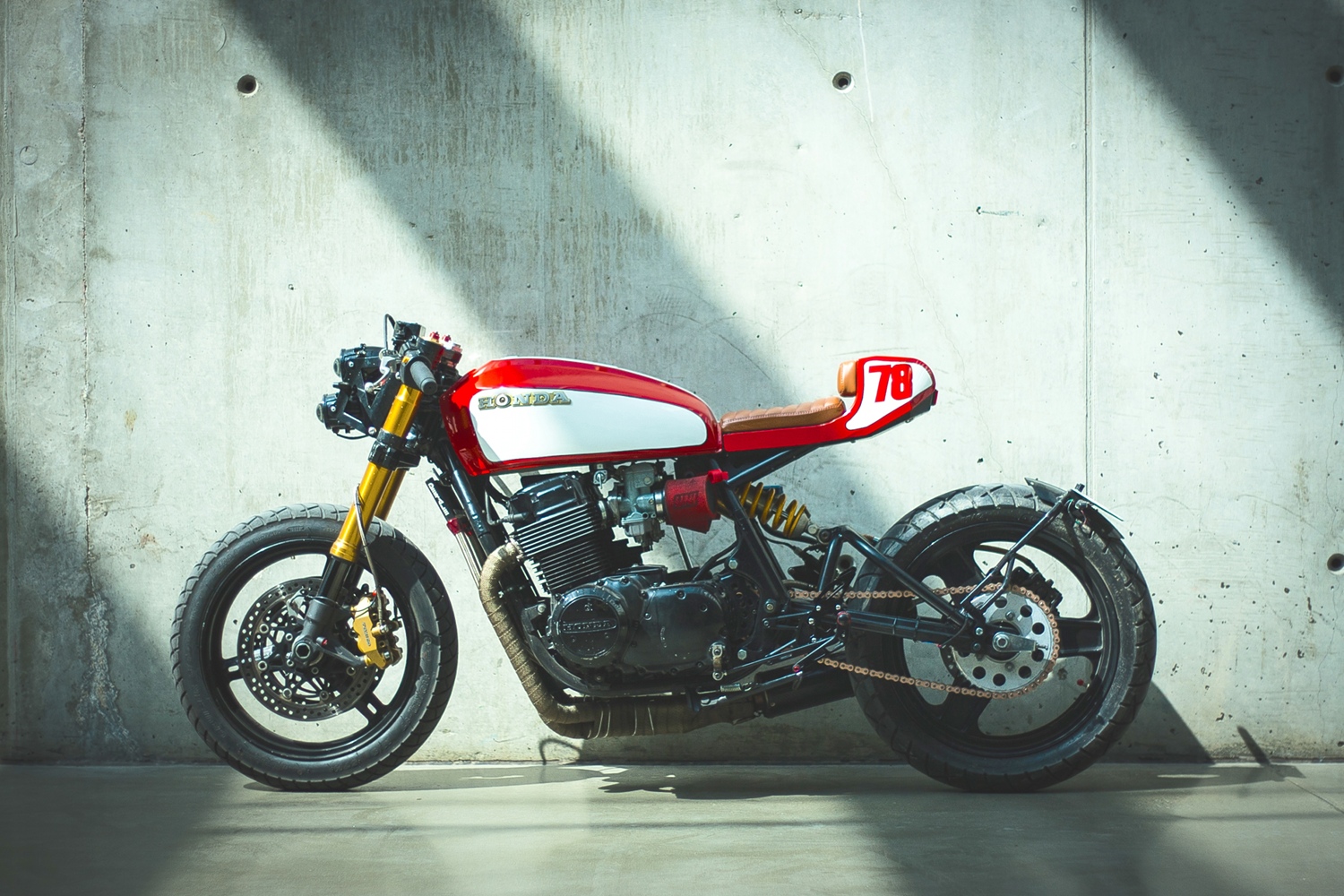 Andrew Wales, the owner and creator of this incredible '78 CB750, is a machinist/millwright and fabricator out of Calgary, Alberta.  Though this bike may look like the product of a high-rent, name-brand custom shop, it's actually the work of Andrew and a few select buddies. In fact, the Canadian fabricator hardly even considers himself a "builder," but rather a "Significant Motorcycle Modifier."  He says:
"To me a builder is someone that has a customer base or builds for someone with the goal of profit. This bike was more so just a vision I've mentally rendered over the last few years as bit of a personal accomplishment towards my capabilities and personality of sorts."
To add to the story, Andrew went through a fairly serious accident with this bike, which he calls "truly bittersweet," as it gave him the opportunity to complete his full vision for the build. Though he says it might sound a bit cheesy, the motto "Modern Mind, Classic Heart" has stuck with him for many years. He thinks this bike, being 38 years old at heart but with many modern upgrades, fits the bill.  We would certainly agree.
CB750 Mono Build:  In the Builder's Words
(Written by Andrew Wales, with our highlights.)
I'm Andrew Wales, machinist/millwright and fabricator out of Calgary Alberta with my 1978 CB750 I've currently dubbed I4HV3.0 (Inline 4 Honda Ver. 3.0).
Originally, I purchased the bike in the winter of 2013 from a older couple that used it for hauling a micro camping trailer around Alberta and BC. The bike came with a Windjammer fairing and king/queen seat and luggage rack and trailer hitch. Over the course of a weekend at my buddies shop, I swapped out the seat and bars, and added some plastidip paint for a "weekend-built cafe," haha (Version 1.0).
Rode that for a season.
After seeing builds come out of the woodwork over the last few years and being involved in the custom bike scene in Calgary, I was inclined to build something signature. I was perusing Instagram and Bike EXIF one night for inspiration and figured, "I've built some sweet shit in my years of manufacturing for other people, I need to build MYSELF something sweet and unique." At the time, there was the first annual IFK Kickstart Moto Expo coming up the following spring, where it'd be my deadline to work towards to have it built and ready.
Found a deal from a guy selling sport bike parts from a guy in town and opted to see what he had. Went out to pick up a Ducati 749 rear shock and came home with that, and a complete '04 GSXR 1000 front end. Over the course of the winter I picked up the Cognito Moto stem swap, bent up the rear mono hoop at work, and for a week or so, was fitting and tacking the swing arm setup. Once all was gravy, I took it into work, where I TIG-welded everything up during my lunch breaks.
Once the bike was rolling, I started on controls and wiring. Stumbled across www.bellicomoto.com for my basic wiring setup which was great, although it was weeks of troubleshooting for 04 GSXR right controls, '09 GSXR600 left controls, Danmoto 180 heads up, Hi/Lo projectors, relays, LED Signals, Ricks Reg/Rectifier setup. It was rad to draw out and follow through with a working wiring harness from scratch. I managed to snag a few looms of 18-32 wire colored cables from work, which was a HUGE benefit for an actual color coded wiring schematic.
The bike ended up about 80% finished by the time IFK Kickstart rolled around, but still made it to the show to display the progress. It was a few weeks after the show till I had everything else sorted out and the bike was finally ready for the road.
I rode the bike for that summer with the mono and GSXR setup until Sept 30th, 2015, where on our weekly IFK (Kenny Kwan @IllFatedKustoms) bike night, a lady opted not to shoulder check before changing lanes and hit the bike, knocking it down and myself, tumbling. Thankfully we were only doing about 45km/h and the bike just spun to a stop while I did all the rolling and tumbling. I was heart-broken to see my labor of love bleeding all over the road. I started immediately envisioning its rebuild.
Over the course of that winter between physio and doc visits I got the bike rebuilt. Version 3.0​:
New clip-ons were ordered, new R1 rearsets (previously had R6 rearsets), new signals, new tank, new tail section, new seat, new rear fender/plate holder, and new rear wheel, and new rubber.
The tail section was the most work. I started with a fresh sheet for the base, then framed it in with 3/16 rod bent and tweaked with the help of a 4″ tube and vice. Inspiration of the shape came directly from the gas tank. My buddy Paul Miller (@Panicrevcustoms) shared some beer and his TIG to stitch everything up as we just have a flux MIG I used for tacking things together. Once the seams were filled in, I palm-sanded it smooth.
Leather seat work done by Degreeve Auto in town. I had brought them two separate 1/4″ MDF bases and said, 1″ height, brown/tan leather, red stitching and he nailed it with a 0ne-day turn around! After a few chats with Scott Wilson on paint scheme, he took the tins and laid down paint for me, and I was blown away on the result. He even used factory Honda colors, red from Accords and White from Civics.
The bike was ready and complete for this years IFK Kickstart show and showed well with other unbelievable local builds.
The accident was truly bittersweet. It gave me the opportunity to really dial in the full vision of the bike I've had, but at an expense of months worth of rehab and recovery.
Full Specs
Full specs and parts are as follows:
1978 CB750 K7
'04 GSXR 1000 front end
Cognito Moto stem
Dan Moto 180 heads up
Projector headlights, 50W low, 80W high
LED signals front and rear
Vance and Hines 4-1 – chopped 6″
Hot Bodies Moto GP Growler slip on
Complete custom wiring
Ducati 749 rear Mono shock
Custom hoop welded on to stock swingarm
Custom oil tank (hidden)
Stainless hardline oil lines
Aftermarket Oil Cooler
1985 VF500 rear wheel with brake setup
R1 aftermarket rearsets
UNI pod filters
6Sigma Jet kit
Dyna 3.3 Coils with inline 1k resistor
MSD plug wires
NewTronics Electronic Ignition
Custom seat cowl
Seat pads by Degreeve Auto
Paint by Scott Wilson
Pinstripes by Phil Morley
Powdercoating by Maxim Manufacturing / Top Gun
Biltwell Grips from Ill Fated Kustoms
Follow the Builder:  @WaleFab
Save
Save
Save
Save
Save
Save