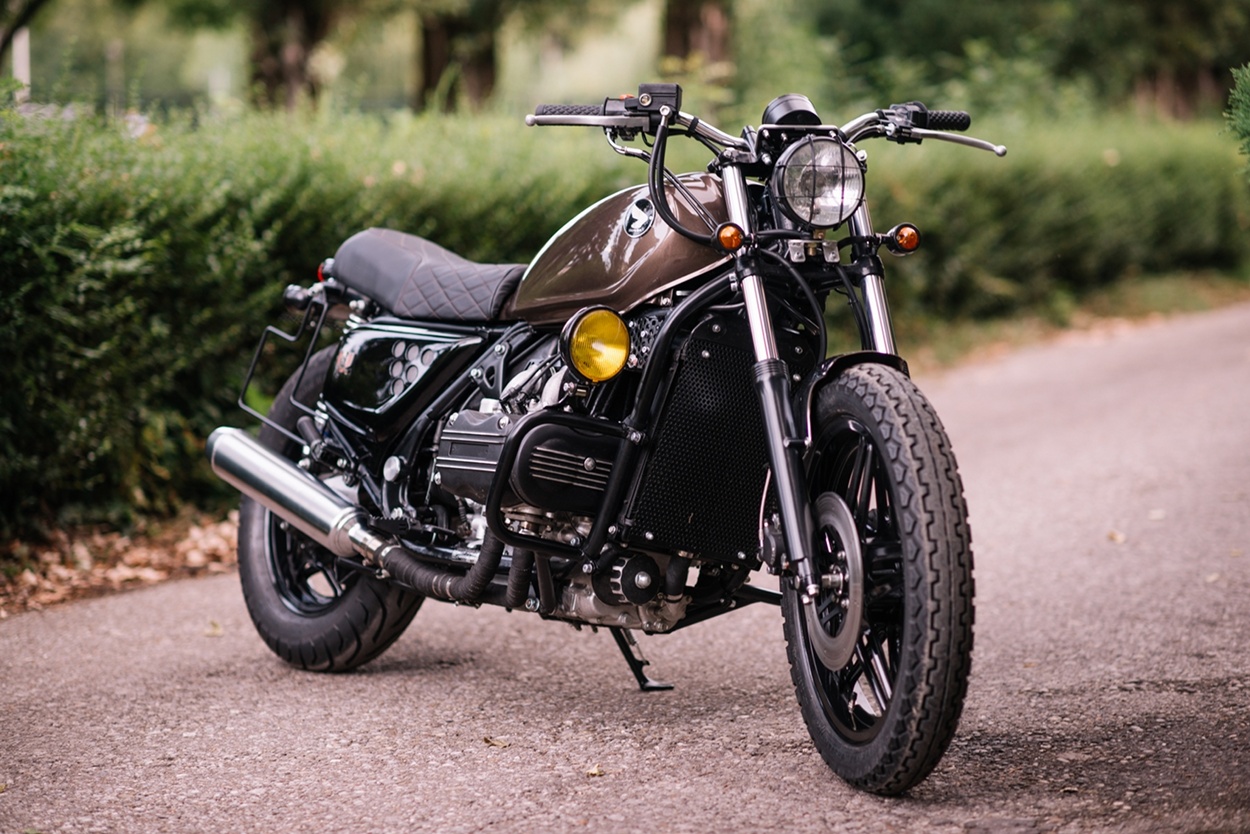 The Honda GoldWing is one of our favorite platforms for a custom build, particularly the earlier four-cylinder models. These bikes are built like trains, with loads of torque and bulletproof vitals. That said, they are not easy to make attractive. Even stripped of their fairings and hard bags, these are bulky, almost clumsy machines. It takes a keen vision and skilled craftsmanship to get the lines right on these bikes.
If anyone can do it, it's the team at Retro Bikes Croatia, based in Zagreb. Recently, headman Zeljko sent us this 1981 Honda GL1100 bobber. He says:
We always wanted to build a 4cyl boxer GoldWing, the price was fair enough so we took it without much hesitating. These bikes are super rare to find here, and the ones that are offered for sale are extremely expensive.
Honda GL1100 Bobber: Build Story
The bike started and ran, but it was in dire need of servicing. That was fine by RBC, as these bikes are known to be strong and reliable even with a lack of maintenance. Besides, they were planning to completely redesign the bike:
We wanted to give it a more retro, oldschool look, to get away from that "wannabe Harley" original Honda design with high handlebars and low rear end. Also, considering that these bikes are getting more rare and hard to find, we wanted to do all the work without disturbing the frame. So, the beauty of this build is that the frame is not detabbed at all, everything is reverseble to original appearance!
RBC ditched the original air-assisted suspension, which was way too soft. They had Hagon rear suspension built to their specs, needing a heavy-duty setup to accommodate the weight of the big GL. Up front, they went with Wirth progressive springs with CNC-machined fork caps. The seat base and seat itself is custom, with black leather and brown stitching. The side bag carrier is a one-off piece fabricated in-house.
We love the shop's philosophy on what they call "war wounds":
We like to keep some usage marks on all our builds (we call them the war wounds) so the bike keeps its charm and authenticity, so we installed a pair of used chrome fenders from another bike instead of plastic originals or buying new ones.
They completely overhauled the original engine, which had 60,000 km on the clock–nothing for one of these big tourers. They heads were machines, valves lapped, seats cut. The carbs on these machines can be a bear. Together, they are the size of a 200cc engine! They completely rebuilt them with a $250 overhaul kit from the US.
As for exhaust, RBC fitted new H-D 1200 mufflers, which "now sounds wonderful and classy, like it should…" They overhauled the brakes, too. Zeljko says:
We fitted a new front master cylinder pump cause the original one leaked and had some kind of a chopper eagle Honda logo on it, which we had to remove no matter what 😉
The rear wheel is a 17-incher, which limits tire options. They could find only three models that would fit, making it tough to find the old-school look they wanted. They partially rewired the bike, moving the ignition lock beneath the false tank, along with the choke and fog light switch. New lights were installed all over, along with blinkers and right-side fog light. The team fitted a new all-in-one electronic gauge, which is hardly noticeable until you turn the key, when it lights up.
New LSL low handlebar was fitted with black Biltwell grips matching the diamond pattern seat stitching. Original controls were kept but freshly black painted. The frame, wheels, fork legs, swing arm were powder coated, some stuff in gloss black and some in matte black.
This bike has a centralized gas tank, so the tank above the engine is a false one. Since the false tank middle section is so big and flat, the team decided to give it a more interesting look. They made openings for two small VDO gauges in front of the rider: one for temperature, other one for gas level.
Overall, this is a fairly rare, long-distance custom that will run for decades to come.
All in all, we wanted to make it look older and more vintage and retro (what we always do :)), unlike the original, and I think we made it. The bike looks stunning and it rides like that, that boxer flat four is magnificent and now it's ready for another few decades of strong running… It has much details, like that 1969 original Honda logo on the tank (don't ask what model), yellow fog light on the right, too much details to count.

It may be a pretty common bike in the USA but they are rare on this side of the pond and highly priced, and only a few of them are in top shape. This one is built to be more retro, with few modern touches but improved in all riding aspects. It's different but not drastic, like neither of our builds. It's like new now and ready to hit many more open roads…
The photos are by One Day Studio.
Follow the Builder