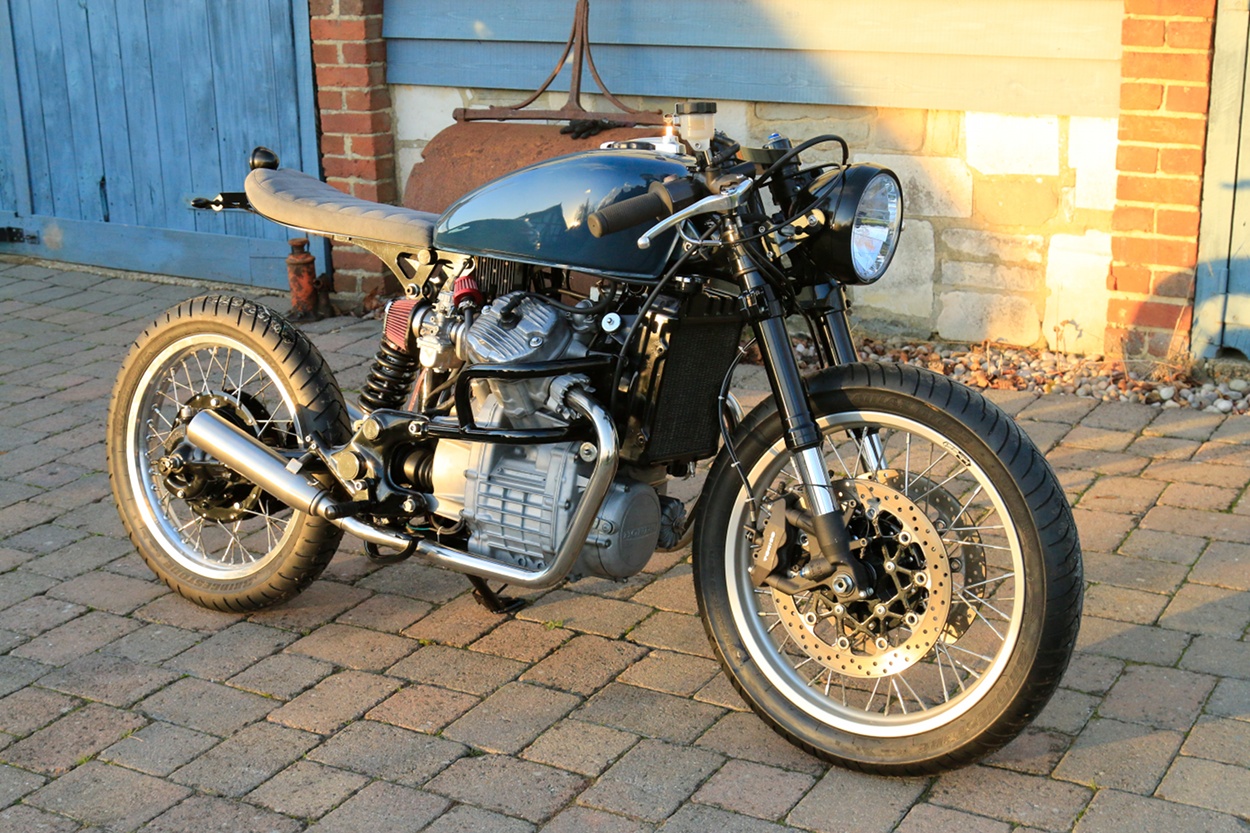 Nothing we love more than a shed-built cafe racer — especially when it turns out as clean as this one.  The Honda CX500 has become a favorite among builders, with its 'Guzzi-style V-twin, stubby wheelbase, and upright forks. In factory trim, the bike is decidedly ugly, just begging to be restyled!
Enter Colin Froy of Rolling Retro, who needed a change after a close call with the police on his sport bike. It was time for a change, and he caught the cafe racer bug from a friend who builds high-dollar cafes:  Nortons, Vincents, and the like. Colin started his journey with his a Honda CB250N. It looked great, but was "awful to ride." So, when it came to this CX500, he says:
"I wanted to build a cafe racer that looked good, but worked even better."
Below, Colin Froy of Rolling Retro gives us the full story on this 1980 Honda CX500 cafe racer.
Honda CX500 Cafe Racer:  In the Builder's Words
(Words by Colin Froy. Highlights by us.)
I'm now 36 years old and have been riding bikes since I was 19. The majority of the bikes I've owned and ridden are sport bikes: ninjas, GSX-R's, R6's etc… A few years ago I got stopped by the police at the kind of speed that could have lost me my license. There just wasn't any thrill riding a sports bike unless I was going fast and fast was going to get me in to a lot of trouble. It was time for a change.
A friend from work (the day job) built cafe racers in his spare time — not the budget kind, but Nortons, Vincents, Norvilles… etc. I had always loved the look of them and started to look at the cafe racer scene a bit more. It seems it was perfect timing as the cafe racer scene was starting to go through a bit of a revival in the UK and I came across one of my favourite builders deBolex and their MK1 CB750. I fell in love with this bike, the mix of modern suspension, electrics and a slimmed down seat on an vintage cafe racer just seemed perfect.
I decided I was going to build one. I bought a cheap CB250n SuperDream and went at it. I knew I wanted clip-ons, a flat skimmed seat and a cool paint job. So that's what I did. I had a little mechanical knowledge, learnt from the years of riding topped up with an evening course in motorcycle mechanics. The rest was learnt along the way. The CB turned out pretty well. I loved the look, but it was awful to ride. In my haste to build a cafe racer style bike I hadn't considered how it would actually work. The seat was far too low the reach to the handlebars far tot long and the riding position far too cramped. It didn't really matter though, because now I had the bug. I absolutely loved building the CB and it quickly became a very passionate hobby. I decided this is what I wanted to do with my life…
So next came the CX500. I wanted to take everything I learnt from the CB250n and push my skills as far as I could. More importantly I wanted to build a cafe racer that looked good, but worked even better. The seat height, position and reach to the clip-ons were the key to making an everyday cafe racer. I also wanted to build a cafe racer that would get me noticed as a shed builder… something that would maybe get me introduced to the scene and a step closer to giving up the day job.
This bike was built in by myself in my shed. I am not fabricator, so I sourced a lot of parts from custom motorbike companies. I either made the rest my myself or had the parts made to my design. A lot of work went in to the CX. It took around 18months to build. The biggest problem was the mono shock conversion. I just couldn't find a shock strong enough to support the direct linkage. Then I found a company willing to make one to my design. Not only that they made it so it was super easy to change the spring to accommodate any weight. It's one of my favourite parts of the bike. Its not the most eye catching, but I know the amount of work that went in to it. The colour and design of the bike was influenced by American hot-rods. I love the look of big engined vehicles that are compact and almost minimal, coupled with hi tech components. Something about the mix of vintage and hi-tech just works…
The front end is Cognito Moto, with GSX-R forks, spoked wheel, Motogadget speedo and keyless ignition. I replaced the deluxe tank with the smaller custom tank, moving the mounts back to accommodate clip-ons. For the rear, a Monoshock conversion with a custom made shock by Realm Engineering, designed to take any 2.25″ spring, allowing it to be easily changed depending on rider weight.
Spoked wheel conversion on the rear with oversized tyre. Custom seat by myself. In the middle to add a little power is a set of Mikuni carbs and stainless exhaust pipes. It took a long time to get the lines right on this build. I wanted the traditional straight line running under the tank and seat. The ride height is similar to most sport bikes and it is very comfy to ride. This is the second bike I've built and now I've got the bug. Hopefully the next build should take me out of the shed to the amateur builder scene!
Photography by Nick Rosendale of Events Through a Lens.
Follow the Builder and Photographer
Save
Save