The Kawasaki KZ650, known abroad as the Z650, is one of our favorite machines. The "Son of the Z1" is a rev-happy, middleweight weapon with surprising punch and plenty of style. The bike makes a great platform for a wide variety of builds, from resto-mods to cafe racers to scramblers.
When we saw this Z650 scrambler built by Dennis Sørensen (@de9s), we knew we had to feature it. Dennis, who lives in Denmark, is the manager of a shop that sells automotive parts, scooters, and Benelli motorcycles. He raced motocross from age 7-18, and that experience helped inspire the concept of this build.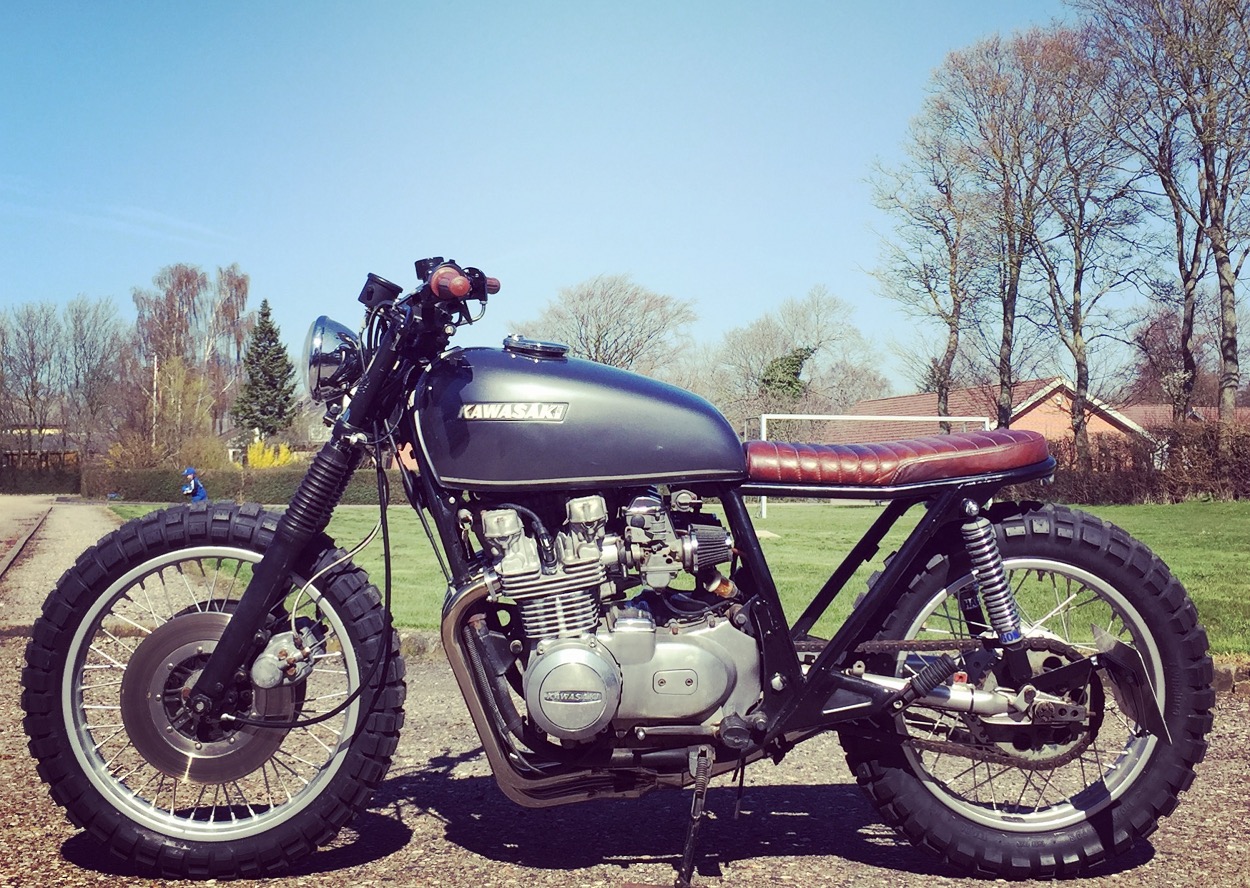 Dennis says his passion for motorcycles came from his father — much like yours truly — and this KZ650 was a father/son project.  Dennis now has two sons who are "crazy about riding anything with two wheels." A self-proclaimed petrolhead, his garage also includes a Saab 9-3 sleeper sedan, painted beige, that's pushing 250 bhp!
Below, we get the full story on this burly Zed 650.
De9s Kawasaki Z650 Scrambler:  Builder Interview
(Answers by Dennis Sørensen. Highlights by us.)
• Please tell us a bit about yourself, your history with motorcycles, and your workshop.
My name is Dennis and I'm a 33 year old store manager. We mainly sell auto parts, scooters and New Benelli motorcycles in the shop.
My passion for bikes came from my father, who always had motorcycles in his younger days, like the CB750 F1.
I started riding motocross when I was 7 and stopped at 18, when parties, beers, and women had most of my attention.
My motorcycle is a private project between me and my father. Just good times in the garage.
• What's the make, model, and year of the bike?
Kawasaki Z650b1 1978
• Why was this bike built? (Customer project, company promotion, personal, etc.)
I just love Kawasakis. Ever since it was possible to ride a Kawasaki in motocross, I did. Starting on an 80cc when I was 10 and moving up on Kawa 125cc from there on.
So when I decided to build a motorcycle it was quite a easy choice. I got a great offer on the Zed 650 and I just had to do it. So it was all personal reasons.
• What was the design concept and what influenced the build?
Well the design changed three times on the way to how the bike looks today. From cafe racer to brat on to what it is now.
I just enjoy riding the bike so much more with the tracker handlebar instead of the clip-ons. There is no doubt that my time in mx has been a big inspiration to the concept and how I wanted the riding position to be.
• What custom work was done to the bike?
Well even though I made it simple, the frame needed to get shorter, so we welded the rear frame in the normal loop shape.
The thing I'm most proud of is the seatpan. It just snaps in the frame without using any bolts. Using only shaped nylon blocks to keep it in place.
There's a lot of small custom brackets for parts like the led taillight, blinkers, mirror in supermoto style, moving the ignition down under the tank and a lot of other stuff.
• How would you classify this bike?
I think it's closest to being a scrambler?
• Was there anything done during this build that you are particularly proud of?
The seat as mentioned earlier. I've had a lot of positive feedback on that. There's a video of it snapping in place on my Instagram. I've watched that video so many times.
Follow Dennis on Instagram:  @de9s
Save
Save
Save