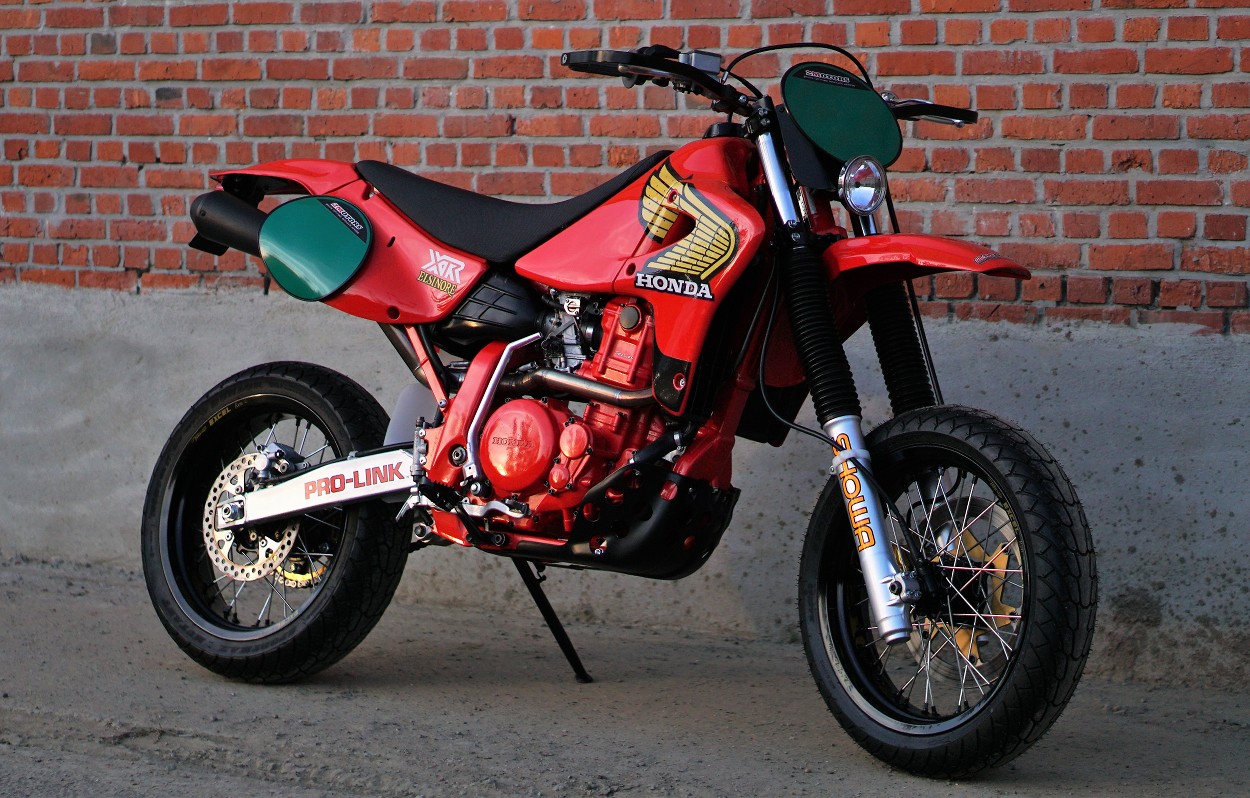 The Honda XR650R is the gold standard of Baja bikes, a liquid-cooled desert legend designed to end the reign of the two-stroke Kawasaki KX500 in the deserts of Mexico. Produced from 2000 to 2007, the "Big Red Pig" (BRP) is not to be confused with the air-cooled, street-legal XR650L — a stalwart performer, but staid compared to the 650R. Dirt Bike magazine would call the XR650R a "two-wheeled trophy truck," and the bike remains one of the most competitive open-class enduro racers in the world.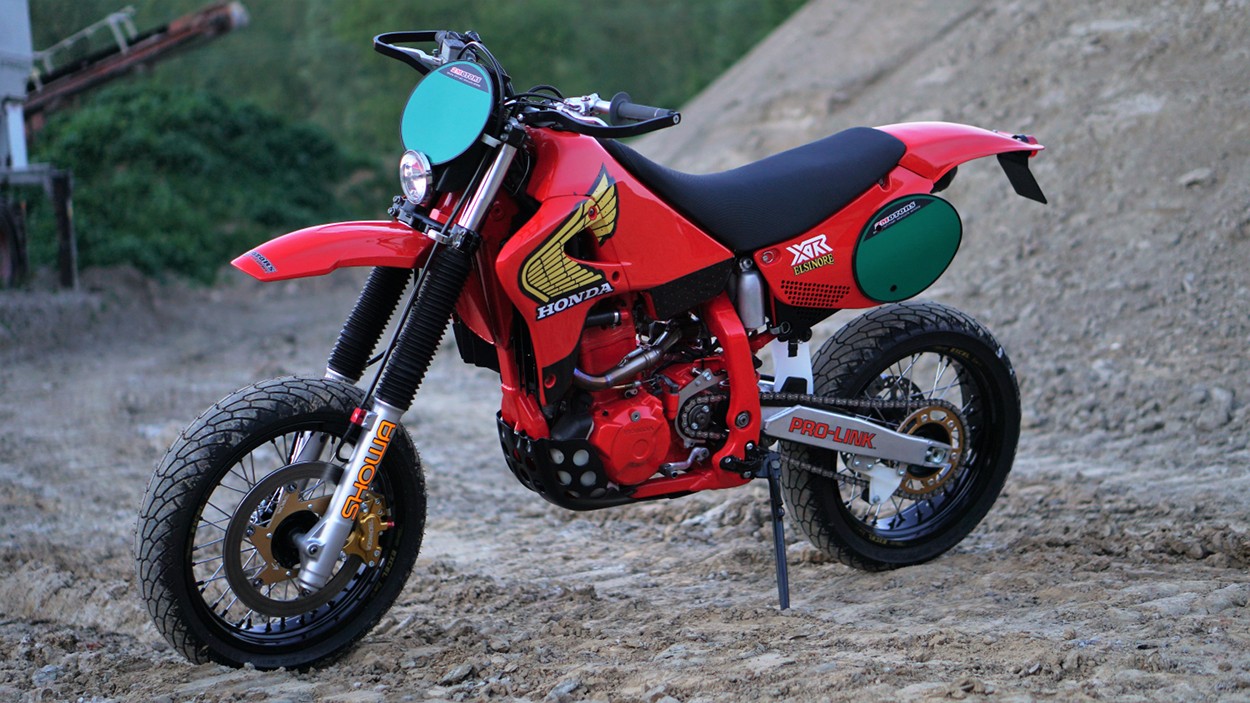 Who better to customize one of these legendary machines than Manu Mertens of Belgium's 2Motors — a man who has been passionate about Honda motorcycles for his entire life, especially the XR line. Hell, even the man's lawnmower is a Honda!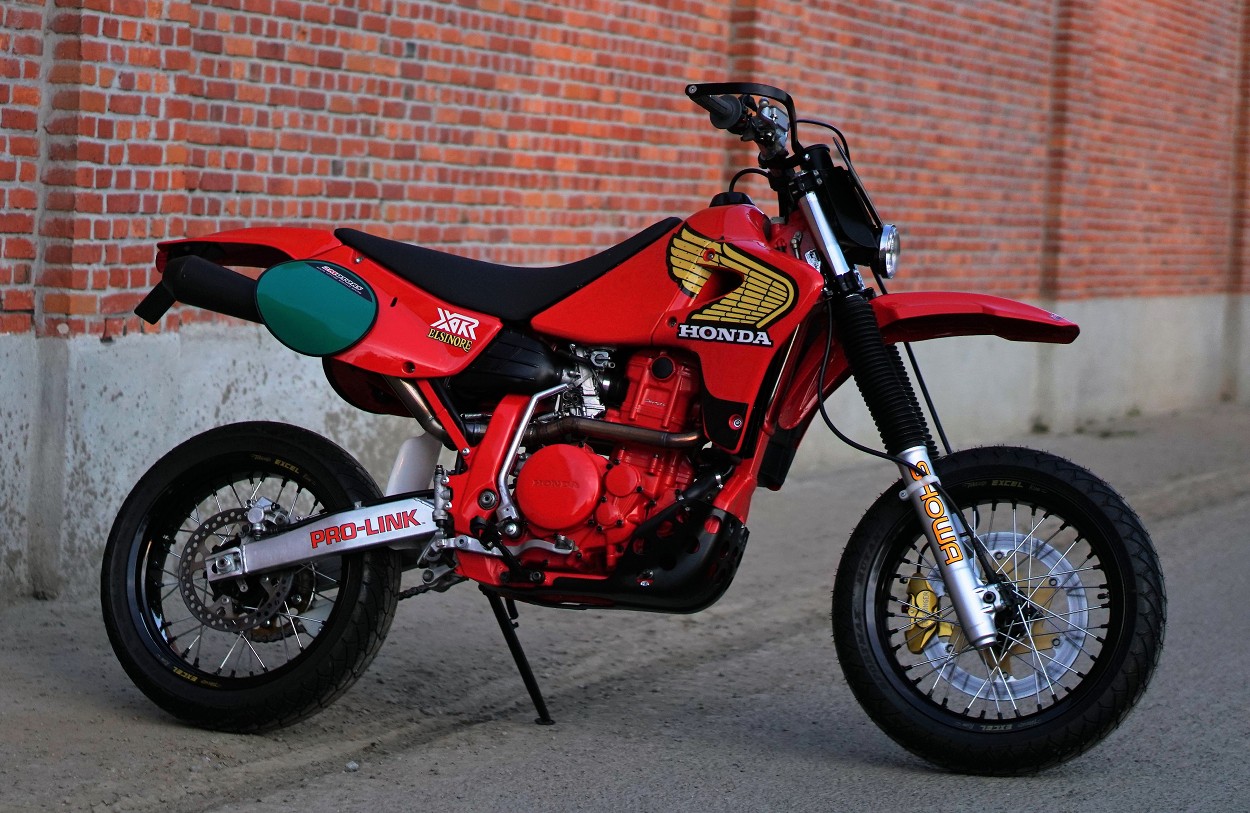 Manu, who has been customizing Honda XR's for more than twenty years, was inspired by a photograph of a fully-restored Honda CR250 Elsinore. He set out to create a Honda "retromotard" — an XR650R supermoto with a retro look, styled after the CR250R.
We especially love Manu's build philosophy:
"Better to do what's in your mind than to buy something from the shelf."
Below, we get the full story on this ode to one of the greatest dirt bikes of all time.
Honda XR650R Supermoto:  Builder Interview
• Please tell us a bit about yourself, your history with motorcycles, and your workshop.
I'm Manu from Erembodegem, near Aalst, Belgium. I am passionate about Honda since…my bikes, cars (two Acty and an Accord Tourer), even my lawn mower is Honda…
After having my first BMX bicycle, I started having interest in dirt bikes (and Honda!) when my brother bought a new Honda MT50 in the very early '80s, a few years later followed by an XR350R '85. That's when I earned the MT and started to modify it to go ride off-road together with the brother and his XR… In the early '90s I bought my first own Honda XR. XR's and other Honda mono's are my passion. Just type "XRMANU" into Google and look…
In 2011 this passion led to the creation of my own small workshop 2Motors, pronounced 2M Motors. Manu is my first name, Mertens is the family name so that was easy…the 2Motors thing.
The shop is passion-driven and specialized in building one-off's, from simple service to rebuilding and tuning engines…after almost 20 years of doing this as a hobby I finally took the step. It's a part time job for now but I hope to make a full living out of it one day.
• What's the make, model, and year of the bike?
Honda XR650R , 2001
• Why was this bike built?
Because I had to…this creature sat in mind and got to come out!
• What was the design concept and what influenced the build?
I saw a pic of a very nice restored CR250 Elsinore in the same color scheme.
This brought me to the idea of doing something completely different than l used to, nothing like all the other 650R Supermotard builds that I did in the last 15 years. It's also an ode to one of the most iconic Honda dirt bikes.
• What custom work was done to the bike?
Most of it.
I made the headlight stay myself without many tools…a sheet of alloy and a hammer. It took me a couple times to get it how I wanted it. But better to do what's in your mind than to buy something from the shelf.
The engine had a complete overhaul…everything inside is new: bearings, seals, piston, rod, valves, cam chain, gears etc. For the freshly powder-coated cases I replaced every bolt with ProBolt race specs ones.
I designed some tank graphics with the iconic yellow Honda retro wing just like on the original Elsinore so it would stand out.
For the exhaust I puzzled with tubes and bends to get everything into a nice shape and look. That was not simple going left and right from the cylinder and coming together just under the big FCR carb. After I had cut every bend and tube to the perfect length and duct-taped everything together I invited a pro welder to my shop to weld everything as nice as possible .
The rear end plastics were reshaped and modded and together with the oval number plates this gives the bike the retro look it needed. A CR500 fender went on together with a scrambler style tail light.
• How would you classify this bike?
Retromotard
• Was there anything done during this build that you are particularly proud of?
It was a big gamble to try something completely different with the big Baja bike, completely different than I used to … but it turn out very nice I think, a real one-of-a-kind bike.
Follow the Builder