Straight out of Suffolk:  A Garage-Built, Modernized CB360…
The Honda CB360 was only available for a short time — 1974 to 1976 — as the successor to the popular CB350. The 34-hp air-cooled parallel twin served as an alternative to Honda's small fours, with a broader torque curve and affordable pricing. Since then, the 356cc twin has become popular among custom builders, many of whom are drawn to the bike's compact size and signature tank shape.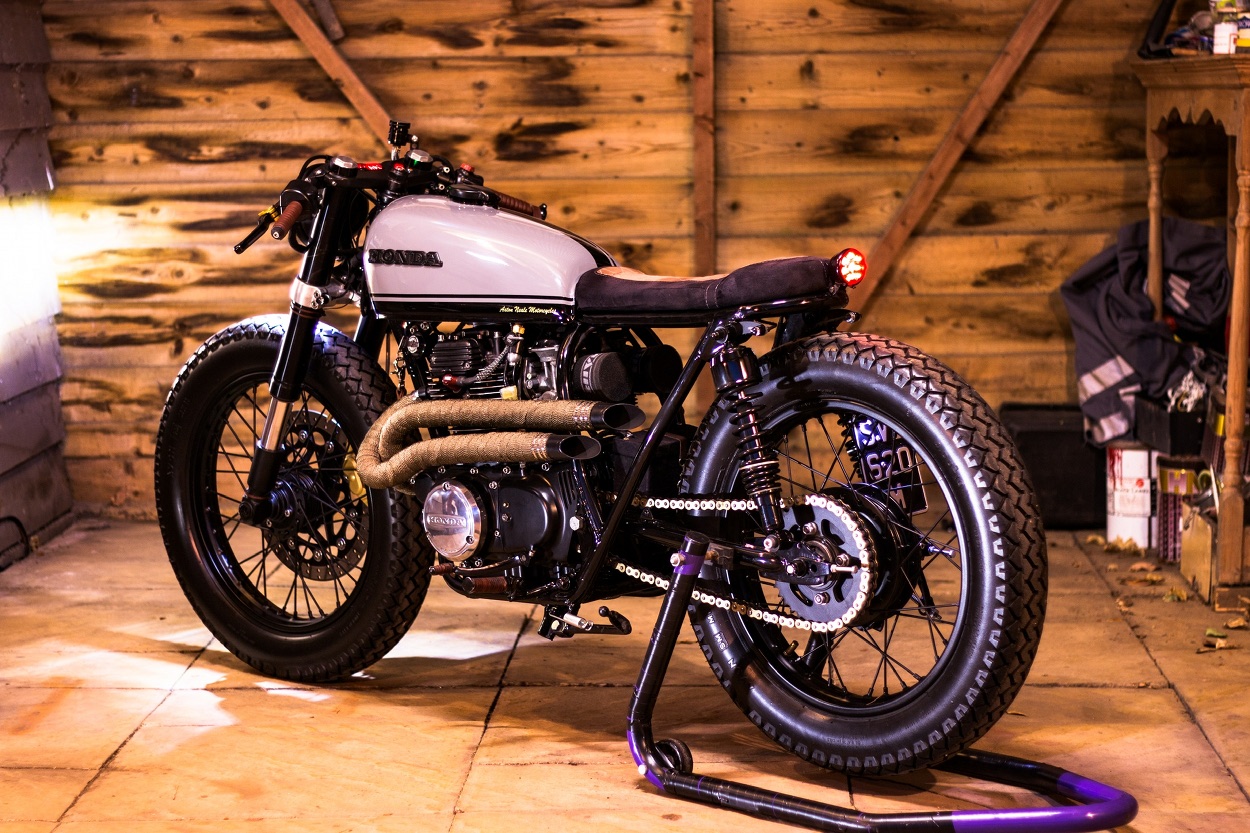 Enter the boys of UK-based Aston Neale Motorcycles, who describe themselves as "two mates that build custom bikes in our garage at the bottom of the garden at the weekend." The pair got their start on a little CG125, which they transformed into a cafe. Then one of them, Hadley, fell in love with the CB360 and managed to track down a low-mileage barn find in Sunderland. After a 13-hour round trip, he became the second owner of a '74 Honda CB360 with with just 12,000 on the clock.
While we've seen many CB360 scrambler and tracker builds, the Aston Neale duo has transformed the machine into one stunner of a brat cafe / cafe racer. Below, we get the full story on the build.
Honda CB360 Brat Cafe: Builder Interview
• Please tell us a bit about yourself, your history with motorcycles, and your workshop.
We are Aston Neale Motorcycles. Basically we are two mates that build custom bikes in our garage at the bottom of the garden at the weekend. We are based in Ipswich, Suffolk (UK). We do this for our own enjoyment and not for a profit. It all started when I was 20 and I (Hadley) fancied the look of a 125 I saw on Cafe Racer Dreams. A year later we had built a nice little CG125.
Then I fell in love with the CB360. I just loved the scale of the bike as I'm not the tallest!! We did a 13 hour round trip to Sunderland to buy the bike and a year later it was finished…before I had even passed my test!
• What's the make, model, and year of the bike?
The bike is a 1974 Honda CB360 twin. It was a barn find with 12k on the clock and I'm the second owner.
• What was the design concept and what influenced the build?
As soon as we started the bike a knew it was only going to be one colour. Audi nardo grey and I know I wanted to get the mix of an old bike with really modern features to bring it right up to date. Most people don't realise it's an old bike!
• What custom work was done to the bike?
The bike has had a complete engine rebuild with new camchain tensioners, new piston rings, new valve guide seals, new gaskets all round. We fitted an electronic ignition and brand new Mikuni VM30 carbs!
The frame was completely chopped down and anything we didn't need was chucked out. We then had everything we needed powder coated and painted. All the wiring we did ourselves and to fit it all under a tiny seat was a real challenge.
We fitted an Aprilia RS125 USD fork for that modern look and drop bars. We fitted LED Bates lights front and rear and then motogadget indicators and speedo which looks incredible.
When I ride past people they usually cover their ears as I've got straight through pipes and that makes me very proud!!!
The absolute coolest thing on the bike is that we fitted the start button into the nut on the top yoke. The button has an LED Ring that glows red when you turn on ignition. It looks so awesome!
• What are you most proud of?
The things I'm most proud of are definitely the front end, the exhausts and the stance