A Malle Mile racer from Danners Automotive…
The KTM 625 SMC was a 55-hp street-legal supermoto with fully-adjustable WP suspension, four-piston Brembo brakes, and a few daily niceties like electric start and turn signals. Said MCN of the road-going supermotard:
"The simple chassis and wide bars conspire to murder every corner, wide or acute."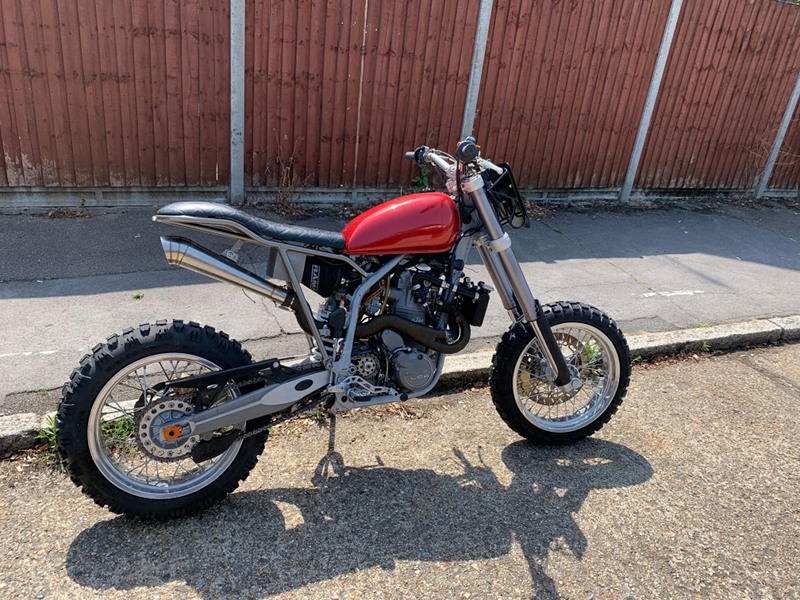 Enter Dan Comer of Danners Automotive, whose Yamaha RD350 "Wasp" scrambler we featured earlier this year. He built that 2-stroke fury to race in the 2019 Malle Mile, "The British Inappropriate Motorcycle Race & Exhibition in Motion" — a 3-day run-what-ya-brung motorcycle festival held at Kevington Hall in the UK:
"A celebration of the motorcycle in all its forms, and I mean all its forms. Stretch scooters with knobblies on, crazy homemade bikes with balloon tyres, one-off custom works of art covered in mud, old trials bikes, classics from a bygone era, and just about anything else you can think of." — BikeBound Correspondent Mark Turner
The program includes sprint races, hill climbs, moto polo, and more. Goer that he is, Dan wasn't content with just his 2-stroke RD for the event. He also built this KTM 625 SMC to race, which made it into the finals and even into the Malle Derby, the crowning race of the event!
Below, we get the full story on this KTM 625 Mile Bike!
KTM 625 Scrambler / Tracker: Builder Interview
• Please tell us a bit about yourself, your history with motorcycles, and your workshop.
I've built and cut up bikes for as long as I can remember, been building custom bikes for a few years now. You've featured my RD350 build previously.
• What's the make, model, and year of the bike?
KTM 625 SMC 2001.
• Why was this bike built?
Bike was built with the sole purpose of racing in the Malle Mile 2019, my first Malle Mile. Done well and even raced into the finals and got into the Malle Derby!
• What was the design concept and what influenced the build?
No design prior to building, I found the rough tank shape I liked and used that as the starting point, it all kind of came together.
• What custom work was done to the bike?
Custom tank highly modified with ecu and electrics hidden below, custom from board and mount. Custom stainless exhaust, one-off subframe with built-in battery box and rear lights. Seat was a one-off built by myself and then nice lick of paint. The tyres were put on for the Malle Mile race.
• Does the bike have a nickname?
The Mile Bike.
• How would you classify this bike?
Dirt tracker/scrambler.
• Was there anything done during this build that you are particularly proud of?
Probably the seat, it was all made totally from scratch and all by myself.
Follow the Builder