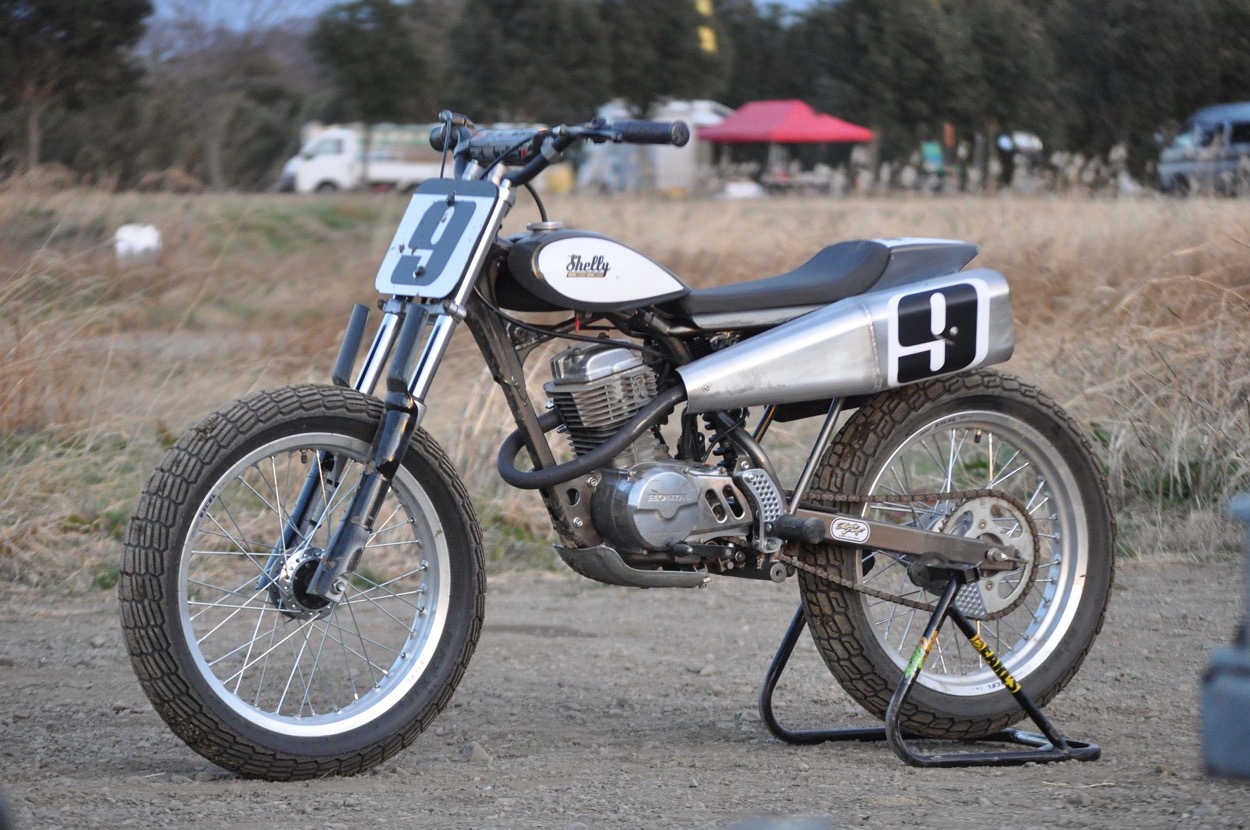 Small Tracker, Big Fun:  a 100cc flat tracker from Takafumi Kaibara…
The Honda XR100R remains one of the world's most popular small dirt bikes. Built from 1985 to 2005, the little four-stroke trail bike earned a reputation as bulletproof, serving as the preferred mount for both beginners and seasoned fun-seekers alike. Many racing series, from flat track to supermoto, now have classes catered to the XR100R, which continues to demonstrate that big fun can come from small displacement bikes. In fact, we're in the market to add one to the BikeBound stable!
Enter Takafumi Kaibara, who works as a car interior designer by day and used to enjoy racing flat track on the weekend. However, after having his first child, racing took a back seat, and he just didn't have the time to get out to the track like he used to. Says Takafumi:
"That's why I decided to customize my bike in my home garage. Custom bikes are my challenge."
Starting with a 1990 Honda XR100R, he set out to build a "small tracker" partly inspired by the legendary XR750. He made the seat cowl, exhaust silencer, and assembled the 17-inch wheels, cladding them in Maxxis DTR-1 rubber. He also tuned the Honda Ape forks and painted the bodywork himself.  Given that "Kai" means "Shell" in Japanese, he nicknamed the bike "Shelly."
Below, we get the full story on this cute-as-hell 100cc flat tracker!
Honda XR100 Flat Tracker: Builder Interview
• What's the make, model, and year of the bike?
Honda XR100R 1990.
• Why was this bike built?
This is a personal project. My main job is car interior designer. I enjoyed a flat track race on the weekend. But I have a child. I'm too busy to race. That's why I decided to customize my bike in my home garage. Custom bikes are my challenge.
• What was the design concept and what influenced the build?
The concept is a small tracker that is easy to ride. I think the XR750 is very cool. This silencer was inspired by the XR750.
• What custom work was done to the bike?
I made the seat cowl, silencer and step. I tuned the Honda Ape 50 front fork. I assembled a 17 inch wheel. The tires are Maxxis DTR-1 17 inch tires. I painted the exterior.
• Does the bike have a nickname?
The nickname of this motorcycle is Shelly. My second name has the meaning of shell. Kai in Japanese has the meaning of shell. That's why I named Shelly. It is a cute nickname of a small tracker.
• How would you classify this bike?
This motorcycle is a flat tracker.
• Was there anything done during this build that you are particularly proud of?
I am an amateur custom bike builder. I'm proud of making everything myself. This year, we will try to make an original frame with a 150cc horizontal engine.