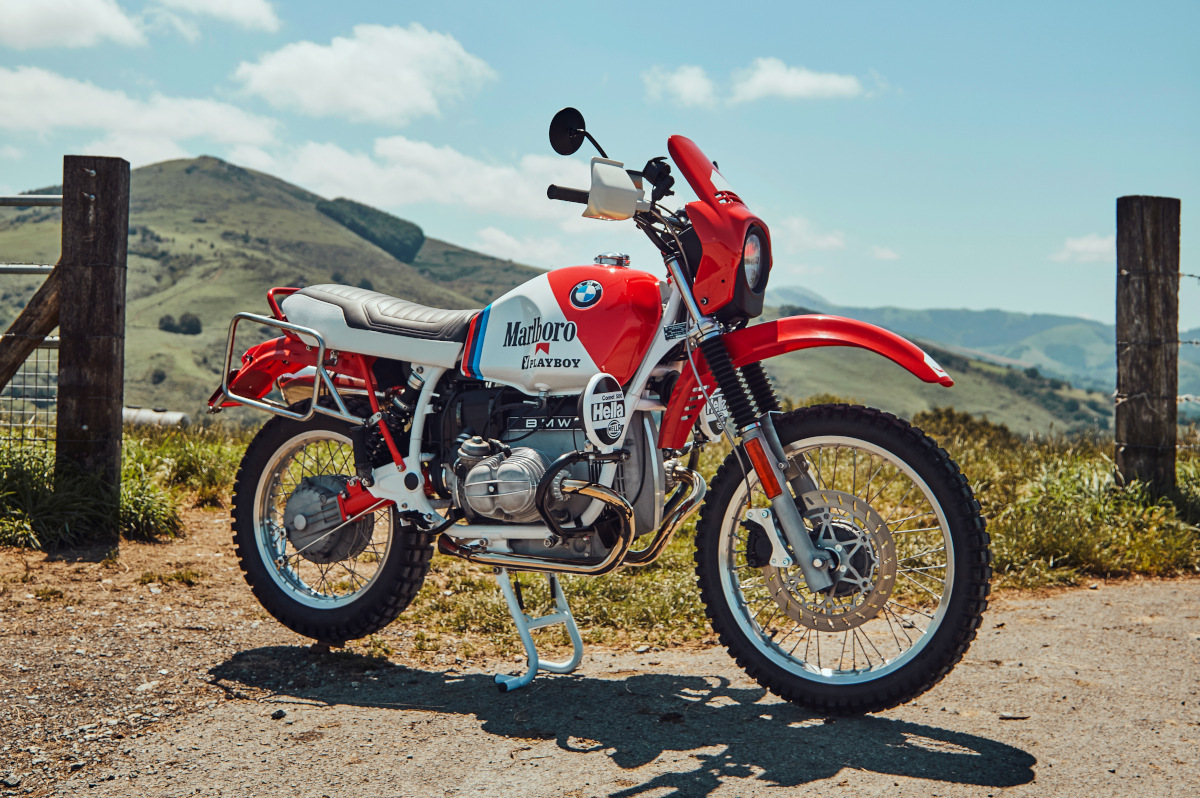 Roadburner Garage builds a Paris-Dakar tribute machine…
The first running of the Paris-Dakar Rally took place in 1978, when 182 competitors (including 90 motorcycles) started from Place du Trocadéro, Paris, for the 6000-mile journey to the Senegalese capital of Dakar, passing through Algeria, Niger, Mali, and more. Just 75 vehicles survived the rally. French rider Cyril Neveu took victory on a Yamaha XT500, but the Japanese domination wouldn't last long…
BMW engineer Rüdiger Gutsche, veteran of the International Six Days Trial (ISDT), was hard at work on what would become the BMW R80G/S (G for Gelände "offroad" / S for Straße "street") — a machine that would go down in history as the godfather of the "Adventure Bike" category. Introduced in 1980, it immediately showed its prowess in the desert.
French legend Hubert Auriol won the 1981 and 1983 Paris-Dakar on the new BMW, while three-time FIM World Motocross champion Gaston Rahier of Belgium won the 1984 and 1985 runnings on an R80G/S, sporting what would become an iconic red and white livery.
Enter our new friends Cedric and Ludovic of Roadburner Garage — a French workshop whose beautiful BMW builds we first glimpsed in person at the 2019 Wheels and Waves Festival. While the duo work on all kinds of bikes, they have an obvious soft spot for the German marque, particularly the air-cooled boxer twins — aka "Airheads."
The bike you see here is an '83 G/S done up in the style of Gaston Rahier's 1985 Paris-Dakar Rally bike. The owner had had a crash with the bike, which turned out to be the perfect opportunity to rebuild the bike with some serious 1980s Dakar flair. The bike now boasts Siebenrock instruments, Motogadget blinkers, a new exhaust, a bespoke saddle courtesy of Emma Services, and a full custom paint job. Plus, it has the all-important pannier racks, which double as a pedestal for the owner's pup!
According to Cedric and Ludo, it makes for a two-wheeled time machine:
"It's like you get back in the 80's with flashy colors, sounds and sponsors!!!"
As for the photos, they're the work of one of the very best in the business, Kati Dalek (@kayadaek_photography). More below!
Paris-Dakar BMW G/S: Builder Interview
• Please tell us a bit about yourself, your history with motorcycles, and your workshop.
We are Cedric (bald) and Ludovic (big), we made our first bike for Wheels and Waves in 2016 and we never stopped… We created an official workshop in 2018. We can work on every brand of bike, but as you can see we've made a lot of BMW's. In 2019 we were on the BMW stand at Wheels and Waves with four bikes. In 2020 and 2021 we stayed in the workshop like everybody else, which gave us the chance to complete a lot of work. We've shown our work in magazines like MOTO HEROES and CAFÉ RACER. And here we are.
• What's the make, model, and year of the donor bike?
It's a BMW R80 G/S 1983.
• Why was this bike built?
That is a customer project. He'd had a crash with it, so we had to fix it before starting on the customization.
• What was the design concept and what influenced the build?
Paris / Dakar 1985, clearly… 🙂
• What custom work was done to the bike?
New fenders, new electrical harness, new Siebenrock instruments, new Motogadget blinkers, new exhaust, new seat built to measure, and the full paint job.
• Does the bike have a nickname?
R 80 G/S 😉
• Can you tell us what it's like to ride this bike?
It's like you get back in the 80's with flashy colors, sounds and sponsors!!!
• Was there anything done during this build that you are particularly proud of?
Paint job, we love it. The choice of the theme, classic but always with pleasure.
Follow the Builder
Facebook: www.facebook.com/roadburnergarage/
Instagram: @roadburnergarage
Kayadaek Photography: facebook.com/KayadaekPhotography/
Upholstery: www.facebook.com/Emmaservices
Follow the Photographer
Kati Dalek: @kayadaek_photography | Facebook