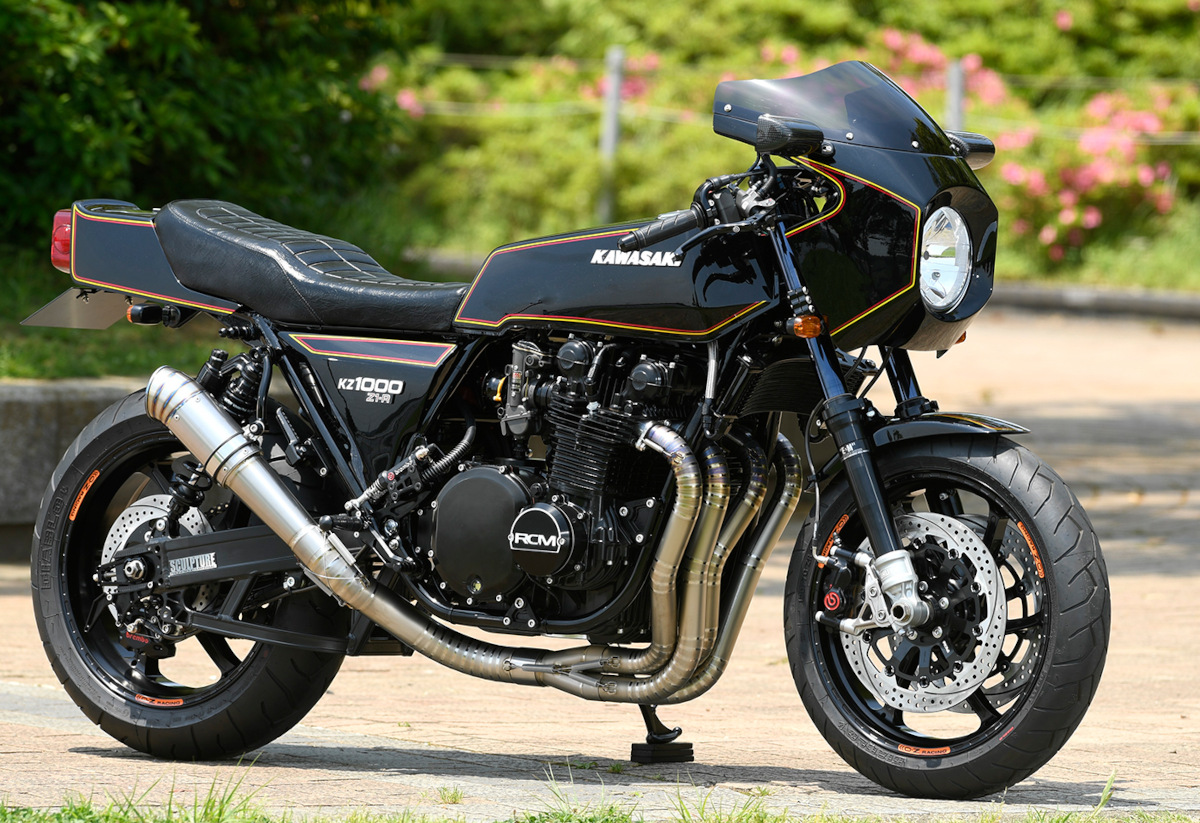 AC Sanctuary's "Radical Construction Manufacture" Z1-R…
In the world of high-powered Japanese restomods, one name has long stood apart: AC Sanctuary. Founder Hiroyuki Nakamura opened his shop in the 1990s. Since then, they've built a global reputation for producing air-cooled monsters that combine the spirit and silhouette of their original donors with a host of modern performance upgrades.
AC Sanctuary uses the acronym RCM to describe these bikes, meaning Radical Construction Manufacture:
"An R.C.M. is a truly complete bike, born from the passion of mechanics with no regard for cost and using true tuning techniques. With the right parts for the job and your choice of material, plus procedures which are guaranteed to be safe, you can fulfil your dream of yourself as a rider with a fully order-made bike that has been set up with high standards of techniques, that looks good, and that is high-quality and fully reliable. R.C.M.s have been totally coordinated at a high level. There is true beauty and skillful function in even the smallest details." –Motorcycle.com
RCM builds are geared toward the great air-cooled superbikes of the 1970s-80s, including the Suzuki Katana, Kawasaki GPz1100, Kawasaki Zephyr, Honda CB, and the Kawasaki Z series, including the Z1-R like you see here.
When the 903cc Kawasaki Z1 was introduced in 1972, it was the largest, most powerful DOHC four-cylinder motorcycle ever produced. That year, the bike set an FIM / AMA 24-hour endurance record, covering 2631 miles at Daytona at an average speed of nearly 110 mph. The Z1 earned MCN's Machine of the Year award for four straight years, and helped set the template for the next decade of superbike design.
For the 1977 model year, the Z1000 (KZ1000 in North America) appeared — a bike that would stay in production as a police model until 2005! A year later, the Z1-R appeared — a Z1000 with angular bodywork, 3.4 gallon "coffin" tank, 28mm carbs, dual 18″ cast alloy wheels, triple discs, self-canceling turn signals, and a few other upgrades.
Over the course of many years, AC Sanctuary has honed their ability to get the most from the Z platform. However, Nakamura fears the market for suitable donors is drying up:
"Z series bikes are popular in countries such as the UK, Germany and Australia. It's became difficult to find a bike in good condition, and even vehicles with severe damage are being sold at high prices…. I predict that in the near future, we will enter an era where even if we want to realize it, it will be impossible. Because of such times, I want to make my dreams come true."
The list of upgrades to this Z1-R is nothing short of staggering, reflected in even the smallest details. Highlights include the Öhlins front and rear suspension, Brembo brakes, Sculpture braced swingarm, 17″ OZ Racing ZRX1200 wheels, and Pirelli Diablo rubber.
The engine has been overhauled with a new ignition, intake, exhaust, 11-inch oil-cooler, and high pressure oil pump.
"The parts for the ideal figure, shape, and running performance were reviewed many times from the beginning, but that's the nature of a built-to-order custom."
What's more, we may be in the twilight of the Zed restomods, making this RCM Z1-R that much more special.
"From now on, even the makers can no longer predict how many Z series RCMs will be produced. What I can say for sure is that in the not too distant future, it will be impossible to prepare a complete bike from a base bike. It is possible if you bring your own donor, but in the end it will be difficult because the number of used bikes is decreasing…. It's a natural thing because it's a vehicle that was discontinued 50 years ago."
Nakamura says that although the market has reached a difficult phase, AC Sanctuary will continue building and modifying air-cooled Z bikes as long as they can, making the most of their tuning know-how.
Z1-R Restomod: Build Sheet
*⌀ denotes diameter
Frame
Reinforcement of original frame, powder coated after blasting,
upper cowl mount boss production and welding
Steering stem
SCULPTURE

⌀

43 SP Stem Kit Type 3
Handlebar
DAYTONA clip-ons
Front Fork
ÖHLINS front fork, traditional
Front wheel
OZ Racing GASS RS-A for ZRX1200, 3.50-17
Front brake
BREMBO CNC Radial Caliper 484
(Master) BREMBO CNC radial brake master
(Disc) RCM Concept

⌀

320
(Support) SMB radial caliper support
Front fender
TYPE Naked Fender
Swingarm
SCULPTURE Wide Swingarm
Rear Shock
ÖHLINS Blackline rear shock
Rear wheel
OZ Racing GASS RS-A for ZRX1200, 5.50-17
Rear Brake
BREMBO CNC 2POT Caliper
(Master) BREMBO rear master
(Disc) Sunstar

⌀

250
(Support) SMB
(torque rod) SMB rigid mount
Tire
(Front) Pirelli Diablo 120/70-17
(Rear) Pirelli Diablo 180/55-17
Drive chain
EK530RCM
Sprocket
(Front) 530-19T/Flat Sprocket
(Rear) Sunstar R sprocket 43 points Black anodized specification
Chain line
21mm offset from normal 87mm to 108mm
Other
SMB D Chain Slider
More Photos
Follow AC Sanctuary
Website: www.ac-sanctuary.co.jp
Facebook: www.facebook.com/ac.sanctuary/