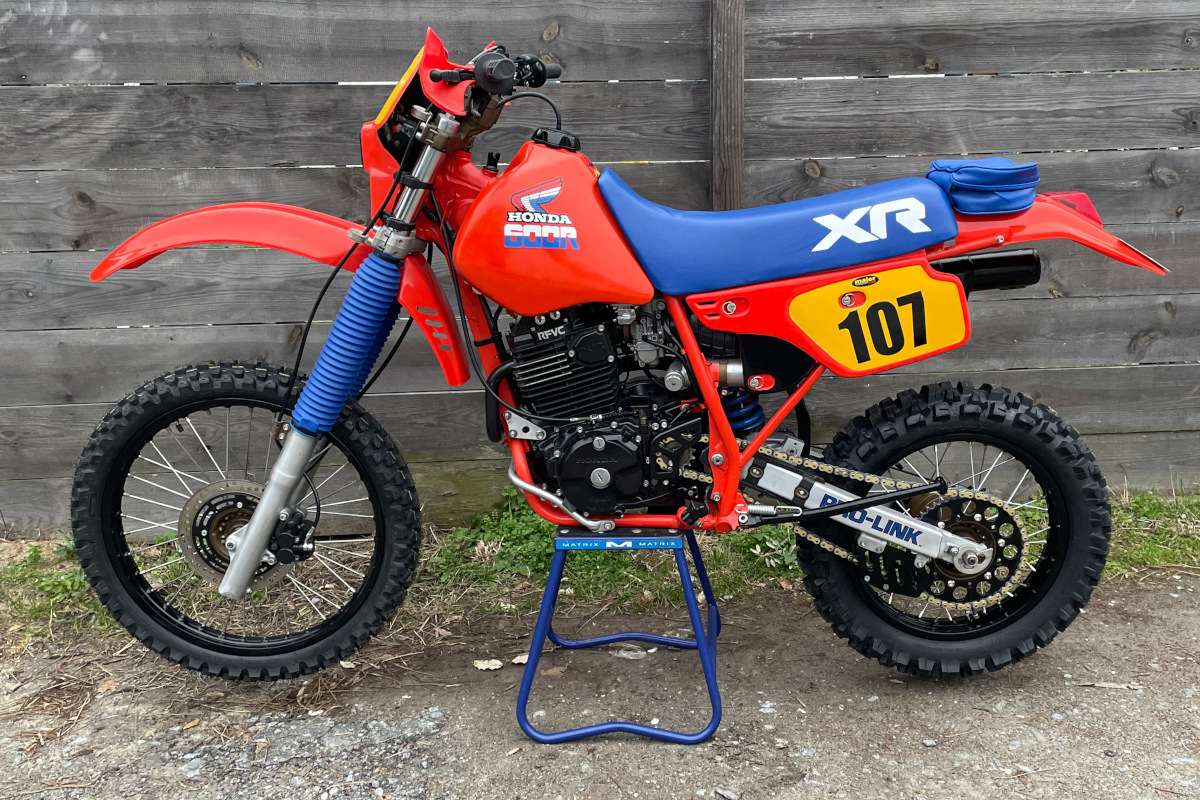 New Older Garage restores a first-year XR600R…
Produced from 1985 to 2000, the Honda XR600R was one of the most successful enduros of all time, a big-bore four-stroke that proved itself on a wide variety of terrain.
"Honda's XR600R is no ordinary motorcycle. Through its 15-year run, this legendary thumper landed multiple titles in AMA Hare Scrambles, the Baja 1000 and even GNCC woods racing with riders like Scott Summers, Johnny Campbell, Jimmy Lewis and Bruce Ogilvie." –ADV Pulse
The XR600R offered 45 hp and 40 ft-lb of torque from its twin-carb RFVC single-cylinder engine, along with 11″ of travel from the 43mm air-adjustable forks and 11.8″ from the Pro-Link rear. In 2021, ADV Pulse bought an '86 XR600R for $2000, cleaned it up, completed some routine maintenance, and rode it in the AMA-sanctioned Lone Pine 300 dual-sport ride, comparing it head to head with a new CRF450RL.
"Why was riding a classic machine in such a gnarly event so fun? The primary conclusion I draw is that it still works really good. While there's no question the more advanced CRF450RL is superior from a performance standpoint, mixing things up by riding vastly different machines from vastly different eras seems to both help one better appreciate the performance gains from advances in technology, as well as qualities of older machines we may have lost in our rush to the future."
For our money, the early "Flash Red" models are the most lust-worthy of the lot — in fact, we have two '85 XR's in the BikeBound stable.
Recently, we got in touch with Lucas Compan of southwest France's New Older Garage, who raced motocross until his mid-20s and left his career in cinema to open his own workshop:
"I took care of setting up the sets, but I got tired of having to go on the set and so I thought of creating this workshop to link my passion and profession."
When Lucas picked up this 1985 XR600R, it had been highly modified and left in a sad state. Lucas debated between doing a custom race build or restoring the XR to its original glory. While we obviously love bespoke fabrication and one-off custom builds, these bikes are becoming rarer by the year, and we're happy to see one restored so well, complete with some choice modern touches like the black wheelset and Cerakoted parts.
Below, we talk to Lucas for the full details on the build.
Honda XR600R: Builder Interview
• Please tell us a bit about yourself, your history with motorcycles, and your workshop.
Hi everyone, my name is Lucas. I live in the south west of France, in Hossegor. I grew up on motorcycles from a very young age. I started at the age of 3 and a half on a 1994 Honda QR50 and competed in motocross in France until I was 25.
I have always had this passion for motorcycling like my father before me, and I have always taken care of the mechanics on my racing bikes, but I never thought of making it my job.
I worked in the cinema; I took care of setting up the sets, but I got tired of having to go on the set and so I thought of creating this workshop to link my passion and profession.
• What's the make, model, and year of the bike?
This motorcycle is a Honda XR600 from 1985 at the base. When I bought it it was completely modified and in a bad state.
• Why was this bike built?
I restored this motorcycle for me and with the aim of having a demonstration motorcycle for certain events.
I put all of my knowledge and my abilities into trying to keep the original spirit of the machine, while adding my personal touch and expertise (vapour blasting, cerakote paint, etc.).
• What was the design concept and what influenced the build?
The original model is really what inspired me. I kept almost all of the important original elements. Engine, plastics, exhaust, fork, graphics…
I just wanted to modernize the machine a little with the black wheels and some elements painted with Cerakote.
• What work was done to the bike?
I completely redid the machine. Frame, engine, suspension, and wheels have all been redone, always respecting the original model.
• Can you tell us what it's like to ride?
It's very pleasant to ride in the woods, in the mountains, and off-road. But it's not the ideal bike for going to the beach, walking around town, or having a beer — it's not so easy to start. I prefer my Yamaha DT400 for that.
• Was there anything done during this build that you are particularly proud of?
I am not especially proud of any single detail, but rather of the final rendering. I wasn't sure if I should stick with the original spirit or move away and do something more "racing." In the end, she's perfect like she is.
• How would you classify this bike? (Cafe racer, street tracker, scrambler, brat, bobber, streetfighter, restomod, etc.)
• Please list links for us to include. (Website, Instagram, Facebook, photographer credit, etc.)