Hunter S. Thompson famously said of the Ducati 900SS:
"There are some things nobody needs in this world, and a bright-red, hunch-back, warp-speed 900cc cafe racer is one of them – but I want one anyway, and on some days I actually believe I need one. That is why they are dangerous."
That is also why we love them so much, these old air-cooled Italian furies. They seem to live at a higher plane than anything else on the street, and Dave Kreibich of Charlotte's MotoBergamo–a one-man, garage-based operation–has built one of the prettiest 900SS cafe racers we've seen, based on a 1994 SuperSport CR.
Dave recently retired from the computer industry, got a degree to work with developmentally-disabled children, and began building custom motorcycles. What an incredible retirement plan! We will let Dave himself give you the full story on "Mr. Six."
Ducati Cafe Racer, "Mr. Six":  In the Builder's Words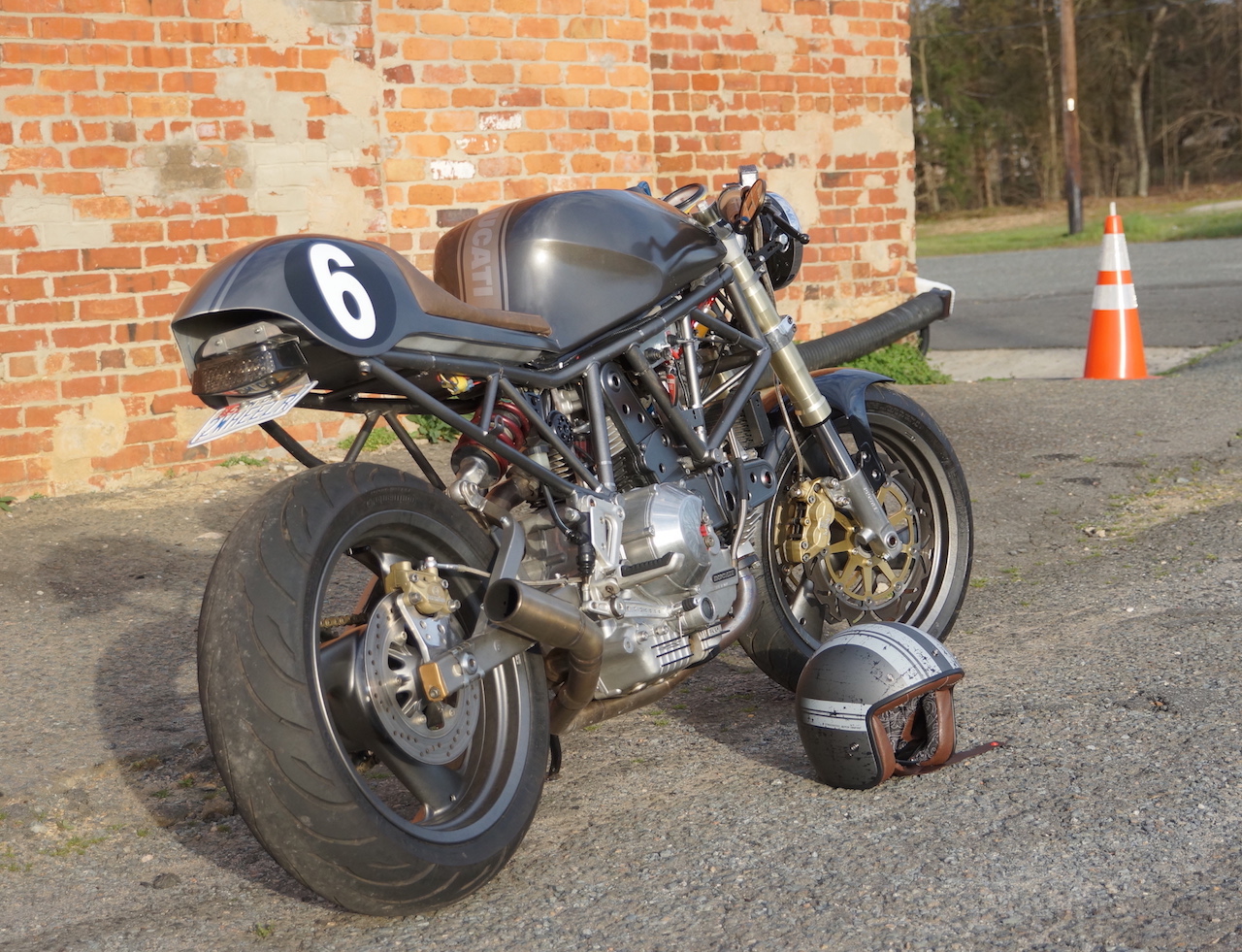 (With editor's highlights.)
A little background: I retired from the computer industry two years ago with two goals: Go back to college to get a degree to work with developmentally disabled children, and build the best motorcycles that I could. As a required college project (good old Com 101) I built the www.motobergamo.com web site (got an A) while I was in the process of building Mr. Six on my days off. So, MotoBergamo has become my hobby business. I will sell Mr. Six soon because I want to see someone else enjoying it, and because I want to build two or three bikes a year and let someone else pay for my fun.
Where the name came from: One of my neighbors who comes over pretty regularly to hang out when I'm out in the garage (fridge with cold beer???) is fascinated by the motorcycles piling up in my garage, and when he saw this one for the first time, he said, "What is that now, number six?" That evolved into "Mr. Six" but then over time I realized that this is also my sixth custom project going back to a Honda 50 Sport that I "built" when I was seventeen. So, now I've adopted this as my naming system, and the one I'm working on now will be Mr. Seven.
What I started out with: Mr. Six started out as a very clean, bone-stock 1994 Ducati Supersport CR. I will work with the Ducati Supersports for most of my builds, simply because I enjoy the way that they look, the way that they ride, as well as their simplicity and dependability. They have great "bones" – that beautiful trellis frame, that big lump of motor, those huge front brakes, and they really lend themselves to becoming a cafe racer. Then the end product is a motorcycle that you can truly enjoy riding, and one that will keep up with modern sport bikes on the backroads if they are under the right rider.
Unlike some builders who have a tendency to put form before function and change things out just to be "different", I believe that Ducati has known how to build a pretty good motorcycle for a long time, so I always lean towards leaving well enough alone if I can. I might drill a couple of holes into something just to be cool, and I LOVE to polish parts, but I never mess with the go fast parts.
The build process: I always take my builds down to the screws and washers level, putting the parts on the shelf as I go. Then I inspect every part and rebuild whatever needs it so that I end up with a motorcycle that works better than new. The engine is refreshed, the carbs are rebuilt with new parts, all bearings are replaced, every fastener is new. The suspension is rebuilt and tuned for better handling.
The frame was sent to a local shop for a little rework on the rear loop, then it was powder coated along with the wheels. When I got it back, I mounted the glass seat sourced from AirTech Streamlining, and started the process of trimming it, staring at it, trimming some more, staring at it, . . . until it Mr. Six didn't look like he had a big fat ass anymore. Proportions and "lines" are SO important on cafe racers and if you don't take the time, they will never look quite right. It takes a lot of sitting on your roller stool with a beer in your hand, STARING at it.
The exhaust pipe is a custom build by a local pipe bender who was working for a NASCAR team at the time. The headlight and brackets are standard parts off the Internet, and then I went ALL OUT and added a cool horn that I found on eBay. Finally, I added some bar-end mirrors and brown Oury grips to match the seat that was upholstered by a local shop, as well as an LED taillight. Then I put my credit card away. After that, it was pretty much just a bunch of filing, drilling, polishing and painting on the stock 900ss parts. I TOLD you Ducati builds a pretty cool motorcycle, you just have to throw a bunch of stuff away to uncover it.
As I built the bike back up, I lowered the suspension two inches on both ends to give it a more aggressive stance. I geared it way down (one less tooth on the front and four more on the back) so that what was once a 130mph bike now tops out at 85mph, but it gets there pretty quickly with the front wheel pawing the air for half of it. The brakes are by Brembo, and with the addition of EBC pads they will do stoppies all day, if you've got the nerve.
I do all of the paint myself. One of my favorite parts of a build is the wet-sanding and polishing process where you can watch the deep shine that you knew was in there somewhere start to come through. It amazes me every time. The graphics are standard order decals with a lot of clear coat over the top.
The wire loom on Ducatis are horrendous. By the time you pull it all off, it fills a bucket and weight seven pounds with half of that being black electrical tape. So, I always rewire my builds from scratch, but once again, a guy doesn't need to use some $500 "digital control system" to make a motorcycle run. Everything that you need is down at your local auto parts store, and costs about $20. It may not be as pretty as some, but that big hole up under the tank provides plenty of space to hide your handiwork.
The "dashboard" is one of the parts of the bike that gets the most attention, although it is simplicity at it's best. There is one big On/Off switch, a fuel valve, and an automotive ignition switch with a key. People LOVE it when I turn and release the key to start the bike, just like a car. Simple pleasures.
So, it's been a fun project, and I've enjoyed showing the bike off around Charlotte at all the local motorcycle events. Mr. Six was awarded "Best Ducati" at the Motori Italiani, an annual gathering of Italian automobile and motorcycle aficionados here in Charlotte, which made me proud.
MotoBergamo is never going to be more than a one-man, garage shop operation because my real work at this stage of my life is working with disadvantaged children in the local schools, but it is enormously rewarding to have the time to create my own mechanical "works of art" that I've been admiring for many years. My son lives a block away from me and is also a bike builder, so we both get incredible satisfaction from "consulting" on each others' projects, and sharing tools and expertise.
Builder Contact Information
Dave Kreibich
[email protected]
www.motobergamo.com
704-577-1147