Today we're thrilled to present our 10 Best Custom Motorcycles of 2016, as judged by you, our readers. Your visits, likes, comments, and shares serve as votes, and we ranked these bikes according to their popularity among our readership. This is the most objective ranking we could achieve.
Don't see your favorite in the list?  Stay tuned for our Best Cafe Racers and Best Trackers & Scramblers lists!
We noticed two big themes in this year's 10 Best:
Two-Strokes:  Obviously, you guys are big fans of blue smoke, as three of our 10 Best Customs were 2-strokes. There is something so brutal and atavistic about the fury of a two-smoke, like riding a fire-bellied rattlesnake, and we hope to see more 2-smokers in 2017.
Garage-Builds:  Nearly half of these builds were the work of garage-builders instead of well-known professional shops, proving that determination and a keen eye for stance, proportion, and geometry can supersede a big budget and arsenal of tools.
Scramblers and Trackers:  We certainly can't call this list the 10 Best Cafe Racers of 2016, as we might have in years past. Only half of these bikes could be classified as cafe builds, and we're excited to see a number of dual sport based customs making the list.
Without further ado, here are our 10 Best Custom Bikes of 2016.
The BMW K100, aka the Flying Brick, certainly wasn't the prettiest bike ever to come out of Germany. But the crew of Moscow's Z17 Customs has an affinity for these 80s motorbikes.  We featured one of their K100 builds in 2015, and this bloodred Bavarian bullet, dubbed "The Rebel," is so well-sorted, it looks like something that could have come directly from the draft tables of BMW Motorrad engineers.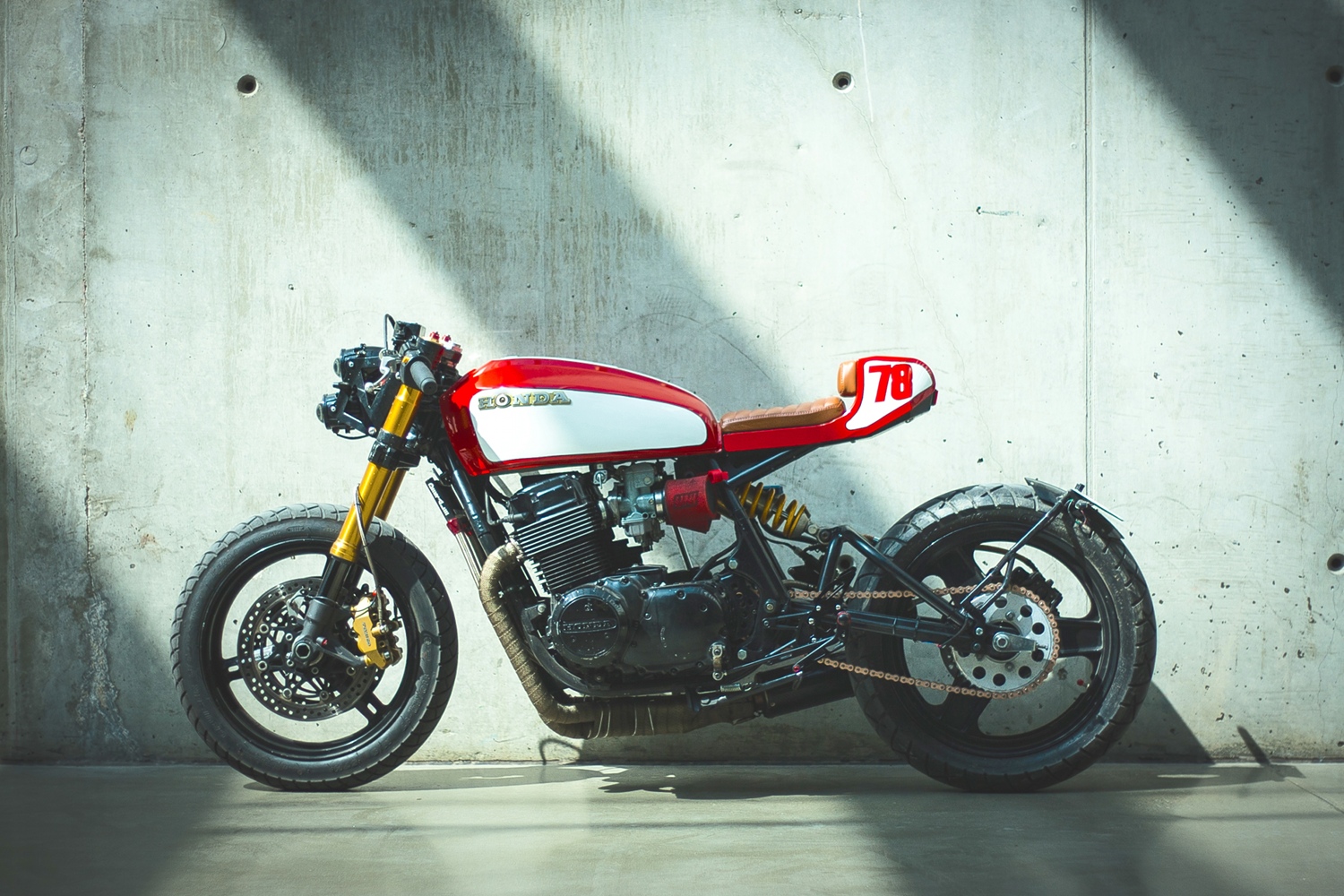 This monoshock CB750 may look like the product of a high-rent, name-brand custom shop, but it's not. Nope, it's the work of Andrew Wales, a machinist/millwright and fabricator out of Calgary, Alberta, whose motto is "Modern Mind, Classic Heart". What's more, this build was especially bittersweet, as a serious accident gave him the opportunity to complete his full vision for the build.
Nicknamed "Eight," this 2-stroke, 210-pound RD350 scrambler built by Arjun Raina of India's Moto Exotica is one of the wickedest scramblers we have ever seen. Those stainless steel expansion chambers are pure sex, each TIG-welded from 45 separate sections, and the bike reportedly has a top speed of 125 mph — 20 more than stock! We're a huge fan of this machine, and it certainly deserves its place as one of the best custom bikes of 2016.
Arjan van den Boom of Ironwood Custom Motorcycles is one of our favorite people in the worldwide customs scene. This 1986 BMW R80, "The Renegade," simply oozes power and class. We love the negative space, and the way the tank and seat seemed to float over the black hunk of airhead power.
Keith Carlson of Indianapolis built this two-stroke machine-age banshee by mating a ported and polished 1977 RD400 motor to a 2002 Honda CRF450R frame. In the process, he created one of the wildest scream machines we have ever seen.  This bike was a huge hit with our readers, generating dozens of comments on social media, and well-deserved.
We see so many beautiful bikes, but few are innovative in ways that surpass the custom scene and apply to motorcycling as a whole.  The LM-0 NX650 street tracker is one such bike–a collaboration between Simon Dabadie of Dab Design and one of our favorite builders, Cafe Racer SSpirit of San Sebastian, Spain. The bodywork of the bike is built from lin (or flax) fiber, a green material that's being used in the surfboard, snowboard, and furniture industry. However, this is one of the first motorcycles ever built utilizing this green material, and we were proud as hell to break it to the world.
This bike, the "Spirit of Sheene," was built by 22 year-old Jay Ransome, whose father, Clive Ransome, owns So Low Choppers.  Though Jay is only 22, he has been building bikes since he was just 16. This was his first cafe-style build — a departure from the choppers he normally works on — and he chose the oft-overlooked Suzuki GS500, one of the most plentiful and affordable used bikes on the market. We love seeing such a young builder make our list, especially with a build that pays homage to one of our favorite racers of all time.
When he isn't tuning vintage BMW iron, Alexandre Ciaramella designs and engineers dials for Swiss luxury watches. That legendary attention to detail shows in this BMW R80R. Sure, some haters will decry the clip-ons combined with knobby tires, but we prize such boldness — especially when it's executed with such minimalist precision. This bike is so incredibly clean, and it's hard to beat the extreme cuteness of Alexandre's son riding his bicycle alongside this burly build.
Two-strokes have been a theme this year, much to our glee, as have debut garage builds that owe their impact to raw determination rather than big-money budgets and six-figure shops. This two-stroke screamer is the height of that form. Teguh Setiawan, an engineering student in Indonesia, built this bike in the garage of his boardinghouse with makeshift tools, Youtube videos, and a helluva lot of heart.  If that isn't the essence of the custom culture we love, what is?
Drumroll…and the 2016 BikeBound Bike of the Year is this NX650 Scrambler by Janne Hietakangas! We originally shared this scrambler with the caption "Good as Gold."  Geoff Balwin, the man behind Return of the Cafe Racers, commented to say:  "I don't know why exactly but something about this bike's proportions really appeal."  We could not agree more.  Even better?  Janne, who lives in Finland, built this bike for only $550!
Other Best Lists of 2016
Save
Save
Save
Save
Save