"The XS is a Rolls Royce with a blown Chrysler Hemi motor…"
So said Cycle Magazine of the Yamaha XS1100, aka the XS Eleven or XS11.  When it was introduced in 1978, the XS1100 was the largest, most powerful Japanese superbike on the market, with a 95-hp air-cooled four and shaft-drive. The bike was clocked with a quarter-mile time of 12.02 seconds — not bad for Yamaha's first four-cylinder, four-stroke motorcycle. At 603 pounds wet, the XS1100 was more of a muscle bike than sport bike, but still succeeding in winning a host of endurance races — particularly in Australia.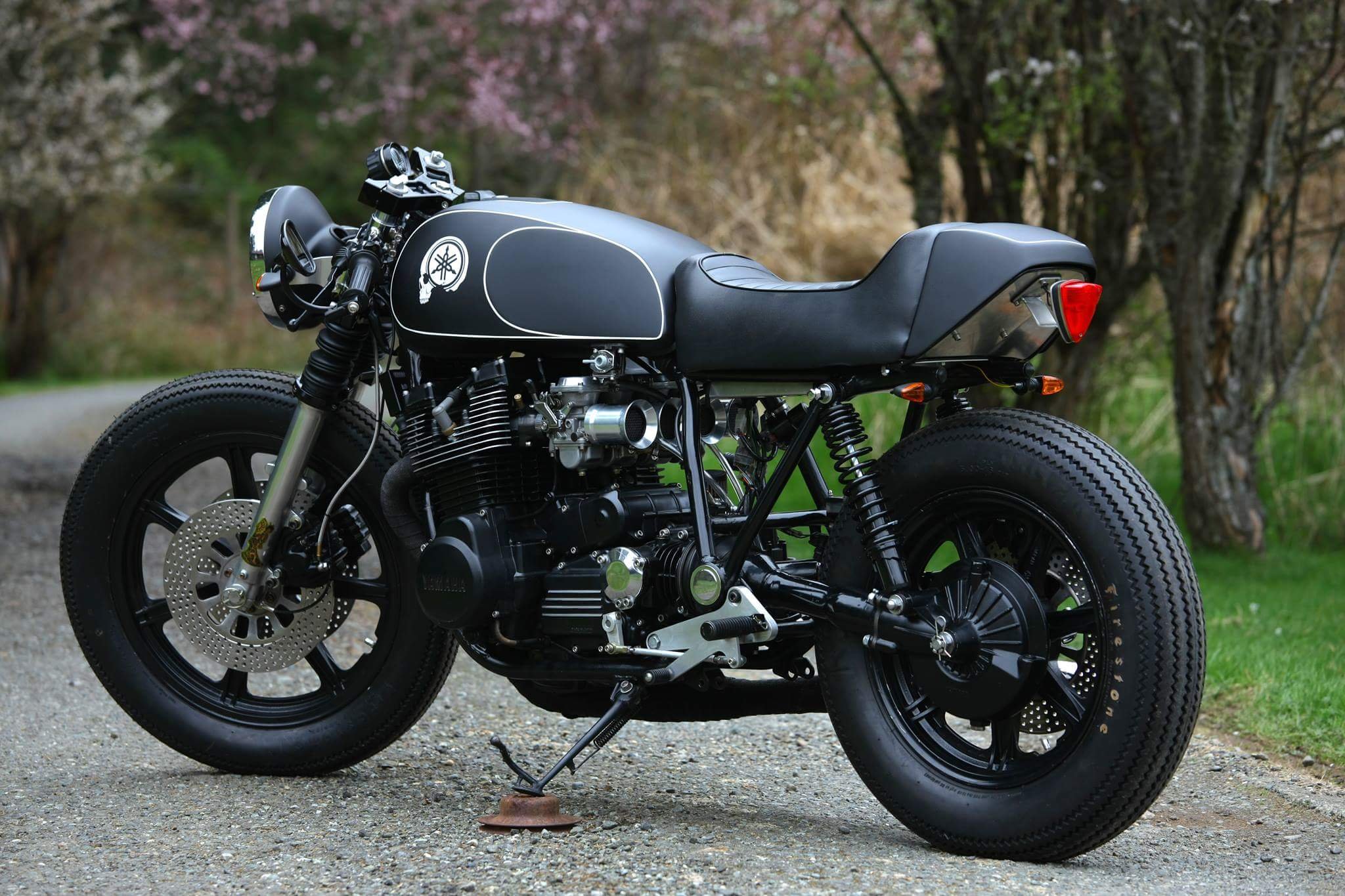 The bike doesn't have the same legendary reputation as rivals like the CBX and Kawasaki's biggest Z bikes, which means it's available for a budget price. Well-known moto-journalist Roland Brown has said of the XS1100:
"The Yamaha's lack of reputation gives it one advantage these days, though, in that a clean XS such as this one costs less than its more successful contemporary rivals…Two decades and more after its launch, maybe the XS1100's time has finally come."
Enter Shawn Coffill of Campbell River, British Columbia, who brought the full potential out of a mighty XS, building a muscular, even brutal XS1100 cafe racer. Shawn, working in a CNC shop, was able to fabricate many of the bike's pieces one-off, including top triple, motor mounts, headlight brackets, and even the velocity stacks. Below, Shawn gives us the full story on the build.
XS11 Cafe Racer:  In the Builder's Words
(Words by Shawn Coffill.  Highlights by us.)
The bike was mildly modified, low mileage done when bought, then stripped down to bare metal. I used the factory seat pan, shortening it by 4 inches, then turned up the tail piece to create a bum-stop. A custom aluminum pan under the seat was made to house the electrics and a Full Spectrum Power P3 lithium battery under the seat.
The forks were rebuilt, tunes machined 2 inches shorter and a 3 inch lowering kit machined to lower internally. Progressive springs were installed as well. I worked as a fabricator in a CNC shop, so I designed and had made a number of parts custom. The top triple, solid motor mounts, velocity stacks and headlight mounts are custom.
Headlight is an 8-inch part from a Yamaha Seca and rear wheel is from a Special that was machined to fit. Tires are Firestone Deluxe Champion…
An electronic 2.5 inch gauge from Acewell to keep tabs on things and a DOT marker light from a Bluebird school bus for a taillight.
Fork braced, clip-on-ed, custom rear sets, a chrome baloney pipe from a Sportster. Built over three years.
Save
Save
Save