Motorcycles and family go hand-in-hand, and nothing demonstrates that more than this Honda CL350 cafe racer by Sean Sallings…whose parents were married in a Harley shop!
Sean's father is none other than Jan Sallings of JMS Customs, whose builds have graced Bike EXIF, and we recently featured this incredible Honda CB175 cafe racer built and owned by Kat Stovall, Sean's fiance!  In the process, we stumbled across Sean's CL350 and decided we had to feature it.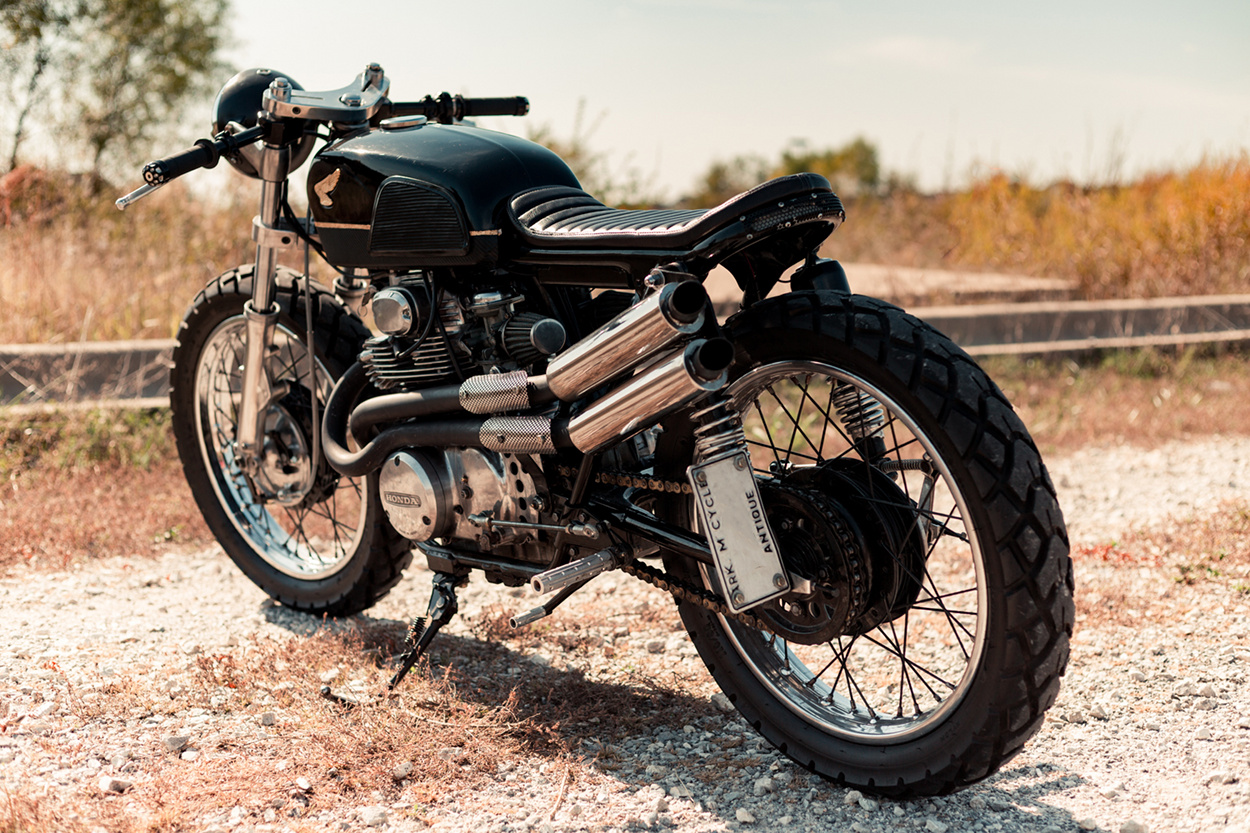 The Honda CL350 was the scrambler version of the CB350 twin, offering high-mount exhausts and a 19-inch front wheel. The 325cc air-cooled parallel twin made 36 horsepower, pushing the bike to a claimed top speed of 110 mph.  More importantly, the small bike was known for big fun.
Sean had owned the bike for a over decade before he and his fiance decided to do frame-up builds on their bikes.  The result is what you see here. Below, we get the full scoop from Sean on the build.
Honda CL350 Brat/Cafe Racer:  Builder Interview
• Please tell us a bit about yourself, your history with motorcycles, and your workshop.
I am a graphic designer by profession. Motorcycles have been part of my life for my entire life. My parents were married in a Harley shop and my father has been an enthusiast/builder for several decades. I'm very fortunate to have a father who has all of the knowledge and tools needed to teach his children the ways of motorcycle customization.
• What's the make, model, and year of the bike?
1972 Honda CL350
• Why was this bike built?
I have had the bike for a little over 10 years. Over the years it went through minor customizations, then my fiance and I decided we needed to do a frame up builds on our bikes.
• What was the design concept and what influenced the build?
I have found inspiration from several different bikes. I love the cafe / brat style, so I wanted to bring a little of both into the bike.
• What custom work was done to the bike?
Tail/Tail light
Rear Controls
Seat
Clip On Bars
Triple Tree
Modified Frame
• Please include a list of the changes made/parts used.
Tail – Tail was chopped. We cut a slot in the hoop to put an LED tail light. Gained inspiration from Cognito Moto.
Rear Controls – Custom Rear Controls were made by Jan Sallings with JMS Customs
Seat – Seat was hand stitched by Taylor Henschell with One-Up Moto Garage
Clip On Bars – Hand made by Jan Sallings. They are modular so if I decide I want higher bars, I just have to unscrew the bars from the base and place new bars in.
Triple Tree – My front wheel is a rear wheel with a front hub laced in. Because of this, the tire clearance on the stock forks was too tight, so JMS fabricated custom trees that are slightly wider than stock.
Frame – I took a grinder and plasma cutter to the frame to get rid of all of the stock frame stamping. The frame was then reinforced by JMS Customs.
• How would you classify this bike?
I think the best classification would probably be a brat/cafe
• Was there anything done during this build that you are particularly proud of?
I was happy to have a part of the entire build. Although I've been around motorcycles for a majority of my life, it wasn't until this build that I really dove in to the work. It just feels really great to have turned my vision in to a reality and taken the time to do a quality build.
Photos by Laurance Tan
Follow the Builder