The Kawasaki Triples were some of the most notorious motorcycles ever made, a series of 2-stroke street demons that prompted Hunter S. Thompson to write:
I still feel a shudder in my spine every time I see a picture of a Vincent Black Shadow, or when I walk into a public restroom and hear crippled men whispering about the terrifying Kawasaki Triple… I have visions of compound femur-fractures and large black men in white hospital suits holding me down on a gurney while a nurse called "Bess" sews the flaps of my scalp together with a stitching drill.
Enter British MoD engineer Allen Millyard, who has a brilliant habit of building the wildest motorcycle specials on the planet. This is the man behind the 500-horsepower Millyard Viper V10, whose stated goal is to break 250 mph, and the Flying Millyard, which is powered by a 4804cc v-twin built from the same type of 9-cylinder Pratt & Whitney Wasp radial engine that powered Amelia's Earhart's final airplane.
Kawasakis are another Millyard favorite. He has built 1600cc V8 Z1000 specials and 2600cc V12 Z1300 specials, which are on display at the Barber Museum in Alabama, and a number of Kawasaki Fives like the one you see here — 5-cylinder 2-stroke Kawasaki Triples.  Amazingly enough, Millyard builds these OEM-looking monsters in a small garage workshop with little more than hand tools.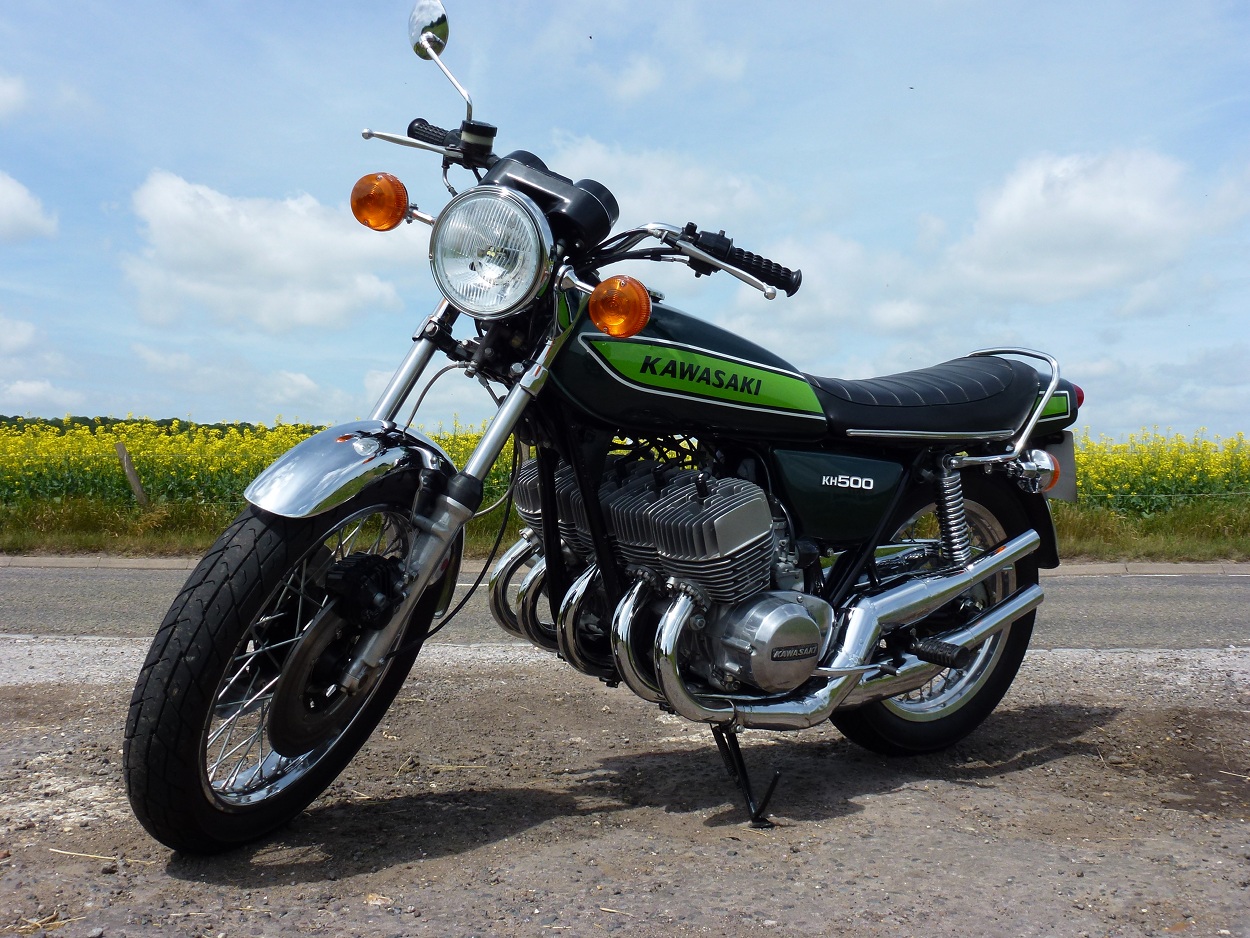 The lucky owner of this 883cc Kawasaki KH500 Millyard Special is Pip Davidson — a diehard 2-stroke fan. The joining of the engine cases is just seamless, making this one of the great "double-take bikes," which you could mistake for OEM before your brain registers the width of the engine. Of course, the performance is anything but stock — the 883cc 5-cylinder, 2-stroke Kawasaki "Triple" produces 109 rear wheel horsepower.
Below, we interview owner Pip Davidson about the bike.
Kawasaki KH500 Millyard Special:  Owner Interview
• Please tell us a bit about yourself, your history with motorcycles, and your workshop.
Pip Davidson 46, been riding bikes since age 5, owned lots of bikes but always wanted a garage full of 2 strokes.
• What's the make, model, and year of the bike?
Kawasaki KH500 1976 Millyard Special
• Why was this bike built?
To add more HP Obviously !!
• What was the design concept and what influenced the build?
To keep it looking oem
• What custom work was done to the bike?
Engines x 2 joined, handmade exhaust, uprated suspension etc
• How would you classify this bike?
Modified classic
• Was there anything done during this build that you are particularly proud of?
seamless joining of engine cases
Follow Allen Millyard on Twitter:  @AllenMillyard
Save
Save