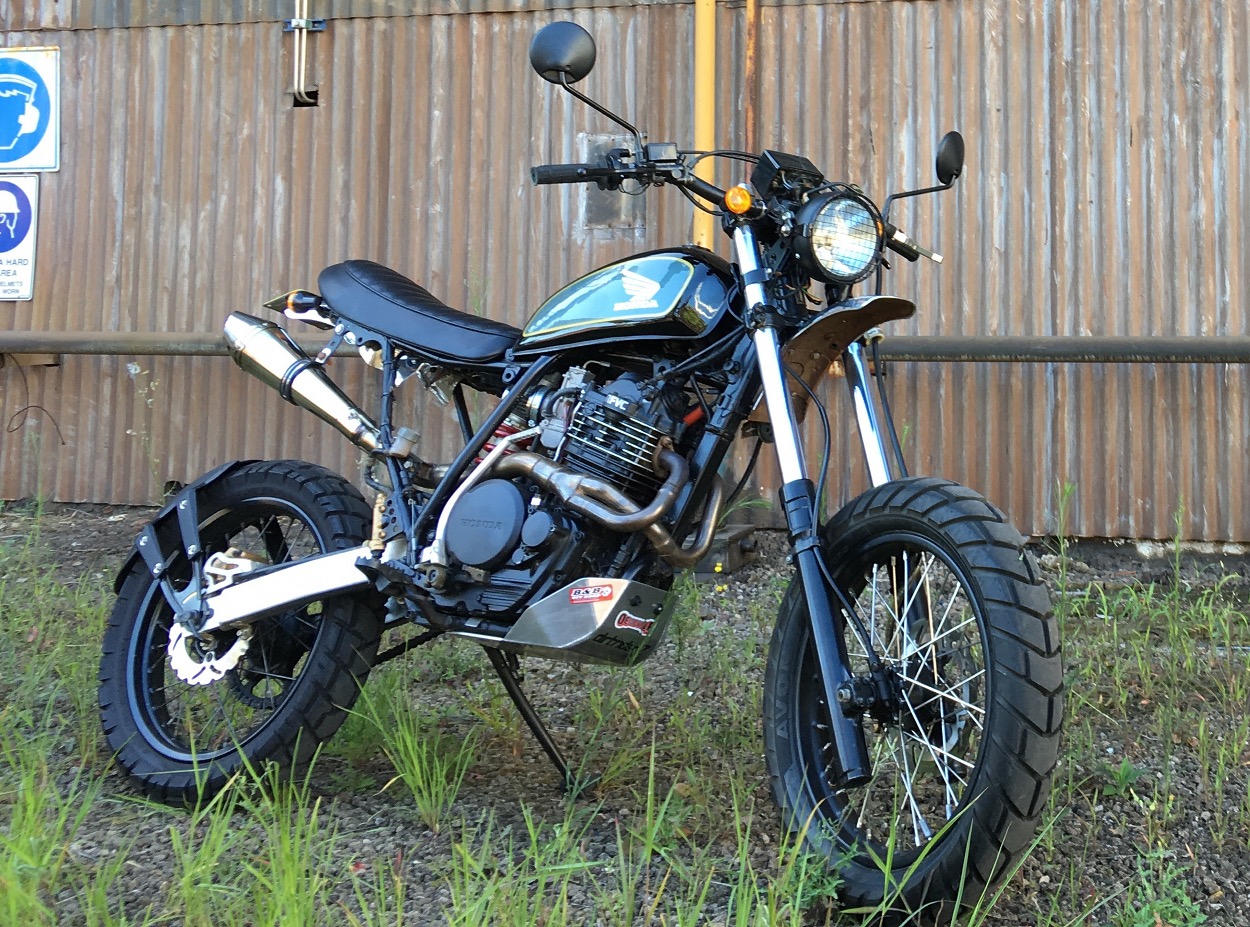 A Baja legend built for the End of Days…
When Wayne Hawes of Australia first picked up his 1991 Honda XR600R, he planned to use the big thumper for some light trail riding with a buddy. However, Wayne soon discovered the racing pedigree of the machine in his garage. After all, the XR600R is nothing short of a legend, winning the Baja 1000 four times, the Baja 500 three times, and countless desert races, hare scrambles, and enduros across the world.
With such an overengineered platform, Wayne — who apprenticed as a motor mechanic in his youth and now works in heavy industry — decided to strip the big XR down to the bones and see what he could come up with. The result is a beautiful black-and-silver XR600 scrambler that could kick ass in the desert and drop you at the opera in your tuxedo — all in the same day.
Below, we get the full story from Wayne himself.
Honda XR600R Scrambler:  In the Builder's Words
I did an apprenticeship a long time as a motor mechanic (last century!) but no longer work on the 'tools' — I am now involved in heavy industry but have always had and loved motorbikes. In fact, I had my licence to ride motorbikes before I had a licence to drive the cars that I worked on.
I started out rebuilding those old Deckson mini bikes a couple of years ago and after doing 10 or so of them and a strange 3-wheeled reverse trike machine, I moved onto motorbikes for a bit more of a challenge. I begun by buying a basketcase 1974 Honda CB360 and enjoyed putting that back together and customising it somewhat and still love to take it out for a ride now and then. In the meantime, I also made some changes to the street bike I had at the time (a Suzuki Bandit 1200S) to customise that up too.
It seems that I love to see how I can change the look from that which the manufacturer intended. Then as I have said, I came across the XR600 for sale close to where I live and this is the end result of that tinkering. This bike started out as a very ordinary XR600 that I picked locally to do some trails riding with a friend. And it wasn't until I had it a while that I found out that these bikes were Honda's attempt to win the famous Paris-Dakar, and they were overengineered, so are a great base for a scrambler build.
The bike I brought had a very strong engine but the 'plastics' and lights were either rough or not working. So after seeing what could be made of these XR's, I decided to strip mine down to see what I could come up with.
It all went along well until it came to removing the swing arm bolt to change the bearings, the bolt had 'welded' itself to the swing arm and refused to budge. In the end after a day and a half of trying, I had to cut the bolt and swing arm out with the grinder. After finding a second hand swing arm on eBay, the rest of the bike went back together quite smoothly. I fitted up a new flat slide carby and filter, new tank from a Honda Benq, new headlight with grill, new discs and pads, chopped the exhaust off and welded on a new stainless muffler.
When it came to the front wheel, I like the symmetry of having front and back the same so I went for a 18" rim that I had laying around and had that laced up to the front hub. And of course, got rid of all the ugly plastic side covers and mudguards. The front one came off an early Honda CB 360 that I cut down to fit.
Anyway, all these bikes were done in my home garage in the minimal space I had, but I enjoyed doing them all and I am sure I will soon move on to another project.
Follow the Wayne Hawes on Tumblr or email him for more info!