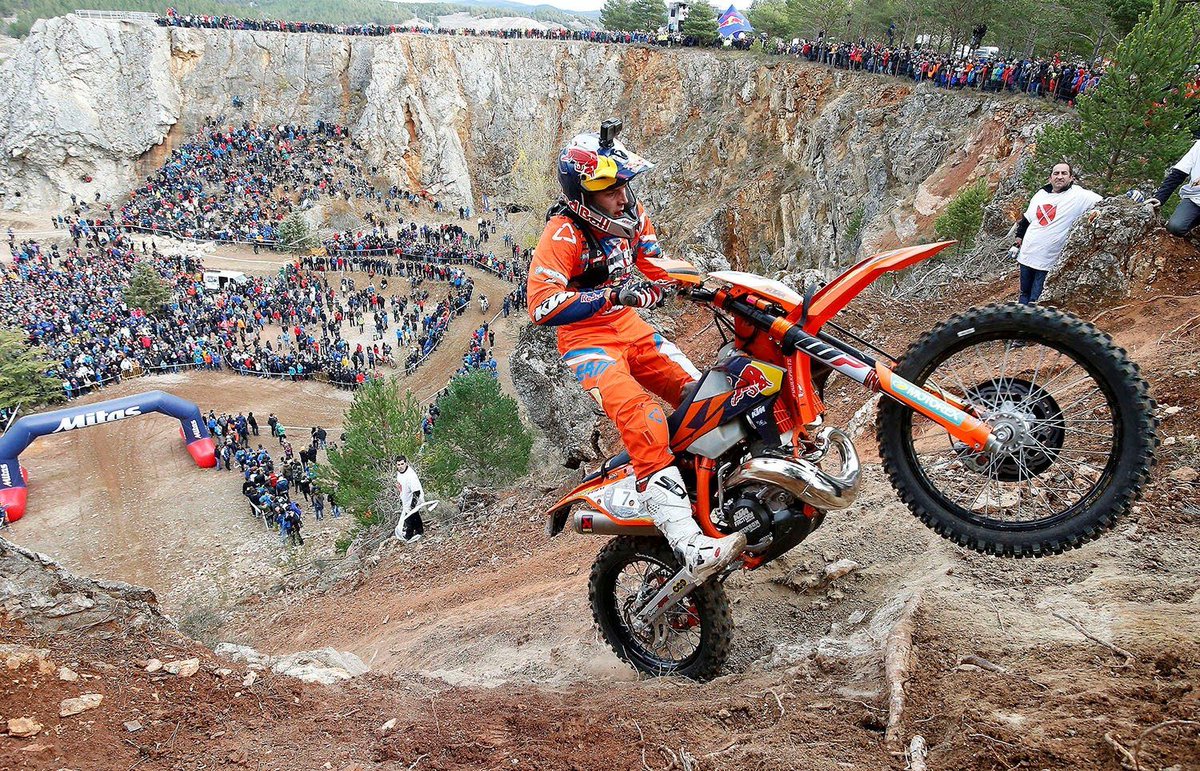 Hard enduro — sometimes known as "extreme enduro" — has become one of the most challenging, brutal forms of motorcycling racing in existence — an off-road format designed to push the world's toughest, most elite riders out of their comfort zones.  Extreme terrain, obstacles, and weather are the norm.  No two hard enduro courses are the same — with every race, organizers seem to invent new and diabolical ways to stymie even the most hardened off-road veterans.
Riders must be skilled in techniques ranging from trials riding to motocross, desert racing to traditional enduro and endurocross.  Even the world's most elite hard enduro racers are sure to go down during a race, often having to push their bike or ask fans for help.  In this way, hard enduro is as much a test of will as technique.  Champions have been known to collapse after crossing the finish line, so exhausted they can't even speak.
Below, we take a look at the terrain, series, and riders of hard enduro.
Hard Enduro Terrain
Obstacles may include rock gardens, sand pits, mud pits, hill climbs, river crossings, beds of concrete chunk, tractor tire terraces, and an array of manmade walls, moats, balance beams, teeter-totters, wooden bridges, steel dumpsters, concrete pipes, and more.
Hard Enduro Races
Red Bull sponsors the Hard Enduro World Series, which includes the following races:
Two other well-known, now-discontinued hard enduros include the Red Bull Last Man Standing in Butcher, Texas, and the UK's Tough One.
Starting in 2018, many of these events are going to be part of the new World Enduro Super Series (WESS), which will include Hard Enduro, Classic Enduro, Cross-Country and Beach Racing style events, where all enduro athletes are free to compete on their preferred motorcycle.
Hard Enduro Riders
Here are a few of our favorite extreme enduro riders.
David Knight:  Hailing from the Isle of Man, "Knighter" is a multiple world enduro champion who's won most of the world's toughest enduros, including the Erzberg Rodeo, Red Bull Last Man Standing in Texas, Hells Gate in Italy, and the UK's Tough Man. The Manxman has also been a British Trials champion and won endurocross races on every side of the Pond. We highly recommend the documentary about him, David Knight:  Iron Man of Enduro.
Taddy Blazusiak:  Hailing from Poland Tadeusz "Taddy" Balzusiak has won Erzberg five (consecutive) times, the FIM Indoor Enduro World Cup six times, four X Games gold medals, and the AMA Endurocross Championship three times. He's also won a slew of other extreme enduro events besides Erzberg. He retired from hard enduro for a short period in 2016, but was soon back in action.
Jonny Walker:  British rider Jonny Walker, born in 1991, has been winning trials championships since boyhood. That background translated well to enduro, where's he won the Erzberg Rodeo, Romaniacs, Hells Gate, and The Tough One.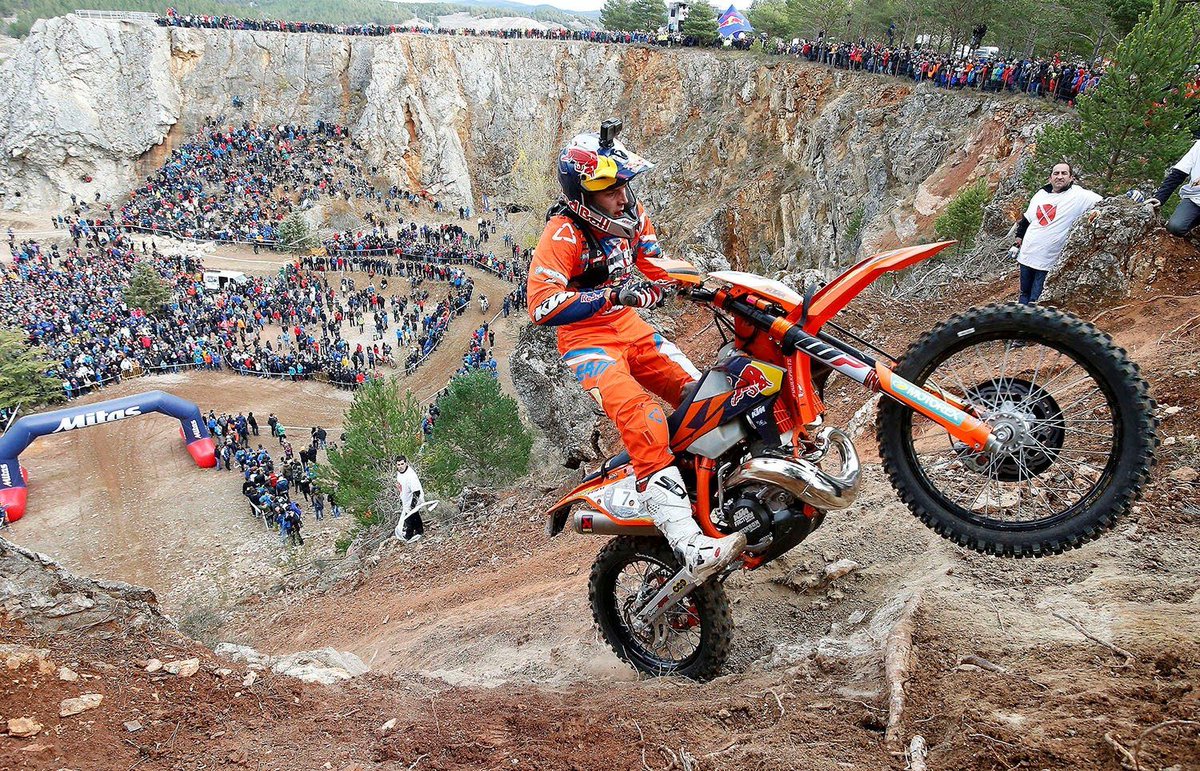 Graham Jarvis:  Winner of the 2013 and 2016 Erzberg Rodeo, Jarvis has also won the Scottish Six Days Trial five times, the Scott Trial nine times, and he's been the British Trials Champion five times.
Hard Enduro Motorcycles
Whereas the 450 four-stroke is the undisputed king of supercross and motocross, hard enduro has long had some riders who preferred the more powerful big-bore four-strokes and others who preferred the smaller, lighter-weight two-strokes. Says rider Alfredo Gómez:
"In extreme enduro it's vital to run a two-stroke machine, with a softer suspension (it helps to gain better traction) and tyres with softer carcasses to help absorb impacts. It's also important that the seat has scaled rubber grips to help prevent slipping, and that the seat height is as low as possible as that helps balance and preventing falls."
Whether the bike has two or four strokes, the 300cc platform has slowly but surely been climbing to the top of the pack. Popular 300cc enduro motorcycles include the…
KTM 300XC-W
Beta 300 RR-Race Edition
Gas Gas EC 300
Sherco 300SE-R
Sherco 300SEF-R
The bikes typically have standard drivetrains but are optimized for torque, as they are rarely in the high rev range. Many riders don't have an electric start to save weight. It's also common for riders to carry energy gel packs strapped to their handlebars, as well as extra pairs of gloves in sealed plastic dry bags, hands-free hydration systems, spare parts and levers, ropes for spectator assistance,