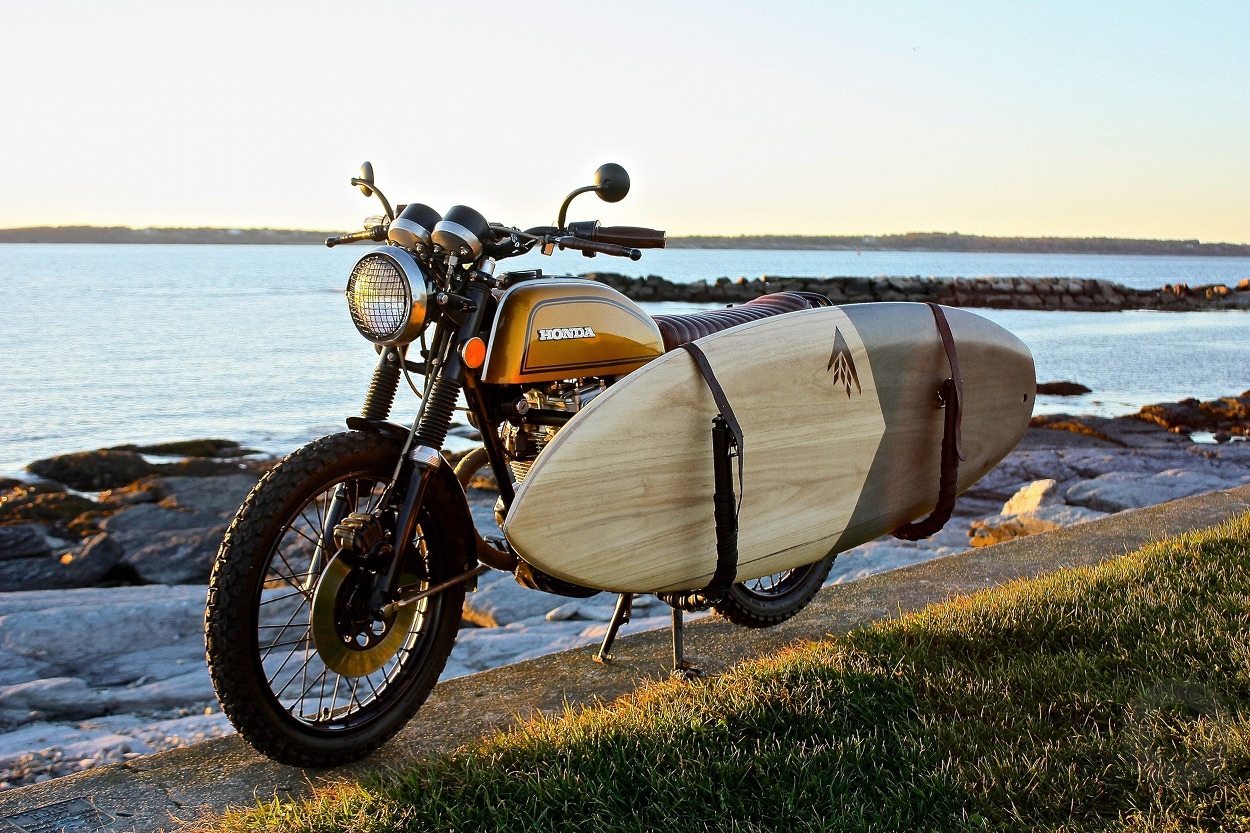 Custom builders come from all walks of life, but most are anchored to one specific location — their brick-and-mortar garage or workshop. Not Chris Tope of Utopeia Moto Company. Believe it or not, Chris is a full-time biologist who builds some of the neatest customs in the world out of his 10×12 foot fifth wheel toy hauler garage!
Chris built the incredible Hodaka Ace 100 scrambler we recently featured — one of the most popular builds we've ever shared. Now the bike-building biologist is back with a 1975 Honda CB200T brat tracker dubbed "Surf-n-Turf."
There have always been deep ties between surfing and motorcycling, and Chris wanted a tracker-hearted brat that could carry him down to the beach, surfboard in tow! Below, we get the full story on this sunrise yellow "Surf-n-Turf" build.
Honda CB200 Brat Tracker: Builder Interview
• Please tell us a bit about yourself, your history with motorcycles, and your workshop.
I am a full time biologist trying to feed my hobby of building motorcycles one bike at a time. I usually build about one bike every year or two. I am no way a professional at this hobby but only a person trying to build bikes as a 3D art canvas. All of my bikes I have built are in a 10' x 12' Fifth Wheel toy hauler garage. I travel as a biologist so space is pretty hard to come by.
• What's the make, model, and year of the bike?
The bike is a 1975 Honda CB200T named "Surf-n-Turf."
• Why was this bike built?
I built it for myself. I loved this style of bike for a while now especially the tank. One of my personal favorite Honda tanks. I then wanted a bike that I could bring my surfboard to the ocean along with being able to take out my vintage Honda. That's where the concept for the "Surf-n-Turf" began.
• What was the design concept and what influenced the build?
I wanted a smooth looking brat bike with a transition into a tracker attitude. Clean but tough.
• What custom work was done to the bike?
The modifications on the bike include transforming all chrome parts into powder coated black or brushed metal, Progressive front end suspension and custom rear end Hagon Shocks, aluminum fabricated seat pan, trimmed and modified frame, fenders, levers, grips and handlebars.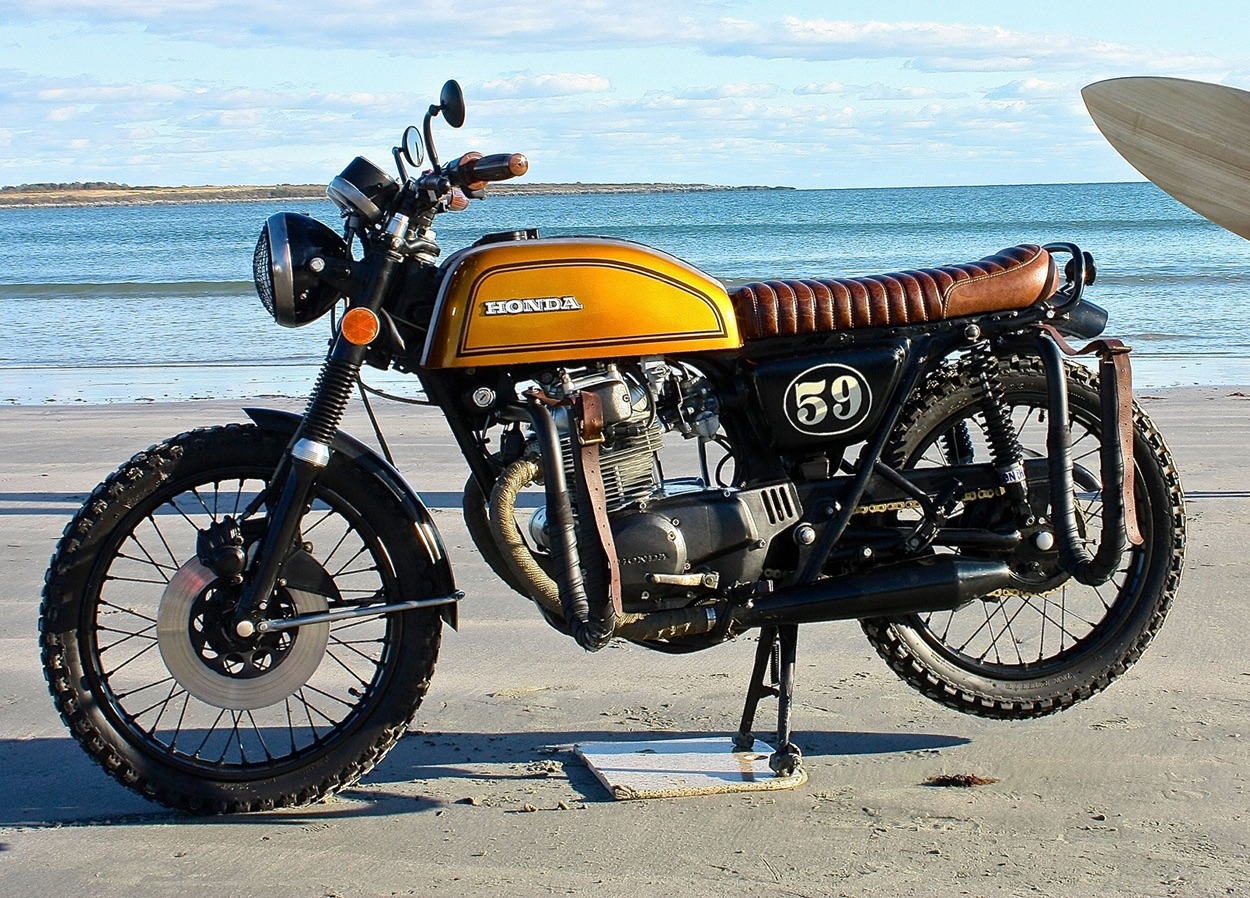 The vintage 70's sunrise yellow tank was what sold me on the bike so he had it repainted to the exact color but with modified hand painted pin striping. The guys at Joker Machine sent various fabricated pieces for showcasing on the bike.
I pulled the motor and fully restored internally along with changing the color scheme for an OEM, yet brat/scrambler look. The side covers were hand painted and pinstriped by a friend of mine out of upstate New York who collaborated on the idea of the "59," paying homage to the era of fabrication and custom builds of his time.
I outfitted the bike with rugged tread tires, perfect for riding right up to the best surf spots. The surf board rack is built out of stainless steel tubing, painted black and wrapped in double stitched Relicate black leather to protect the surf board during riding as well as brown leather straps to compliment the custom leather seat, handlebar bracket and tool bag.
My buddy Wes at Counterbalance did the seat and handlebar wrap along with the fabrication of the surfboard bracket. The gas tank was repainted with a slight different color tank and custom hand pinstripes.
As for the frame, it was detabbed and all non functioning holes filled in. I used Renthal handlebars. The grips are wrapped in matching Relicate brown leather as the seat. The rear fender has been modified to have a stubby style and I used a billet style taillight. I also fabricated the front headlight guard to keep those rocks and shells from the beach from breaking my lens.
• How would you classify this bike?
It would be a brat with a tracker heart.
• Was there anything done during this build that you are particularly proud of?
How smooth the bike flows between color schemes and fabricated parts. Plus not too many bikes out there are Yellow.
Follow the Builder