From staid sportbike to urban brawler…
The Kawasaki Ninja 650 is one of the most reliable, well-rounded middleweights on the market. While the bike's 71-hp parallel twin and low center-of-gravity are hard to beat, the bike has never been particularly stylish or interesting.
Enter Max and Erica Droog, the husband/wife team behind Droog Moto, who have made a name for themselves building burly urban brawlers and post-apocalyptic desert sleds — unmistakable bikes, which would race the heart of Mad Max himself. Lately, the team has been focusing on more modern donor bikes. For MOTO 12, they've built a Ninja 650 that's part scrambler, part streetfighter, and 100% Droog Moto.
Below, we get the story on the build!
Kawasaki Ninja 650R Streetfighter: In the Builder's Words
Lately we have taken a more modern approach in terms of donor bikes. We love the challenge of working with strange body lines compared to the vintage machines. They have a different build approach to them that we both really think is fit to Droog Moto and what direction we are taking our builds.
MOTO 12 started life as a 2013 Kawasaki Ninja 650R, also known as the ER6F. It was the full fairing version that hid the cool industrial-shaped frame. The 650R is best known for a torquey and reliable parallel twin so we quickly knew that this was going to be the next bike attacked by our angle grinder 🙂
We started removing everything off the bike, down to just the bare frame. This model year came with a very unusual subframe setup, which is more of just a hunk of steel sticking out of the frame like a stinger so we chopped it off. There is not a lot in terms of subframe building on this so we knew we had a challenge ahead of us. We wanted to make this bike look sleek and fast but with a real modern approach. We eventually fabricated a unique floating style subframe that is very rigid but looks very exposed.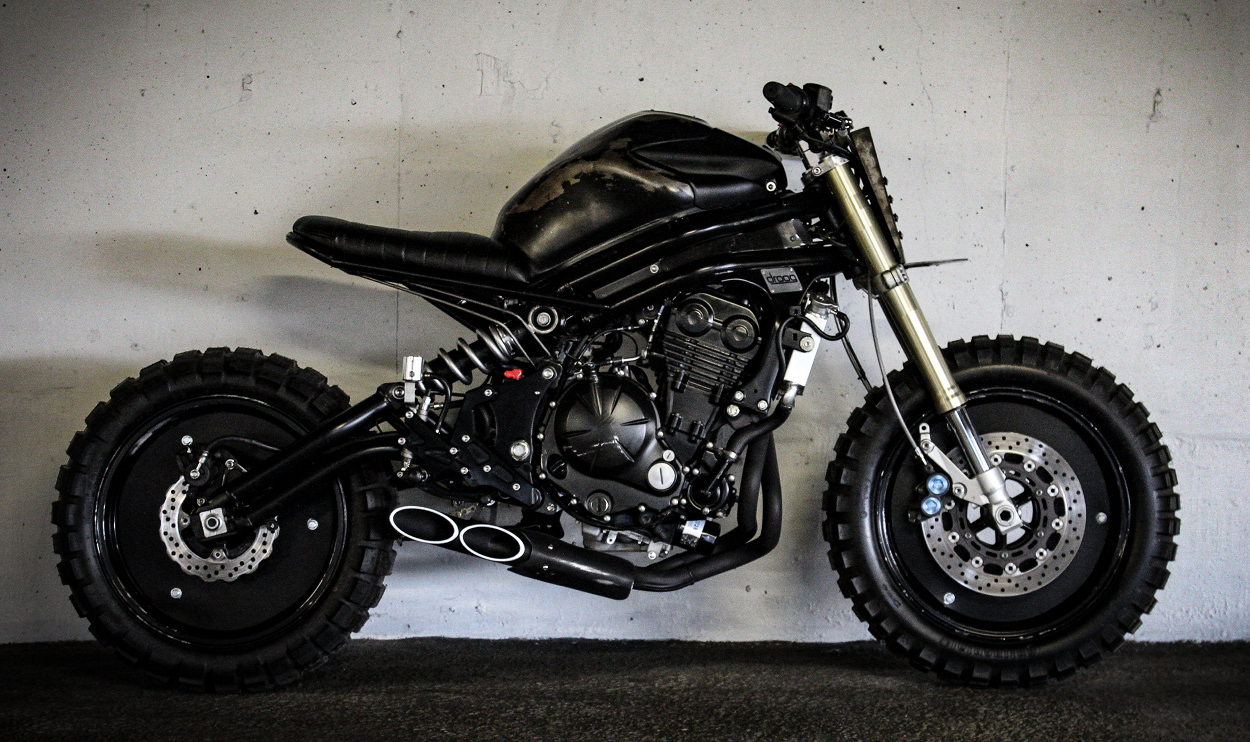 Having an off center rear shock added to the challenge but also is what brought the rear end together on this bike. We had to get creative with our battery and electrical relocation but finally settled on a place for our AntiGravity battery and wire harness to be tucked and clear of sight. We made a custom seat to fit the new subframe and hug the tank. Our friend Link at Ampersand Leather Co. in Seattle, WA made us a seat cover to compliment the build! The rear light is built into the hoop giving it a modern look and has built in signals as well.
We chose to stick with the stock gas tank on this bike as it has really good lines that flow with the general build so we gave it our Droog Moto look and gave the tank cowl a louver insert. We kept away from our typical Droog logo on the tank and went with a simple plaque on the frame instead.
The front of the bike received a complete transformation as well. We went with a front end conversion to give the bike's suspension more adjustability and to add to the looks. Per usual, a beefy steel tracker plate with bright LED pod lights were installed along with small flush mount LED signals and a small fender.
The plate needed a little extra visual appearance so we built a louver to go with it that compliments the one on the fuel tank. The forks were paired up with our 1 1/8" Droog Moto Bar and our go-to Trailtech Endurance 2 speedo.
The stock rear sets were removed and we installed a set of CNC aluminum-cut ones that are fully adjustable and give great exposure to the builds open style swing arm.
We decided to ditch the stock radiator and installed a nice aluminum one to help in performance. The exhaust was re-worked and a custom dual tip silencer was put in place to make this 650 sound like an urban brawler.
Of course, the bike would not be complete without our handmade solid wheels and the biggest knobby tires you can fit.
MOTO 12 is also up for grabs! This bike is a beast of machine that is perfect for daily commuting or for a great weekend trip out of the city limits! It has all the features to set you apart from the rest! Send us an email to inquire at [email protected].
M & E
Droog Moto
www.droogmoto.com
Follow the Builder