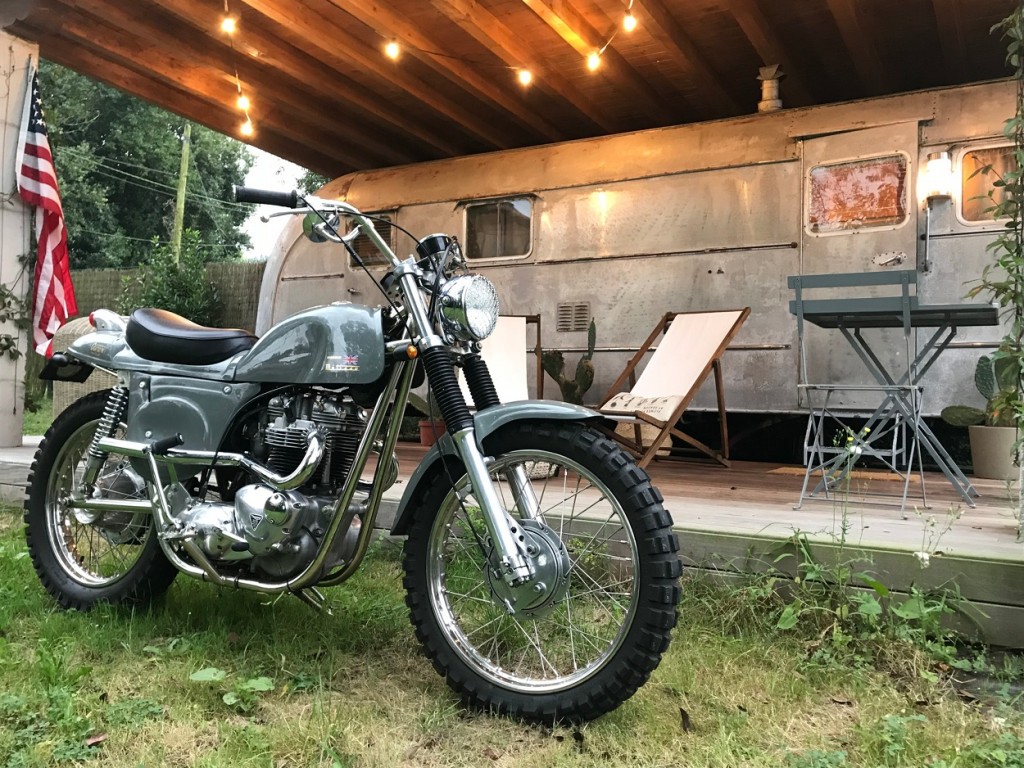 A street-legal Rickman Metisse desert sled influenced by Steve McQueen…
In the early 1960s, the deserts of Southern California were alive with the sound of Triumph twins, BSA singles, and other British-built machines streaking toward tire fires and smoke bombs on the horizon — sometimes 500 bikes abreast. These were the days of On Any Sunday legends like Malcolm Smith, Bud Ekins, and Steve McQueen, back when riders would strip the lights and accessories off their street bikes and go racing through the desert, dodging cactus and old mines and clumps of greasewood.
Soon, however, riders were reaching the limits of these road-oriented machines — a chassis custom-designed for off-road riding was needed. The Rickman brothers of England developed a state-of-the-art kit bike known as the MKIII Metisse, which could be ordered to fit the owner's engine of choice — often a Triumph 650 twin. Thus the name Metisse, which means "crossbreed" or "mongrel" in French.
The MKIII Metisse was a revolutionary design, light years ahead of the stock-frame bikes of the day. The frame had stronger, larger-diameter, nickel-plated tubing with an oil-in-frame design, which made the bikes run cooler and did away with the need for an oil tank. This not only saved weight, but made room for a much bigger air cleaner — perfect for the desert, where the sand and dust could wear out an engine after a single race. To save yet more weight, the bikes had fiberglass fuel tanks and body panels — unheard of back then.
The most famous of the Metisse converts was none other than Steve McQueen, who visited the Rickman brothers factory in England and raced a Rickman MKIII Metisse that he and Bud Ekins built — a story detailed in the film Steve McQueen: Desert Racer, which we highly recommend.
Enter Chelsea Borchert (@motomedication), who's been riding the English countryside since she was a young girl. Says Chelsea:
"I used to go for miles along the ancient roads by our house and across farmland with my Jack Russell dog on the fuel tank."
Years later, Chelsea realized she was just down the road from the old Rickman factory and her parents' house was just ten minutes from Wasp Motorcycles, who continue to manufacture Metisse frames. When Chelsea sold her last bike, a CB400, she was looking for a replacement and kept thinking of her father's original 1962 Rickman Metisse:
"Nothing compared to the feeling I got when riding my dad's Rickman; to me it was the dream bike."
When Chelsea and her father realized that Wasp Motorcycles offered the MKIII Metisse kit, they decided to build one together.
"It all felt so close to home and I loved the story of the brothers, how successful their bikes had been."
Chelsea sourced a 1966 Triumph Thunderbird (650cc) as the engine donor and forks and hubs from a '74 Triumph Adventurer.  She wanted a street bike and soon discovered that McQueen himself had owned a street-legal Metisse, outfitted with lights and indicators and such — so this became her inspiration. Soon, she was spending all her spare time in her father's shop putting the bike together, building brackets, polishing and wiring.
The result is one of the sweetest desert sleds we've ever seen. Below, we get the full story on the build from Chelsea herself.
Triumph 650 Rickman Metisse: Builder Interview
• Please tell us a bit about yourself, your history with motorcycles, and your workshop.
From a young age I have had an appreciation for motorcycles. When I was 7 I was given by a neighbor a 50cc motorcycle. I'm not sure what it was, it was yellow and then when I was 8 my dad bought me and my brother a Yamaha DT90. I used to go for miles along the ancient roads by our house, and across farmland with my Jack Russell dog on the fuel tank. I remember those days well. I've always loved classic bikes, particularly scramblers. My dad has an original 1962 Rickman Metisse and when we decided that we should build one together this is when I started spending all my spare time in his workshop. He had just finished building a biplane, a Pitts Special Model 12, so the space is fully kitted out, and even has a spray shop. My Dad is a perfectionist, the workshop is super tidy, everything has its place and even better, it's heated. When Dad decided he was going to build the plane, insulating the garage was the first thing he did – it made a big difference heading out to work on the bike on those cold winter evenings.
• What's the make, model, and year of the bike?
1966 Triumph 650 Rickman Metisse.
I bought a donor bike, a 1966 Triumph Thunderbird. The only thing I needed from this bike was the engine and the registration. It was essential that I had an age-related plate on my classic scrambler. I had the engine totally rebuilt, everything that was slightly worn was replaced, and I had it rebuilt with low compression.
The frame is brand new — 4130 chromoly tubing, bronze welded and bright nickel plated. This comes as part of the kit from Wasp Motorcycles (who happen to be a ten-minute drive from my parents' house). The MkIII kit includes the frame, the fiberglass tank, body work and air box, the seat, swinging arm, foot rest, stand and coin chain adjusters.
The forks and the hubs came off a 1974 Triumph Adventurer. The forks hadn't been used on a bike before, so they were ready to go, but the hubs had. I spent many hours polishing these up making them look new again before having them built with new stainless spokes and rims.
The switchgear came off a modern Kawasaki which I found at an auto jumble, it was originally painted but it was cast aluminum underneath, so I stripped it and polished it, it looks the perfect part.
All the other components that make up this bike are brand new.
• Why was this bike built?
Me and my Dad decided to build this bike after I sold my Honda CB400 super four for a good price, double what I bought it for. I was looking for a bike to replace it, but nothing compared to the feeling I got when riding my dad's Rickman; to me it was the dream bike. We had discovered that Wasp did the MKIII kit after going there for multiple things regarding Dad's original Rickman, so, we knew it was possible and when Dad suggested that we build a new one, I couldn't say no.
• What was the design concept and what influenced the build?
I spend hours reading up about the history of the bike, looking at pictures on the internet, and in the Rickman Brothers Book, The Metisse Story by David Gittins. Steve McQueen was a big influence on the style of the bike I wanted, he always loved Triumphs and of course he loved the Rickman Metisse too.
I wanted to make mine a road bike, with lights and indicators and I discovered that Steve McQueen had, amongst others, a road equipped one, with lights — this is what I was to base mine on. The main feature being my tail light, I modified a light which I found online and made a bracket so it sat nicely in the rear fiberglass tail — just like McQueen had his.
I was fascinated to learn that the Rickman Brothers were making these bikes in their factory in the 1960s in New Milton, which is pretty much just down the road from me — and even more amazed that their frames are now made even closer. It all felt so close to home and I loved the story of the brothers, how successful their bikes had been.
When I came to having my exhausts made, I looked at many photos, I noticed that the later bikes always had much longer exhausts to what Don and Derek had on their bikes in competition. So, I had mine made short like theirs. I am so happy with the finished look of such an important ingredient in the bike build.
• What custom work was done to the bike?
I bought the exhausts from a Metisse parts dealer to whom I was recommended by a friend. They were pretty standard, steel pipes, which some people would have had chromed and then put on the bike. They fit, but they didn't fit well enough. I took the bike and the pipes to a local mate at Lamb Engineering. He sliced them in two places, re-welded them, heated them to bend them in a bit more to wrap nicely around the engine, they were also sliced short so they finish before the shocks. They fit perfectly. I then spent seven hours preparing them for plating. When they came back from the platers a week later, they were absolutely perfect.
• How would you classify this bike?
Desert Sled
• Was there anything done during this build that you are particularly proud of?
You have to look pretty close to see the detail we went to on this project. I am really proud of all the brackets I made, especially the engine head steady. I also made brackets using either stainless steel or aluminum for the front mud guard, the horn and the coil, the speedo, the number plate, the indicators. As well as the time I spent doing the brackets, I spent house polishing, getting the 1966 engine cases shiny, and the hubs – -I found this a really satisfying process and the results are sublime.