For Sale: 900cc "Cafe Sleeper" from the Polish Master…
The shaft-driven Yamaha XJ650, introduced in 1980, is an often-overlooked machine. The bike boasted an air-cooled, twin-cam, 650cc inline four good for 73 horsepower. With a top speed north of 115 mph, Bike magazine called the XJ a "genuine ton up cruiser." Stateside, the XJ650 Maxim offered the funky mini-cruiser styling so popular of the 1980s Japanese "Specials," while the Seca was more of a "Eurobike" — low, slim, and smooth, with a more sporting stance and ample room for luggage.
Enter Sylwester from Poland's Eastern Spirit Garage, whose builds have been featured all over the world. Last year, we featured ESG's stunning Ducati "Rumble 400" Cafe Racer, and Sylwester's Honda NX650 motocrosser just graced the pages of Pipeburn. Today, we're thrilled to feature one of the Polish master's early builds, a Yamaha XJ650 with a 900cc sleeper engine.
Says the original owner of the bike:
"When I first met Sylwester from ESG in 2011, I wasn't sure yet what kind of a motorcycle I would like to own. The only thing I was certain of was that it had to be custom, it had to be one of a kind and present well on the streets but first and foremost to be fast and well handling."
At the time, Sylwester was working on the Honda CB550 four he named no. 666. This Yamaha XJ650/900 became no. 665. Since then, the ESG builds have been named in decreasing order:
Honda CX500 no. 664
Yamaha DS 650 no. 663
Honda CB550 no. 662
Kawasaki KZ750 no. 661
Kawasaki KZ750 (w/ budowie) no. 660
Honda CX500 no. 659
Yamaha SR250 no. 658
Honda CX500 no. 657
Suzuki GS750 no. 656
Suzuki GS550 no. 655
Suzuki GS550 no. 654
Suzuki GS550 no. 653
Yamaha XS650 no. 652
Honda NX650 Dominator no. 651
Ducati Scrambler 400 no. 650
BMW R80 no. 649
Whereas platforms like the Yamaha SR500, XS650, and Honda CB750 were getting more attention, Sylwester decided to go with something different. He says of the XJ:
"The four cylinders engine with dual overhead camshaft made it look heavy and way too modern. But it was cheap, very cheap."
They decided not to pressure the bike into a retro look. Instead, they tried to combine the classic cafe racer style with the 80's idea of modern-tech. They set the new subframe higher into order to make a perfect straight line with the gas tank and seat.
The gas tank was taken from the bike's little sister, the Yamaha XJ550. The airbox ended up in the trash and the battery was set between two stock exhausts. Sylwester created a light and open construction with a big engine combined with a big headlight from an MZ TS.
All this work made the motorcycle lighter and faster than similar bikes, but it wasn't enough:
"It still needed something which would make it unique, so therefore it had to be even faster. That's why we decided to use the biggest engine we could fit: the XJ900 model. Four Mikuni carburetors, lower suspension, and a brand new "fire-spitting" exhaust allowed it to reach over 200km/h."
In the end, ESG created a Sleeper with a classic cafe racer look. Says Sylwester:
"Number 665 is still an open project; it can be modified and improved on one's own and that's exactly what the cafe racer journey is all about."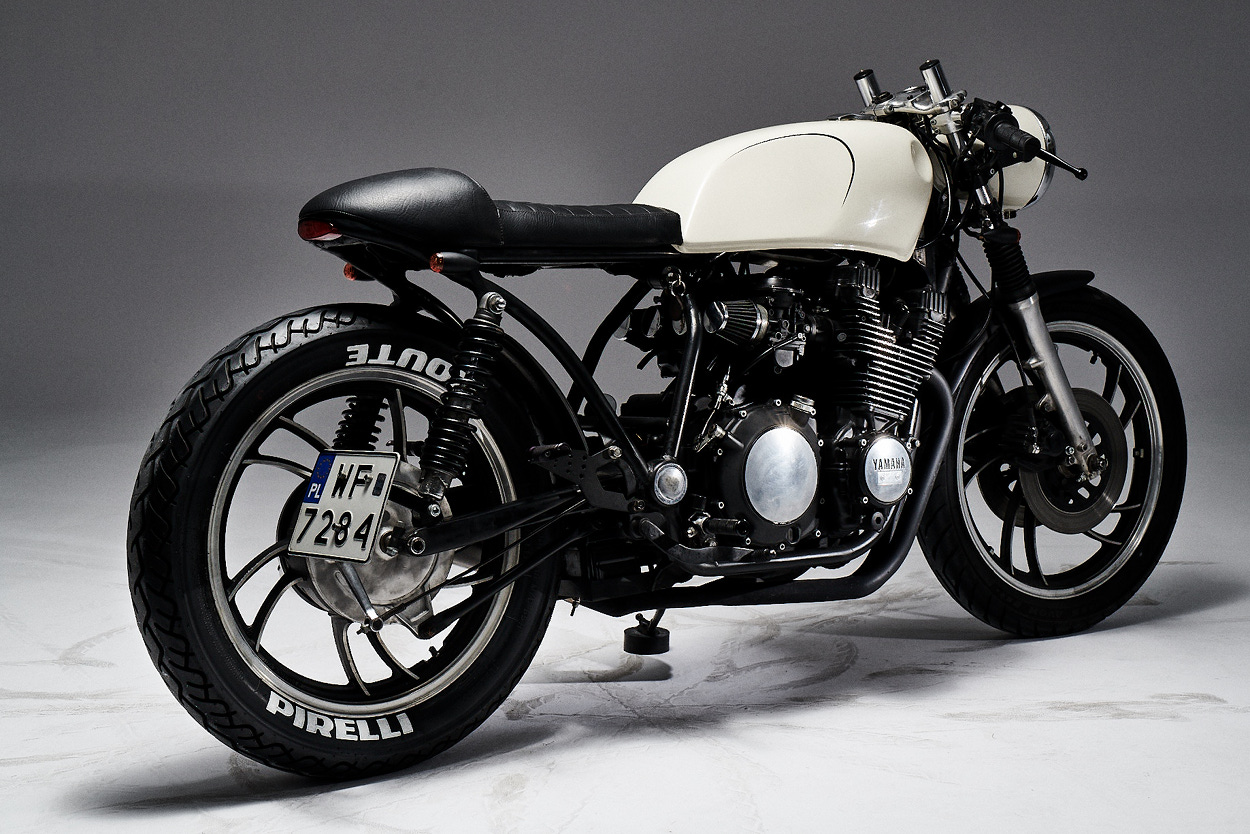 Detail Shots
Follow the Builder