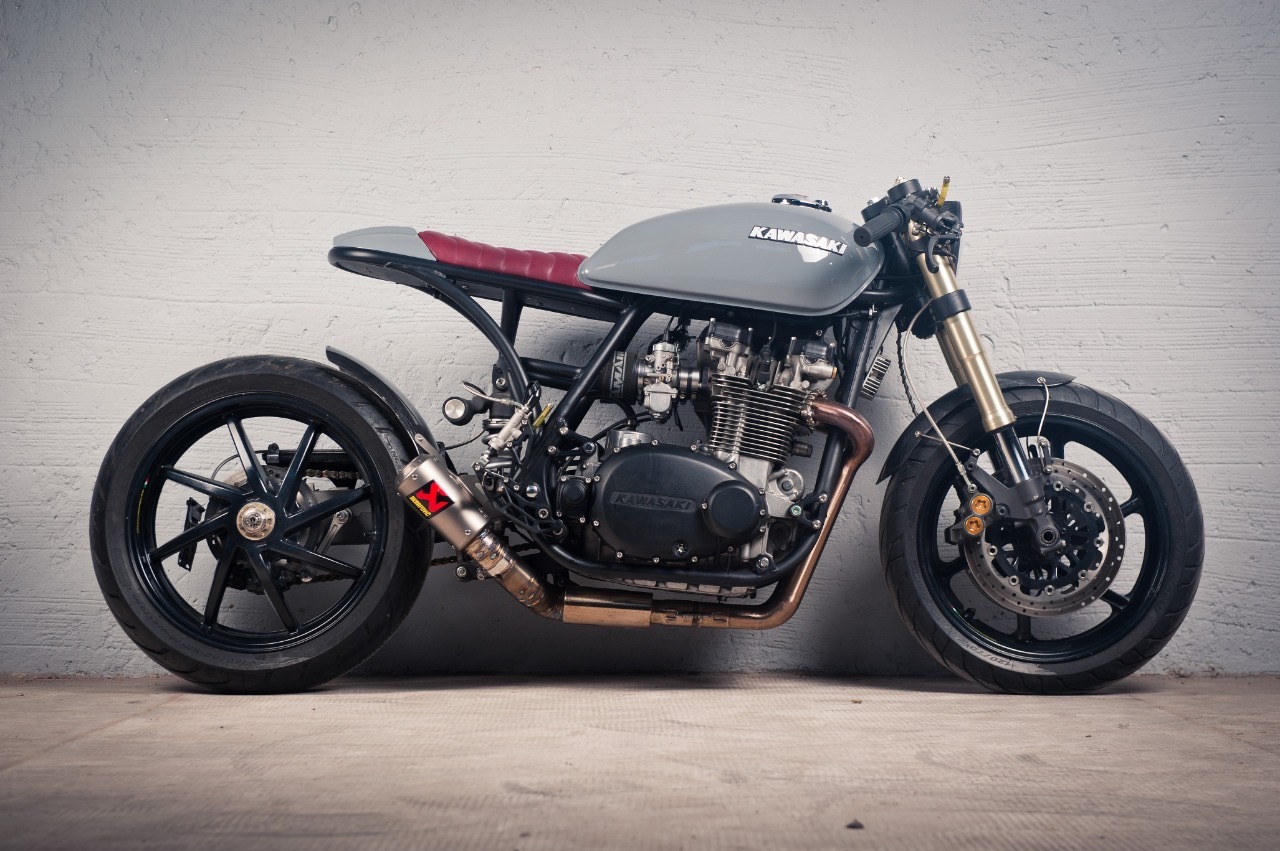 In 1976, Kawasaki introduced the KZ750 Twin, meant to compete against large-bore vertical twins like the Triumph Bonneville, Yamaha XS650, and the bygone British twins of yesteryear. But the KZ was no throwback — the 55-hp engine boasted double overhead cams, two chain-driven counterbalancers, and a Morse Hy-Vo primary drive chain. The result was a simple, rugged big twin that sold well in the USA and beyond:
"Thanks to its simple but robust construction, the KZ750 earned a reputation for rock solid dependability, owners piling on the miles with little more than routine maintenance." —Motorcycle Classics
Enter Marcelo Obarrio of Argentina's STG Tracker, who's earned quite a reputation of his own for building red-hot street trackers — as his workshop's name suggests. For this '76 KZ750, however, Marcelo and team wanted to branch out:
"It was a personal project, trying to make something really different from what we always make."
Possibly the most challenging and striking aspect of the build is the single-sided swing arm, sourced from a Honda VFR400 NC30 and mounted beneath a custom aluminum tail. The front forks are sourced from a Yamaha R1, the fenders are carbon fiber with titanium supports, and the bike is wired internally for an ultra-clean look.  The bike — nicknamed "Jarvis" — was recently a finalist in the 2020 Custom Built Show, and Marcelo says it handles incredibly well, almost as if the 70s chassis and 90s suspension were destined to be together.
Below, we get the full story on "Jarvis," along with more great shots from photographer Marcos Ludevid.
Kawasaki KZ750 Cafe Racer: Builder Interview
• Please tell us a bit about yourself, your history with motorcycles, and your workshop.
We are STG Tracker, a workshop from Buenos Aires, Argentina, we have been building bikes since 2012.
• What's the make, model, and year of the bike?
It's a Kawasaki KZ750 Twin, 1976.
• Why was this bike built?
It was a personal project, trying to make something really different from what we always make.
• What was the design concept and what influenced the build?
We wanted something like a restomod, improving suspension, brakes and riding position, keeping the center of the bike original (tank, motor and frame support of it).
• What custom work was done to the bike?
All subframe was redone, custom-made aluminium tail hiding the battery and stop light, adapted a single-side swingarm from a Honda VFR400 NC30. Front suspension from a Yamaha R1, custom-made both yokes, top one with integrated Motogadget. Inox pipes with titanium Akrapovic, all electronics from Motogadget, with all the wiring inside the frame, no wires can be seen, Marchesini wheels, custom footrests made in CNC as well as all the engine supports. Carbon mud fenders and titanium supports. The engine was running great so no hard work was needed with it, but new carbs just to make it run smooth like new.
• Does the bike have a nickname?
It's "Jarvis."
• Can you tell us what it's like to ride this bike?
Definitely it's amazing how the suspension works and how smooth it is, it rides like it was born there (keep in mind a '76 frame and a '90s aluminum rear end).
• Was there anything done during this build that you are particularly proud of?
Yes, make that swingarm work like it does on the original bike, with all the original linkage and shock position and take a closer look to the redone subframe…it looks and works great!
Follow the Builder
www.stgtracker.com.ar
Instagram: @stg_tracker
Facebook: @stgtracker
Photo: @marcosludevid