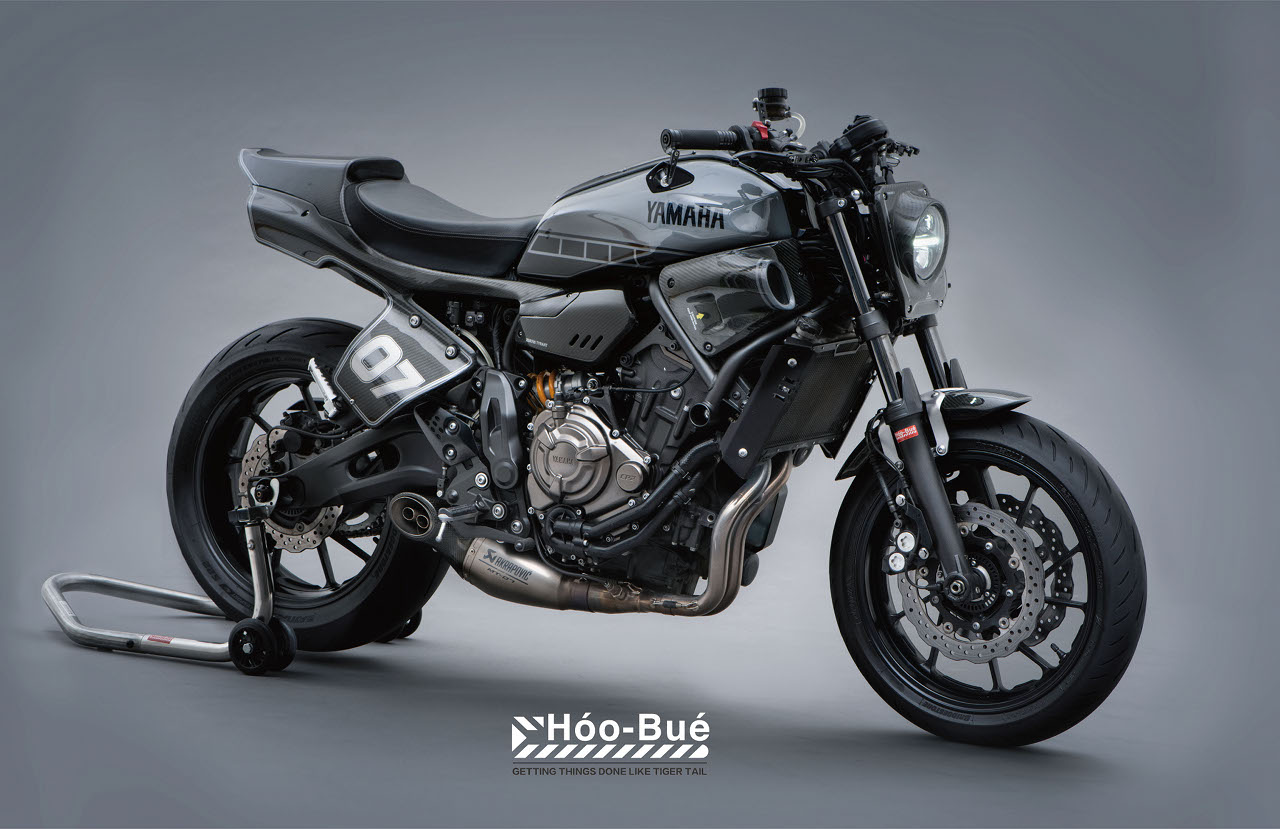 Back to the Dark Side…
The Yamaha XSR700 is a retro-inspired naked bike that incorporates styling cues from the classic Yamaha XS650 with the modern technology of the FZ-07/MT-07 — a perennial favorite among new and veteran riders alike. The liquid-cooled parallel-twin makes a solid 74 horsepower, while the irregular firing order of the 270° crankshaft helps harmonize the two cylinders, giving the engine a responsive, torquey feel. Says Revzilla:
"This is the story of a bike engineered to fan the flame of imagination that got us into motorcycling to begin with, in the hope that it can spark that same flame in some new riders."
Enter Taiwanese industrial designer Jurmol, founder of Hoo-Bue, who sought to combine his love of conceptual design and vintage flat track motorcycles in this 2016 XSR700. The idea was to build a street tracker for city use, using Yamaha's MT series slogan for inspiration:
"Following the Yamaha MT series slogan, 'Dark Side of Japan,' the core of the XSR700 Tyrant design is 'back to the dark side.'"
Jurmol developed a line of carbon fiber body parts for the machine, including a headlight kit, finders, frame and radiator covers, and a complete tail unit — all of which are now for sale on the Hoo-Bue website. The result is one of the most stunning XSR builds we've seen — a dark, modern street tracker that signifies a new name in the Taiwanese custom scene. Below, we get more details from Jurmol about the project.
Yamaha XSR Street Tracker: Builder Interview
• Please tell us a bit about yourself, your history with motorcycles, and your workshop.
I am an industrial designer living in Taiwan and have my own design company. I founded the brand "Hoobue" this year to develop the project that I'm passionate about.
• What's the make, model, and year of the bike?
YAMAHA XSR700, 2016.
• Why was this bike built?
This is my first large-displacement motorcycle, and I love the design and custom bikes, so I started this project.
• What was the design concept and what influenced the build?
Vintage Flat Tracker is my favourite style bike, but I set a goal for myself to keep the vintage look but with conceptual design.
Following the Yamaha MT series slogan, "Dark Side of Japan," the core of the XSR700 TYRANT design is based on "back to the dark side."
Designed for city use, with the flat tracker style as the foundation, but I tried to make it look more conceptual, inspired by the Husqvarna 701.
• What custom work was done to the bike?
Headlight / front fender / side covers / the whole tail unit.
• What's the riding experience like on the finished bike?
I feel infinite satisfaction even if I look at it all afternoon in the garage.
Follow the Builder