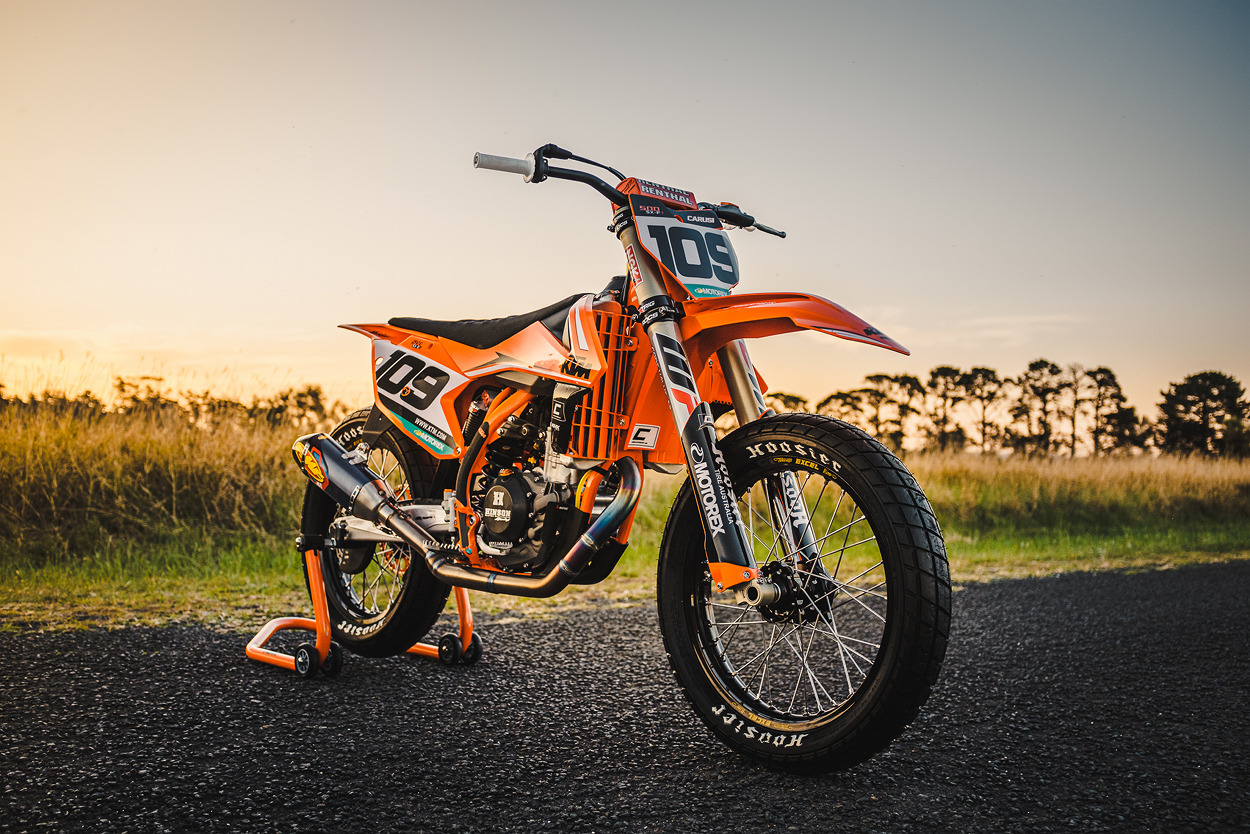 KTM Race Team Mechanic Michael Carusi builds a "Wishlist" Flat Tracker…
In our opinion, some of the best racing in the world right now is happening in the American Flat Track AFT Singles class, where riders on production-based 450cc single-cylinder machines battle bar-to-bar at speeds of 115+ mph, sliding sideways through the corners of dirt tracks across the country. Our favorite rider — and the winningest AFT Singles racer in history — is Shayna Texter, who won her first pro race in 2011 (after battling her now-husband Briar Bauman all race long) and currently rides a KTM 450 SX-F for the company's factory team.
So when Andrew Jones of Machines That Dream reached out about an "unobtainium" KTM flat tracker not only inspired by Texter's race bike, but custom-built by a guy who's made race bikes for Dakar and ISDE winners, we leapt at the opportunity to learn more. That builder is Michael Carusi (@projectflattrack), who's been an official Race Team Mechanic with KTM Australia since 2009, working with such off-road luminaries as Dakar winner Toby Price and Finke Desert Race winner David Walsh. Currently, Michael lives in far west Sydney "where the suburbs meet the bush" and works with 9-time Australian enduro champion Daniel Milner. If anyone knows the ins and outs of the most trick KTM off-road bikes on the planet, it's Carusi.
What's more, Carusi has long been a fan of flat track racing. Back in 2018, his buddy Jamie Portelli from FabTech built a Harley tracker, lighting Carusi's own creative fuse, and then a new name entered the AFT Singles class:
"KTM US also got involved in their National Flat Track series around the same time and as I bleed orange, I couldn't help but take notice."
So when an opportunity arose to build a flat tracker utilizing a KTM race chassis, Carusi was raring to go. His vision was to use a combo of motocross and off-road parts to create a mythical "500 SX-F" model that doesn't exist in the wild. You see, KTM only makes a 450 in their "ready to race" SX-F motocross range, so Carusi used his own secret blend of SXF and EXC-F parts to create this 500cc four-stroke monster:
"I've created a kind of 'best of both worlds' flat tracker. The engine includes a combo of EXC-F and SXF components that we have raced with and tested over the years to make this 'wishlist' kind of build."
Much of the work was done at Carusi's home shop during the C-19 lockdown. The forks and shock are WP factory pieces unavailable to the general public, and Carusi took a lesson from the MX playbook with full titanium bolts throughout the build, as well as Ti footpegs, front axle, and a full titanium exhaust custom-built by master fabricator Nigel Petrie of Engineered to Slide.
The trick titanium is matched by custom carbon work from @coopertec_composites, including the exhaust bracket, frame inserts, engine brackets, skid plate, and rear chain guide. The bespoke graphics are from Kustom MX, and Hoosier Tire Australia provided a set of flat track rubber from their newly available range.
The end result is one of the trickest flat trackers we've ever seen — a bike that Shayna Texter and the rest of the world's best dirt track riders would surely love to test ride. Below, we get more details on the build directly from Carusi himself, as well as more stunning shots from Andrew Jones of Machines That Dream (@machines_that_dream).
KTM 500 SX-F Flat Tracker: Builder Interview
Please tell us a bit about yourself, your history with motorcycles, and your workshop.
My name is Michael Carusi. I'm 39 years old and I live in far Western Sydney, right where the suburbs meet the bush. I have been passionate about bikes from a very young age. I have always enjoyed playing around and spinning spanners, deciphering the inner workings of a bike and enjoying the challenges that come with that.
I worked in a KTM dealership for quite a few years before starting as an official Race Team Mechanic with KTM Australia in 2009. While there, I have been fortunate enough to work with the Dakar-winning Toby Price and the Finke Desert Race-winning David Walsh. I currently work with Daniel Milner, who is the 2020 Australian off-road champion and I have been his mechanic for the last four years.
As for my workshop, I have access to all the KTM facilities in Sydney, so for this bike, I've spent a decent amount of time working on it there, along with a large chunk of time at home in my workshop. I kind of kicked off at work and I developed the concept there, then I took it home and wrenched on it during COVID lockdown — so it all worked out kinda well.
What's the make, model, and year of the bike?
It's a KTM 500 SXF, 2018 model. It started as a race chassis that was hanging around at work, and then it was pieced together. It's kind of a combo of MX and offroad parts used to create this mixture of bikes. The KTM factory only produces a 450cc in the SXF range, whereas the EXC-F does come in a 500cc but not in this engine combo. Also, the EXC-F has a six speed gearbox and the SXF bike has a 5 speed, which is what I've used here.
As you can probably tell, I've created a kind of "best of both worlds" flat tracker. The engine includes a combo of EXC-F and SXF components that we have raced with and tested over the years to make this "wishlist" kind of build.
Why was this bike built?
It was a personal project. I've been a big fan of America's flat track series and that style of bike. I've never raced flat track but I've always followed it closely. An opportunity came up at work which inspired me to do a build and I jumped the chance to make my idea a reality.
My mate Jamie Portelli from FabTech had also built a Harley tracker in 2018. I saw the final photos of it for the story that was published on a local blog and I decided that I wanted to go ahead and do something similar.
KTM US also got involved in their National Flat Track series around the same time and as I bleed orange, I couldn't help but take notice. I think everything kinda merged together and the bike you see here is the end result.
What was the design concept and what influenced the build?
To build something similar to the flat track bikes raced in America but with the idea being a bit different; that "difference" is probably taken from KTM's MX style. This includes things like the titanium bolts throughout the entire bike, which I think are more widely used in MX than in flat track. This is also a personal preference to make the bike as "trick" as possible and to add a nice amount of bling.
The pipe is also a custom build so it's not following any strict flat track style guidelines, but more of a personal preference and not necessarily the exact thing they'd use in flat track racing.
What custom work was done to the bike?
As I mentioned, the ending is a secret blend of SXF and EXC-F parts to produce a brand new powerplant that doesn't exist anywhere else in the world. The forks and shock are WP factory items that aren't available to the general public. They are 52mmm cone valve forks specifically intended for racing purposes. The rear shock is WP Trax Shock that is equally rare. The exhaust is full titanium and custom-built with a modified and shortened FMF end can. The front axle is also titanium along with the foot pegs and pins and the rear brake tip.
Other carbon parts include the custom exhaust bracket, frame inserts, engine brackets, skid plate and rear chain guide. All the grey parts you see are ceracoated. There's also a hard anodised Hinson Racing clutch cover.
Of course, all the graphics are bespoke and there are a lot of other nice little touches including the shock spring ceracoat, the hidden steering damper and the lock wiring on various key parts. The Excel rims are flat track specific items and the Hoosier rubber is from their relatively new flat track range.
Does the bike have a nickname?
"Project Flat Track" — simple but effective.
Can you tell us what it's like to ride this bike?
At this time I haven't ridden the bike in anger, but I'm expecting it to be pretty lively. The dyno tuning showed plenty of torque and power, so it should be a real exciting ride on the dirt. The gearing will still need to be fine-tuned, but we're pretty sure the current combo will be competitive, with only a few mods needed once it's on track.
Like most serious flat trackers, the suspension isn't built for big bumps or anything else apart from going fast and turning left. Similarly, the bike will spend most of its time in top gear, so it's all about the start and getting into the sweet spot at the top of the power range so you can battle out with the rest of the bikes.
Was there anything done during this build that you are particularly proud of?
It's hard to pick just one with so many cool features on it, but the exhaust system would have to be at the top of the list. Mainly because it's a one-off build that gives the bike a great finish, especially with the carbon bracket. I should also mention the graphics, which I think really finish it off nicely. I didn't want them to be too OTT, but rather something that would give the bike a nice clean look.
I was almost ready to have it shot, but I wasn't quite happy with a few details — namely the carbon inserts in the frame and gear level tip — along with the holes in the airbox. They are functional as well as being cool. I wasn't really ready to call it a day until these parts were sorted and I was happy with them. Once that was done, she was good to go.
Builder Thanks
Many thanks to KTM Australia for their support during this project and @hoosiertireaustralia for supplying their killer tyres.
Thanks to Kyle Blunden for helping with the graphic design and being patient with me while we went through numerous designs.
Thanks to Danny Apro for helping with the suspension and engine set up, Nigel Petrie from @engineeredtoslide for building the custom exhaust system and Warren Cooper from @coopertec_composites for all the custom carbon work.
@kustommx for the graphics and A1 accessory imports. Jamie Portelli from @fabtechcreations. The guys at KTM Australia, including Jordan Yeo, Mitch DeBritt and Matt Skuse for all their help. Anyone else that I have forgotten thanks.
Photos by Andrew Jones from Machines That Dream (@machines_that_dream).