Japanese master Takuya Okubo builds a Twin Cam FXR like no other…
In 1971, Harley-Davidson unveiled the FX (Factory Experimental) Super Glide, one of the world's first production customs that mated the smaller Sportster forks and other XLH components with the larger big twin chassis. Though it was not particularly well received at the time, the Super Glide spawned the entire lineup of FX machines.
In 1981, the FXR and FXRS Super Glide II appeared, featuring a rubber-mounted engine and five-speed transmission — upgrades from the original FX. Though the Dyna chassis, which appeared in 1991, would gradually supplant the FXR, the latter remains a beloved machine in the hearts, minds, and garages of riders across the world.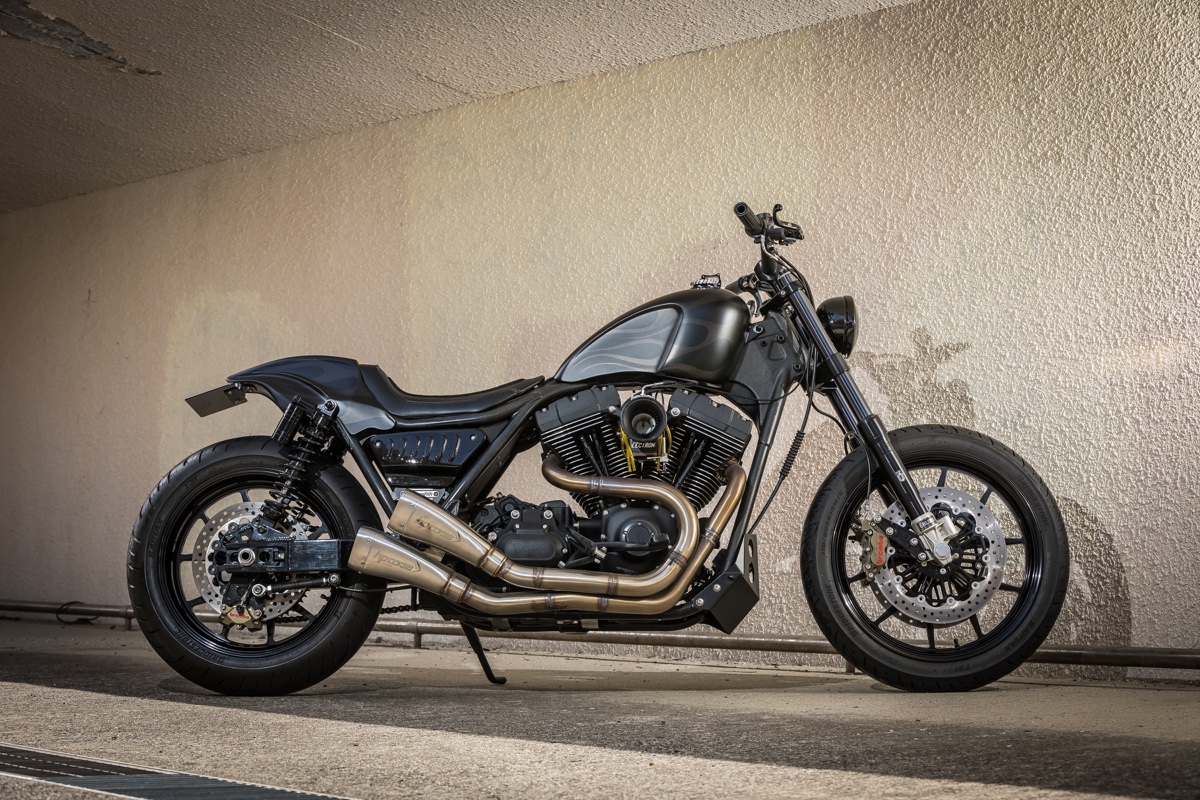 The FXR is particularly popular as a platform for club-style builds, which typically have a set of T-bars, a mini fairing, longer rear shocks, and saddlebags — "ready for anything" bikes, capable of riding long distances at speed.
Takuya Okubo is no stranger to the FXR platform. His workshop, VIDA Motorcycle, located in the Fukuoko Prefecture of Japan, has a reputation for building award-winning big twins. Recently, a client asked him to build an FXR that was NOT in the club style so popular in Japan and beyond:
"I wanted to customize this FXR to a street tracker style. The key to this customization was a machine that didn't look like anyone else without cutting into the FXR's beautiful frame shape, which I wanted to build on."
The bike is a '91 FXR chassis sporting a 96 cubic engine twin cam engine from a '13 H-D Tourer, complete with a Lectron carb, S&S cam kit, Öhlins forks, Brembo brakes, Lyndall wheels, some absolutely incredible aluminum bodywork from Takuya, and much more.
Our friend Kazuo "Kaz" Matsumoto of Steeldog Photo caught up with Takuya to learn more about this recent build and photograph it in action. Below, we get the full details and photos from Kaz!

FXR Street Tracker: Build Story
The following is written by Kazuo "Kaz" Matsumoto of Steeldog Photo. Follow him at @steeldog_photo.
VIDA Motorcycle opened in 2006 in Ashiya Town, Fukuoka Prefecture, in the southern part of Japan. The owner of the shop is Takuya Okubo, who worked as an auto mechanic, trained a few years at a custom motorcycle shop in the neighboring prefecture, and then opened his shop.
Takuya is now 42 years old and had a long history of motorcycles. He owned a Yamaha dragster when he was in high school and got a Harley 1984 XLX at the age of 19. Since then he has owned vintage choppers, Harley FXRs, Harley Tourer FLTR, and more.
VIDA is known all over Japan as a very creative custom shop and has won many awards at numerous custom shows. Takuya is a big fan of a German custom shop called "Habermann" and has created many Euro choppers inspired by Habermann's beautiful streamlined bikes. In addition, Takuya has a strong sense of producing old-school choppers and club bikes these days and has fans and customers not only in the Fukuoka area but all over Japan.
This bike is a customized Harley-Davidson FXR, built by Takuya.
When he built this motorcycle, the owner's request was "I want you to ride a cool FXR that is not club style." Currently, the FXR is very popular in Japan, and there are a lot of bikers who customize the FXR to club style and ride it. The owner wanted Takuya to create a style that was different from the fashion.
"I wanted to customize this FXR to a street tracker style. The key to this customization was a machine that didn't look like anyone else without cutting the FXR's beautiful frame shape, which I wanted to build on. "
This machine is equipped with a 2013 Harley-Davidson Tourer 96 cubic engine and transmission in a genuine FXR frame of 1991. The bike's injection has been removed and replaced with a Lectron carburetor. The funnel-type air cleaner installed on the carburetor is a popular VIDA original product. The engine is also powered up with the S&S 551 cam kit.
The genuine FXR frame has not been cut. The front end consists of Misumi's triple tree and Öhlins 43mm front suspension. Brembo racing calipers are used for the front and rear brakes, and Lyndall Brakes wheels are used for both front and rear wheels. The front wheel is 19 inches and the rear wheel is 17 inches.
The rear suspension uses the piggyback shocks from ODC of Italy. The swingarm is from Brock's Performance, which is two inches longer than the genuine FXR's, and the whole rear end looks thicker thanks to 5J size tires.
The handlebar and risers are from ProTaper, and the grips and speedometer are from Motogadget. The headlights are genuine Harley-Davidson Lowrider LED lights made in 2018. The blinkers and tail lamps are very small products from Kellermann.
This bike has two signature elements where you can see and experience Takuya's very high-level metalworking skills and design sense. It's the fuel tank and a rear fender.
The fuel tank is based on the Harley-Davidson Sportster tank.
"The main FXR frame is very rugged. I wanted to hide that part with a fuel tank. That was very necessary to make this bike look slim. I cut and stretched the petrol tank — I designed it to cover the frame, and I also tried to design the stretch line under the tank to match the angle of the Evo motor. I fitted and removed the tank again and again."
The tank designed by Takuya is small and thin, but as he aimed, he succeeded in hiding the thick frame of FXR.
The rear fender is also one of the big highlights of this machine. Made of aluminum, this fender has a beautiful design that mixes straight and curved lines very well.
"Flat trackers often use straight rear fenders, and cafe racers often use rounded rear fenders. I didn't want to use either of them on this bike. "
At the rear end of the fender is a light that illuminates the license plate, which looks like a cobra fang when it shines.
The silencer is made by HP Corse. By using a manufacturing method called hydraulic foam, HP Corse has succeeded in making a beautiful streamlined product. Takuya loved this form and designed and produced an exhaust pipe to use this silencer.
The beautiful paintwork was done by the paint shop "FFF" in the same prefecture (Fukuoka) as VIDA. Matte black with solid pearl gold flames makes it a dark, combative, and beautiful bike.
The seat was made by a shop called Jimmy Dope, located in Sendai, Japan. Takuya told the seat shop, "Because the body of the motorcycle is a matte black color, I want you to use suede leather to match it."
The finished seat was very complete, with the glossy and dull parts creating a contrast.
This bike, which took Takuya two months to complete, is a very beautiful and fun bike that can ride very lightly on the highway and also on the street without stress.
Have you ever seen such an FXR? I want to test ride this bike!
More Photos
Follow the Builder
Follow the Photographer / Interviewer