"Bad Boy Hogging never felt so good…"
Australia's Purpose Built Moto have quickly built a strong reputation both for their custom builds and their parts line. Though they've consistently displayed a broad range of styles in their work, we've never seen them tackle an old-school chopper build…until now.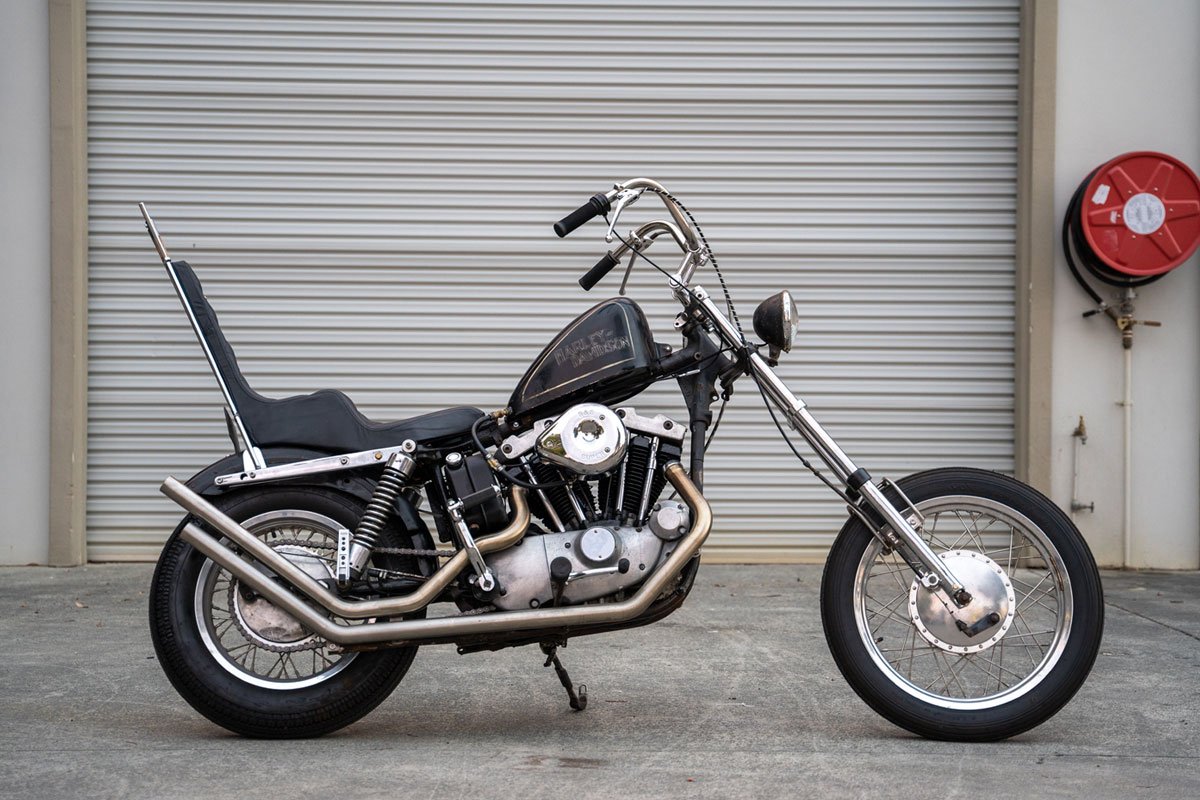 The 1972 Ironhead you see here came their way as a bit of a wreck:
"It was from a backyard in Compton, L.A., thrown in a container and shipped to Aus. As it rolled into the shop it had good bones and a fresh set of rebuilt wheels. Drum brake front and rear, laced up to a set of ally rims 19" front and 16" rear. Everything else was pretty toast." -Tom Gilroy, PBM
Tom had never worked on a vintage Harley, so he was interested to tackle the project and learn what he could. When the kickstarter wouldn't engage, he took it down to the workshop of his mate Dan Headon, owner of Dan's Workshop.
"He's quickly developed a name for being the guy to see about old Harley engines. He checked it over, repaired the kicker gear and replaced the clutch among a few other things. We also went ahead with an S&S Super E carb and air cleaner setup on it, trying to milk a little more reliability out of the 1972 V-twin."
The client, Tyson, knew what he wanted from the chopper build: an 8" over front end, trimmed fender, tall sissy bar, and a big King/Queen Seat. That gave Tom and his crew a solid jump-off point to get fabricating, and they were keen to cut their teeth on a new style:
"A lot of the bikes we build are simplified and stripped down to create a smooth and clean aesthetic. Choppers however are a little more reckless, featuring fab work and wild ways of getting the job done just because. It's a whole different way of thinking I was keen to explore."
The bike had come with a WWII-era bayonet, so they worked that into the sissy bar — one of our favorite parts of the build!
The seat pan uses the front pivot mount on the frame and the top of the sissy bar for mounting points, and they shaped the King and Queen base out of aluminum sheet, grafting a set of Hollowtip LED taillights into the back of the seat — something Tom had been wanting to try. Then came the upholstery:
"After some haggling with Jamo from Timeless, I got him to agree to doing some pin cushion style upholstery on the seat. We got some stainless steel brush finish buttons and he went at it making a Chesterfield-style seat cover."
The tank was too rusted-out salvage — a "bin job" — but a mate from Sydney hooked them up with a Sportster king tank.
I just had to cut the filler cap from the old tank, weld it in, and we were good to go. Mounting it high on the backbone, I turned up an outlet for a rear petcock setup and that finished it up.
The tins went to Mitch Bailey for a brand new, 50-year-old paint job — his specialty — and Tom worked to give Tyson a bit more room:
"The 8" over forks plus a king and queen seat leaves little to no room for the rider. I sourced a set of dogbone risers and fabbed up a mount to bolt onto the top yoke. This gives you a heap more room up front and looks pretty wild doing it."
The team quickly realized they would need to not only rebuild, but stiffen up 33.4mm K-model forks to make the bike rideable.
"These forks are pretty sought-after, so although it would have been much cheaper to replace them with another front end, we decided to persevere and get them repaired. Charlie from Costanzo Racing took the job (and probably regrets it). After having the legs and tubes re-chromed, and new bushings installed, we were left with the job of making these things function."
Tom fabricated a fork brace, and he and Charlie kitted out the forks with completely custom internals.
"The mods help the dinosaur front end function like actual suspension. With custom compression, dampening and top out springs to make sure the ride is as good as you can get from an 8"over setup."
Tom says he had a lot of fun building the exhaust. It's a 1 ¾" stainless steel TIG-welded straight-pipe setup that snakes under the right foot peg and finishes out past the back wheel.
"The exhaust note out of this thing is amazing, the perfect crackle, and that nice gurgle over run that you want out of the old boy Harley."
Wiring up the old dog up was a dream, says Tom:
"Tree wires to the front light, three wires to the rear, link up the ignition and kill switch, charge the battery, and it was done. The only tricky part was fabricating a brake switch onto the front lever and running a single wire from the switch. That meant the dimmer circuit on the LED brake lights to achieve the 50% running 100% brake light was swapped to work on the negative side."
To everyone's surprise, the '72 Ironhead fired up on the second kick and ran well enough to make Tom wonder if he needs his own old Milwaukee tractor in the garage:
"Bad Boy Hogging never felt so good. I have to say I can see why people love these things so much. The clunks and pops of the old engine, knees in the breeze, scarily choppers are starting to make a lot of sense to me know. I guess I'm gonna need another bike."
Follow the Builder
Web: www.purposebuiltmoto.com
Instagram: @purpose_built_moto
Youtube: youtube.com/c/purposebuiltmoto
Photos: Brandan Trudinger of @ninefivers