Heiwa Motorcycle builds an vinduro-style 250 scrambler…
Last year, we featured a Suzuki TU250 scrambler from one of our favorite builders, Kengo Kimura of Heiwa Motorcycle, who built the vintage-style, dual-sporting machine for himself:
"His intent was to show that he could transform a street bike into a scrambler that both performed well off-road and looked good in town."
His donor for that build was a 2001 Suzuki TU250, better known as the "Grass Tracker" or "Volty" in some markets. Introduced in 1994, the bike paired the proven DR250S engine with old-school, twin-shock styling that recalled the simpler days of motorcycling:
"The Suzuki TU250 is a re-introduction to the all-around bike, as was the norm in the days of old. This machine is capable of around-town jaunts, comfortable long distance trips for two, the odd bit of dirt travel on the occasional fire road, and it can even hold its own in the canyons." —Ultimate Motorcycling
Kengo, who raced motocross until a femur fracture took him out of competition at the age of 23, has an obvious fondness for the Grass Tracker, as he's continued to build on the base for the last several years. Just earlier this month, his Grass Tracker No. 006 was featured on Bike EXIF, and today we're thrilled to feature the latest iteration, No. 008.
The concept was similar to the previous builds — a bike that not only looked good in the city, but could take the rider out of the urban environment on light off-road adventures:
"The design concept is a cool design, which you can run in the mountains and on the street."
The donor is a 2000 Suzuki TU250 Grass Tracker, which Kengo outfitted with one-off high-mount fenders and exhaust, an aluminum tank from a vintage motocrosser, custom subframe and saddle, off-road bars with minimalist gauges, and Dunlop D603 tires.
Then there's our favorite detail: a backup fuel cell fabricated to look like an oil tank. It carries a little less than a gallon of fuel and detaches from beneath the seat, acting as an emergency gas can if the rider gets too far out in the woods, having too much fun, and runs low on fuel.
The overall effect is a bike with modern reliability and vintage flair, recalling the 1970s enduros we love so much. Lean, basic, hard-to-break machines that could take you from the coffee shop to the mountains and back again, all in a day's ride.
Below, we talk to Kengo for a few more details on the build, and present more photos courtesy of photographer Hiroshi Kikui.
Suzuki TU250 Scrambler: Builder Interview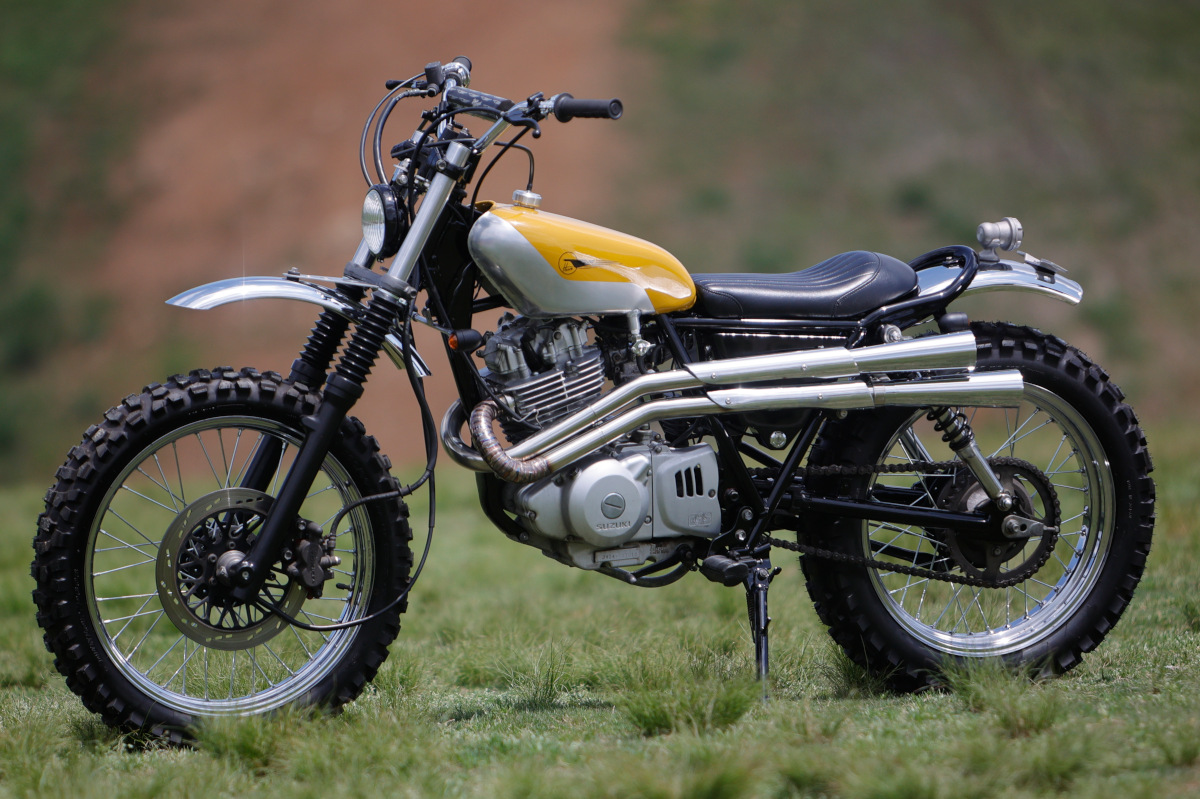 • What was the design concept and what influenced the build?
The design concept is a cool design, which you can run in the mountains and on the street. Generally, in a scrambler, I put a number on the bike and thicken the seat, but since this scrambler emphasizes city riding, I didn't make it quite as aggressive in that way. That is the HEIWA scrambler.
• What custom work was done to the bike?
GENERAL
Machine name: GrassTracker No008
Fabrication (Production): 2022/04/15
Year / Make: 2000
Builder: Kengo Kimura
Donor model: Suzuki Grass Tracker
ENGINE
Displacement: 250cc
Lower end (crank):
Air Cleaner: Power filter
Pipes (muffler): One off
FRAME
Year: 2000
Modifications: Seat rail processing
ACCESSORIES
Bars: Off-road bars
Handlebar Controls: Vintage switches
Front Fender: One off
Rear Fender: One off
Headlight: Vintage fog
Taillight: HEIWA Original
Meters: Mini Mini Meters
SPEED Meters: Mini Mini Meters
Tacho Meters:
Gas Tank: Aluminum tank
Seat: One-off
WHEELS
Front Size: 19 inches
Rear Size: 18 inches
Tires: Dunlop D603
OTHERS
Oil tank style gasoline sub tank
HEIWA original bar pad
• What is it like to ride the completed bike?
The engine is the same one used in the DR250S, which was released by Suzuki quite some time ago, and is good for off-road use. You can exert your power without any problem even on the off-road course. Since the rear suspension is unmodified, it's poor, but the front suspension is good, handling all sorts of terrain.
Follow the Builder
Website: www.heiwa-mc.jp
Instagram: @heiwamc
Facebook: www.facebook.com/Heiwa-motorcycle
Photographer: Hiroshi Kikui