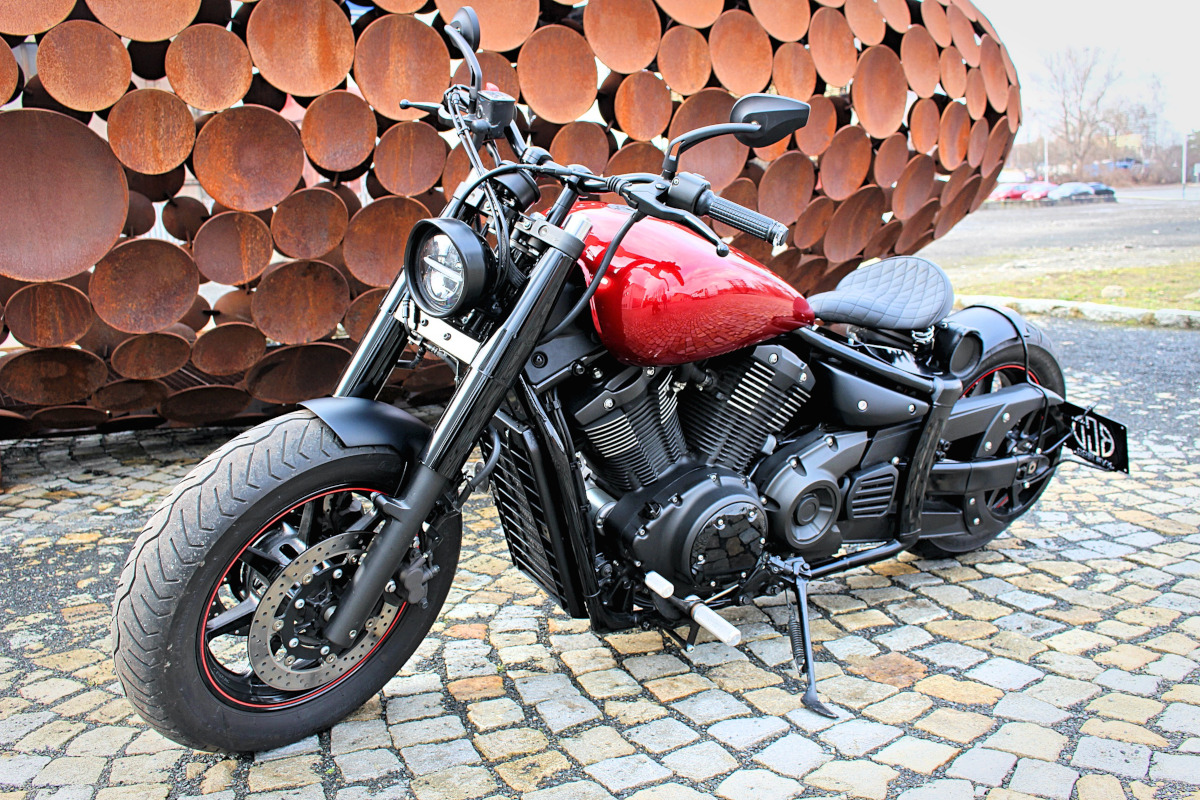 Blackout Custom Designs saves a botched custom…
The Yamaha XVS1300 Custom is the Euro version of the company's US-market Star Stryker, a 1304cc V-twin "factory chopper" introduced in 2010.
"It mixes 'American Chopper' styling with bomb-proof Yamaha build quality. Badge snobs might sneer at its lack of 'Harleyness' but it's a capable machine and superb value for money." –MCN

Modern Japanese V-twins are increasingly finding their way into the hands of custom builders, as they tend to be more affordable, reliable, and better-performing than their Milwaukee-made rivals. However, for every well-executed custom in the world, there are botched jobs and poorly engineered two-wheeled claptraps.
Such was the case of this 2015 Yamaha XVS1300 when it entered the workshop of Marcel Galuszka, founder of the Czech Republic's Blackout Custom Design. A friend of a friend had bought the bike in modified form, but it was an absolute mess:
"Although a lot of work was put into it, in the end it wasn't even possible to drive it much; it was very difficult to control and the parts used were non-homologated, therefore inadmissible for legal driving in the Czech Republic. So he asked me if I would help him with it and try to come up with something."
The owner gave Marcel a free hand in terms of the design, but a fixed budget. Considering all of the bike's pre-existing problems, it would be a serious challenge to turn the bike into something worthy of the Blackout Custom name, but Marcel was up to the task, working carefully to turn the bike into the "Street Bobber" you see here without overshooting the budget.
Below, Marcel gives us the full story of turning this ugly duck into a ruby red swan.
XVS1300 Street Bobber: Builder Interview
• Please tell us a bit about yourself, your history with motorcycles, and your workshop.
I come from the small town of Karviná, in the north-east of the Czech Republic. My dream and wish to build motorbikes had to wait more than 25 years to come true. I devoted all that time to the family, which eventually fell apart. I am left with only two beautiful and completely unique daughters. And now motorbikes ????
I only started fully devoting myself to motorcycles in 2018. It all started with the purchase of a total wreck 1979 Suzuki GS550, which I decided to convert into a café racer. It really took me by surprise, and everyone around me received it very positively, so it didn't take long for other projects to appear and that's how Blackout Custom Design came into being.
This bobber is the 9th finished project in total and I already have other agreed projects waiting for me.
• What's the year, make, and model of the donor bike?
2015 Yamaha XVS1300.
• Tell us about the build.
A very good friend of mine came to me and started telling me how his friend bought a modified motorcycle with which he's having problems. Although a lot of work was put into it, in the end it wasn't even possible to drive it much; it was very difficult to control and the parts used were non-homologated, therefore inadmissible for legal driving in the Czech Republic. So he asked me if I would help him with it and try to come up with something.
Word got around and I went to see the "gem". The owner of the bike basically said to make something out of it — he gave me a free hand, but a fixed budget. Which was not easy at the time, considering the entire reconstruction that had already been done. Well, a bit of a challenge, I thought. So I took it up and from the beginning my idea was towards a bobber. The owner basically had two requirements — a "strong" sound and a double seat.
I accept the strong sound as I can do it, but given the idea of a bobber, I rather rejected the two-seater; it just wouldn't look good aesthetically, I think.
And so the reconstruction began. During it, quite a lot of problems "under the hood" appeared, which had to be solved, and due to the set budget, it had to be solved carefully and compromises had to be made in some cases.
Just a quick mention, new Biltwell handlebars, new risers with custom extensions, new Highsider mirrors, Motogadget blinkers in the handlebars, Motogadget grips, LED front light.
Then handmade fenders — the rear with a handmade strut that leads wires from the 3-in-1 Kellerman tail lights with turn signals and brake light.
The trick was making the license plate holder, of which I ended up making two, deciding on the side placement in the end. I am satisfied with the result.
New exhausts had to be custom made by hand, with exactly the required excellent "powerful" sound.
I also installed a new intake filter, which changed the look of the bike quite a bit.
I also decided to replace the footrests, so that this too could adjust the overall light appearance. Succeeded.
The engine was in excellent condition, only 500km on it!! So there was only an inspection, an oil change, a filter…
A lot of effort had to be devoted to the electrical wiring, because the previous modification was quite large, and it is always hell to redo something that has been redone.
I also installed a new speedo, because considering the modifications made and the overall appearance, to put the original ugly speedo back there just seemed inconvenient and actually quite impossible. I used a simple Daytona. Yes, it affected a few notification functions, but for normal operation and driving pleasure, it does not matter much.
I decided on a classic boober saddle, made a mount, used classic springs, and also had to make an adequate underseat cover that wouldn't really scream and get in the way.
I chose Porsche Ruby Red for the tank, in combination with the black and gloss surfaces on the rest of the bike. It turned out as I imagined. I completed the back part with a leather roll, which really fit there.
In conclusion, I would just like to note that rebuilding someone else's rebuild is not an easy task, but in this case, it was worth it. We met the budget with a slight overshoot. There was absolutely no room for more, but I am satisfied with the result. The owner of the motorcycle as well, and that's the main thing here!
• Can you tell us what it's like to ride the finished bike?
The original version of the custom could not be ridden very well. It was poorly balanced, heavy on its own, and difficult to ride overall. After converting it to a bobber, everything changed like a wave of a wand! Suddenly the bike was light, almost nimble with a very pleasant ride and an absolutely great sound. It will immediately put a smile on your face. Even though the first ride was at a temperature of 2-3°C!
Follow the Builder
Web: blackoutcustom.cz
Instagram: @blackoutcustomdesign
Facebook: @blackoutcustomdesign