A Japanese-Italian Smoker from Moto Vera…
Yamaha's aptly-named Banshee 350 is one of the most legendary quads of all time. Introduced in 1987, it earned a cult following for the staggering pump-gas power potential of its 347cc liquid-cooled two-stroke parallel-twin engine — a non-YPVS (Yamaha Power Valve System) version of the motor found in the Yamaha RZ350.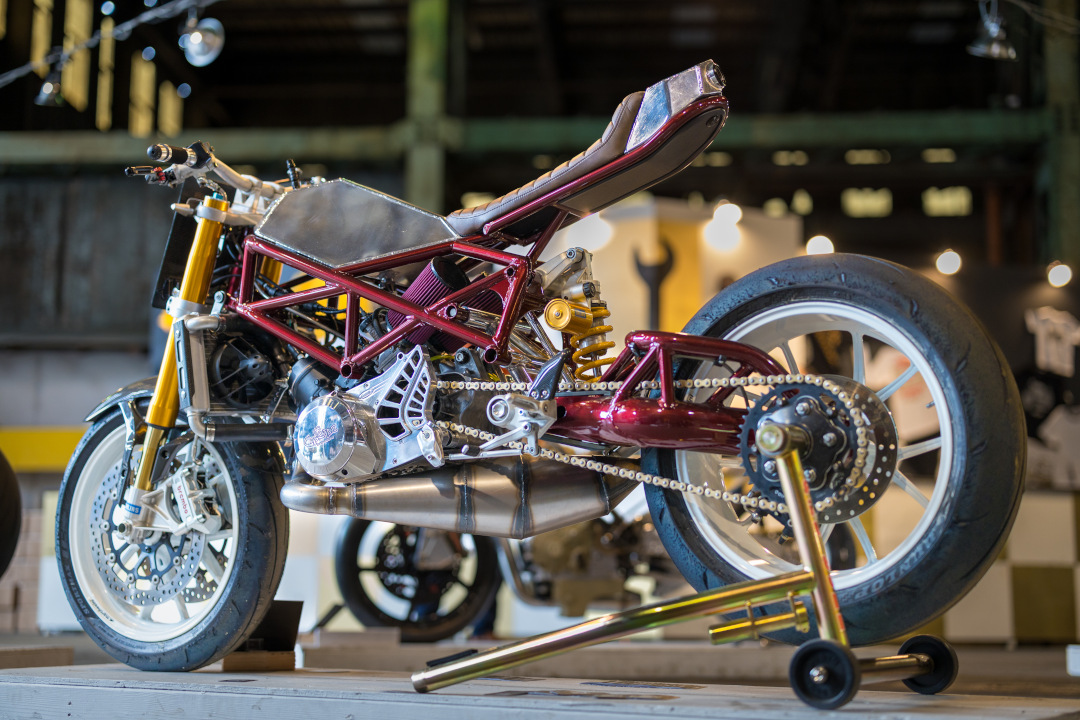 In stock trim, the engine put out 34 hp and 40 lb-ft at the rear wheels, but that was just the beginning — the 347cc mill was a tuner's dream:
"We've seen dyno charts with a good set of pipes and an intake alone adding 15 horsepower to the Banshee's belt. In that form, the Banshee will walk past most 450s in the dunes and belt out a brain-melting soprano scream from the silencers that is unmistakably Banshee. Simply put, there is no other sound like it out there. If you haven't heard one, you're missing out." –Dirt Wheels Magazine
How would such an engine perform in a modern two-wheeled chassis, you may ask? Well, our friends Matt Sarale (@8o8wrx) and Dylan Johnson (@dyno_dylan) of Moto Vera decided to find out.
Last we talked to this pair of best friends who share "a mutual love of things that go fast," they'd just completed their 2008 Ducati 848 turbo — a forced-induction take on a modern cafe racer. Not surprisingly, they opted for a Ducati donor once again. Says Dylan:
"I love my day job (most of the time) but if anyone knows me, I'm always wrenching on something in my spare time. And it's probably a Duc…"
They picked up an '07 Monster S4Rs, touted as a "true superbike sans bodywork." The highest-spec machine in the Monster lineup, the S4Rs featured included fully-adjustable Öhlins suspension, lightweight Y-shaped 5-spoke wheels, radial-mounted Brembo brake calipers, and more goodies straight from the 999R.
Matt and Dylan found a complete donor at a good price, took out the stock Testastretta L-twin, and set to work swapping in a stroked Banshee mill. Along the way, they detabbed and modified the OEM frame, fabricated engine mounts, redesigned the swingarm pivot, and built up a new subframe. Then they moved onto the bodywork:
"We decided to do a multi-plane tank to keep some raw welding and fit our "flat tracker/quad" mash up."
The tail got the same treatment, and the boys decided to keep most of the trick Öhlins suspension, Brembo brakes, and lightweight wheels.
The completed "Ducati Banshee" was invited to two of the country's most prestigious custom shows, The One Moto 2022 and Handbuilt Show 2023, where we got most of the photos you see here. If you've got a hankering to have this one-off Banshee-Monster in your garage, the duo will be selling the bike soon to fund their next project.
Below, Dylan gives us the full rundown of the build in his own words, and we'd like to thank our photographers Fouad "Moh" Mohiadeen (@astronaut_bear) and Kody Melton (@kodymelton), who shot the bike at the One Moto and Handbuilt Show, respectively.
Banshee-Powered Monster: In the Builder's Words…
From Dylan Johnson, one half of the Moto Vera team: The bike started as a 2007 Ducati Monster S4Rs. We chose that bike because we wanted to use that swingarm and a Ducati trellis frame, but came across the whole bike for cheap. The plan was to swap a two-stroke engine into it. We were able to get our hands on a stroked (4mil) Banshee engine and the build began. This is our second bike build from start to finish and the passion is in the process, as well as the product. Designing, fabricating, and building something unique to us is the best feeling.
We started by chopping off the bits of the frame we didn't want or need, and smoothed things out. Then built a subframe for the seat that fit our style better. After positioning the engine where we wanted it to sit, we made three mounts for the engine.
One of the mounts was built off of the swingarm pivot since we needed to redesign that completely anyway, as the stock Ducati set up runs the swingarm off the engine. We went with a tubular design and had a good friend mill out aluminum stock to accept new bearings. I think that's one of our favorite parts of the bike.
We decided to do a multi-plane tank to keep some raw welding and fit our "flat tracker/quad" mash up. Then used that concept for the rear tail section where we house the light and some electronics.
Add the front plate with an eccentric headlight and the bike was really taking shape for us.
Some of the stock pieces we kept were the Öhlins suspension, wheels, brakes, radiator, and handlebars. Otherwise, mostly everything was handmade or transplanted.
Matt has been around things that go fast his entire life. It's been cool to watch his experience and skills grow over the years.
We hope to have the Ducati Banshee for sale shortly. And come up with another fun idea.
Follow the Builders
Matt Sarale: @8o8wrx
Dylan Johnson: @dyno_dylan
Shop: @motovera.co
Photography Credits